United States of Song: Musical Traditions of Sheila Kay Adams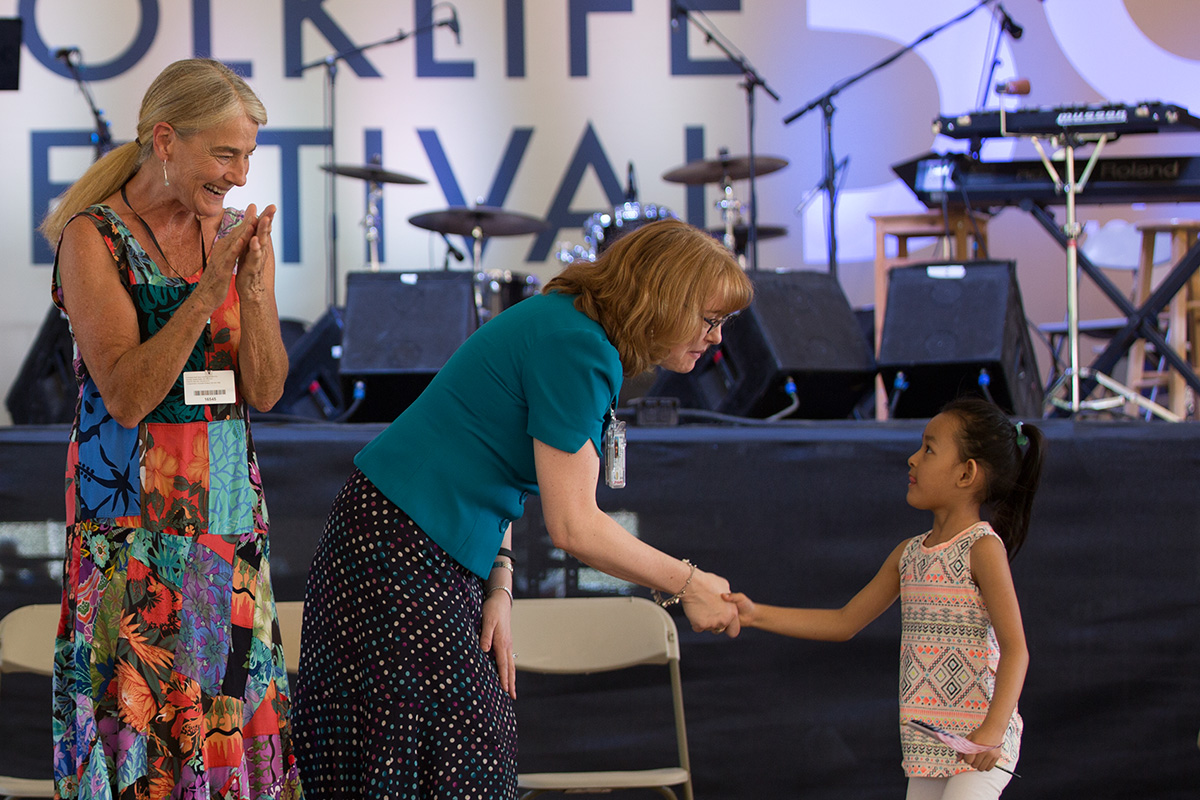 The sun was already scorching the National Mall, but musician Sheila Kay Adams was beaming. That morning, she had just come from delivering the keynote address at that morning's Citizenship Ceremony to some of the newest and youngest American citizens.
"I remembered these conversations that I'd have with my mama about citizenship and the fact that we were a melting pot of all countries around the world," she said after the event on June 30, part of the Festival's On the Move program. "We're all human beings, is what Mama said. That's what we have in common, and that's all it takes."
Seeing the country's future in their young faces, she told the children that she hopes they will "bring their dreams and success for all of us." One child in particular stuck out in her mind: a little girl in the front row who appeared to be the same age as her granddaughter. It forced her to consider if her own granddaughter was in this little girl's place.
There's something poetic in the fact that Adams's first time at the Folklife Festival was in 1976 for America's bicentennial celebration, and at her fourth Festival, the 50th anniversary, she welcomed new American citizens. She fondly recalled how, in 1976, she arrived with eight of her relatives. At twenty-three, she was the youngest of the group, and the next youngest was sixty. This year, she brought along her daughter, Melanie Rice Penland, and her niece, Donna Ray Norton, to sing and keep the legacy alive.
Family is central to Adams's music and identity. She is, after all, a seventh-generation Appalachian ballad singer, continuing the unbroken musical traditions of ancestors in England, Scotland, and Ireland. Seven generations is as far back as her family can prove that they have been singing these songs.
"Don't You Hear Jerusalem Moan"
by Sheila Kay Adams, Melanie Rice Penland, and Donna Ray Norton, June 30, 2017
"It started with my great-great-great-great-great-great grandfather, Duck Sheldon," she said. "They put him in jail in Nashville for making money. He had a silver press."
And yes, she does mean literally making money.
"While there, the sheriff got to liking him so much he deputized him while he was in jail," she continued. "He would go out during the day and be a deputy, and then he'd check himself back in at night. One night he came back with some moonshine that somebody had given him, so he got knee-walking drunk and started singing out the window. Somebody went and fetched the sheriff to quell the noise from the prisoner upstairs, singing at the top of his lungs them old love songs! I knew right there he was a singer."  
It was a love of her family traditions and a desire to preserve them that inspired Adams to leave her career as a schoolteacher. Now a touring musician and an NEA National Heritage Fellow, she believes the traditional ballads passed down in her family long preceded Duck Sheldon. Songs like "Barbara Allen" were brought over by immigrants from Scotland and England, including Adams's ancestors, and sung just as they continue to be sung today in Adams's home of Madison County, North Carolina.
However young now, hopefully the new American citizens Adams met will grow to appreciate their own family traditions, histories, and connections in their native and new home countries. As Adams demonstrates, there is space in America and in the American identity for many influences, traditions, and heritages. Becoming an American does not mean giving up your family's ancient songs, or any other part of your culture that makes you unique and proud—it means holding on even tighter and continuing to pass them on in a new place.
Julia Berley is an intern at the Center for Folklife and Cultural Heritage. She is a rising junior at Emory College of Emory University, double majoring in history and psychology. Audio recorded and mastered by Dave Walker.