Threads of Life: A Collaboration of African American Spirituals and Indian Dance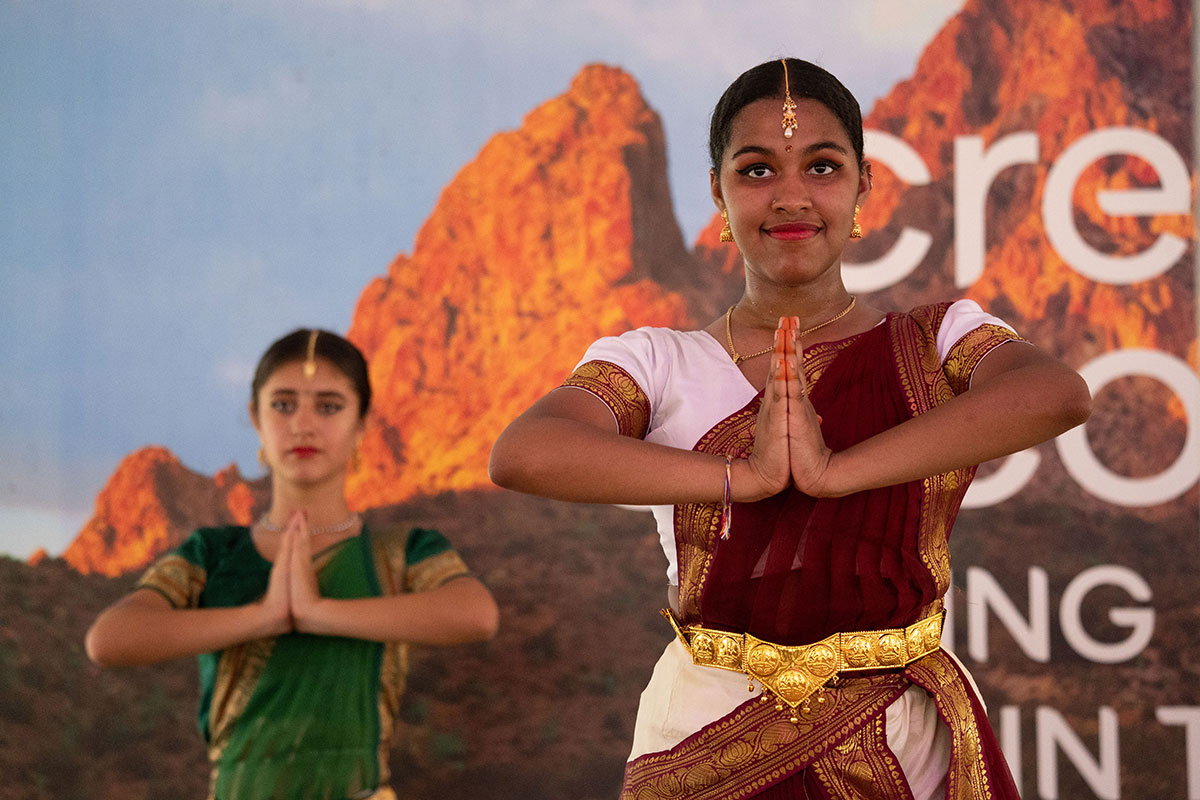 "There is one ancestor we all share: the source."
Ayaba Bey sat under the sweltering heat, grinning as she looked back and forth between the audience and her creative collaborators onstage beside her, Nilimma Devi and Anila Kumari Ashby, leaders of the Devi Dance Theater. All three women spoke with an excited and passionate energy as they led us in a panel entitled "Creative Encounter: Threads of Life Cross-Cultural Collaboration" at the Smithsonian Folklife Festival. In the discussion, they elaborated on their performance the day before: a fusion of an African American spiritual, sang by Bey, and Indian Kuchipudi-style dancing, performed by two members of the Devi Dance Theater: Riya Devi Ashby and Sephira Amen.
At the start of the Threads of Life performance, the audience likely expected to see the classical Indian dance styles the Silver Springs, Maryland-based dance school is known for. And that they did. But what came as a surprise was the penultimate dance, "Long White Robe." As the dancers gracefully ascended the stage on tiptoes, faint smiles on their faces, Bey drifted to the front of the stage with her guitar and sat down. There was a moment of silence, bringing the audience to look back and forth between the dancers and Bey. What would happen next? When Bey began to sing the spiritual, the dancers immediately tuned into the rhythm she established and enchanted the audience with their flowing hand gestures, delicately fusing with Bey's powerful, gravelly voice.
The result was a tangible embodiment of the program theme Creative Encounters: a seemingly effortless blend of religious traditions, of the African American spiritual and classical dance style rooted in Hinduism.
"The collaboration was accidental," Devi told the audience later, at the panel. "Ayaba was humming a tune one day while waiting to pick up her granddaughter outside our dance school. I walked outside and heard an angelic sound coming from this stranger's mouth. So, I asked her if she could sing the tune out loud." This moment forged a friendship and partnership between the two women, who began to discuss their religious beliefs.
They discovered powerful links between their spiritual traditions that would go on to inspire a creative collaboration. In African American spirituals, fabric is commonly celebrated as a symbol for divinity; in the poems of Kabir, a North Indian saint who is praised by both Hindus and Muslims as an enlightened figure, fabric symbolizes the oneness of humanity.
"Kabir shunned all kinds of discrimination," Ashwini Tambe, board member of the Devi Dance Theater, explained to me. "He was against religious division, and he was anti-caste. In his poems, there was a focus on fabric as a metaphor for humanity. Any fabric consists of threads that are drawn from different sources. Through many threads, through different types of people, we all come together."
Building upon this image, Bey and Devi joined forces to create the collaborative song and dance "Long White Robe." At the Festival performance, Bey captivated the audience with her raspy voice, while the dancers illustrated her song with fluid hand gestures and emotive facial expressions. At times, the dancers struck the stage hard with their feet, their ankle bangles ringing.
The dance is more than movement and even spirit; it's also storytelling. In the last few hundred years, troops of male priests revived the Kuchipudi form, performing dance dramas. Each illustrated an epic or spiritual story making the themes of Hindu scriptures and mythology accessible to wider audiences.
"Devi founded the school with the goal of transplanting the classical dance form to U.S. soil, but not to reproduce it exactly as she had learned it," Tambe said. "Her goal was actually to renew it and make it more meaningful to people in this part of the world. She was interested in building communication across cultural divides. And that is really the spirit that informs the school."
It was with this spirit of religious communication that they actively pursued the spiritual collaboration on the National Mall.
Bey surprised the panel audience by suggesting the connection with her collaborators began before they had even met. She glanced at her colleagues with a knowing smile.
"I've always had this inner connection to India without knowing anything about India. I would dance in front of the mirror and dance like Indian women," Bey shared with a laugh. "And it was only when I saw Bollywood movies that I recognized these dance moves that I somehow already knew."
Devi and Ashby felt it too. In an especially moving moment, Ashby put her arm around Bey and told us that the only explanation for their meeting is a higher power: "God brought her to us."
The spiritual connection between the two forces, the Devi Dance Theater and Bey, was palpable even in the way they looked at each other before answering each question. Panel moderator Camilla Bryce-Laporte suggested that there was a shared sense of the "feminine divine" among the three women and that, together, they were committed to expressing this power.
Tambe told me that the need for religious connection across geographical and spiritual boundaries is urgent. "Too often, people think of religion as something they belong to, and it defines their identity to the exclusion of others. They think to be one thing means you cannot be any other thing."
The key to this collaboration was in being able to "connect the dots," as Ashby put it. Contrary to the polarizing lens through which religion is often understood today, finding the overlaps between their spiritual traditions felt straightforward and natural.
"As far as I know, nobody really knows who God is," Bey declared to the audience. "Even though we may have different so-called life experiences, my relationship with them didn't seem so crazy to me. They felt like cousins."
By working together, Ashby and Devi believe that they are continuing the lifelong process of finding and sharing the oneness that exists through all religions and spiritualities. But it is only through the active examination of different spiritual traditions that we can find the commonalities between them.
"The spiritual worlds that come through our streams of culture are not in a safe box," Ashby told the audience. "They're meant for us to explore."
Tambe concluded our talk with a smile. "At the heart of almost all religious and spiritual traditions, you'll find the aspiration for peace and harmony between people. I think that's a much better starting point than thinking about why being one religion means you're not of another."
Isabel Hohenlohe is a writing intern at the Center for Folklife and Cultural Heritage and a student at the University of Edinburgh, where she is studying English literature.