Tales of the Turpentine Makers of Catalonia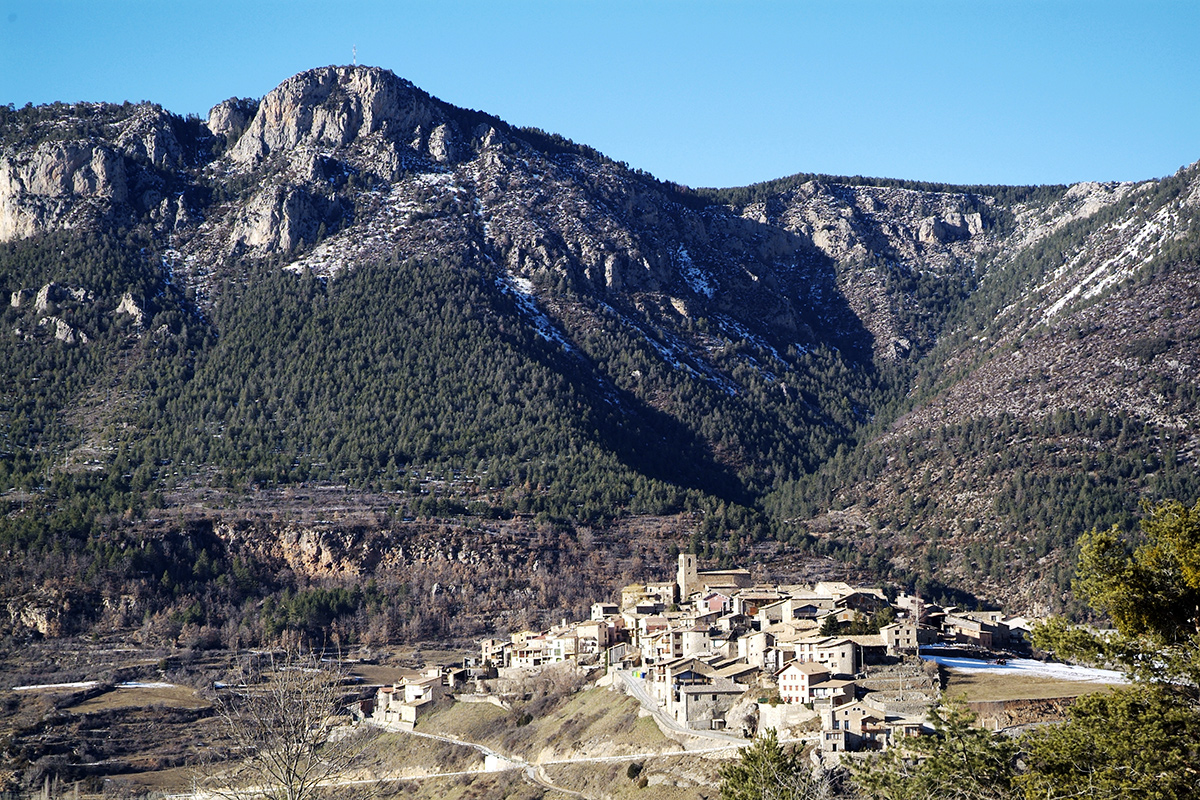 Emilia Llorens looks down at her restless fingers.
"We only spoke about this at home," she says. "Nowadays, writers and researchers like you want to know all about us, what we did, how we did it, and most importantly why. Do you want to know something funny? We 'went into the world' to preserve our world."
I'm sitting across from Emilia at her dining room table in Cal Peret, Cornellana, in the north of Catalonia. This town is one of ten to dot the county of Vall de la Vansa i Fórnols at the westernmost foothills of the Moixeró range. To the south, the buttresses of Port del Compte flank the valley which then flows into a small basin drained by the Vansa river and its three tributaries.
These days, these towns might have as many as fifty inhabitants or as few as two. However, the scattered Romanesque churches of St. Pere de la Vansa and St. Julià dels Garrics, just to name two, remind us of the well-worn highways of the Middle Ages which joined these centers of prayer and exchange.
Outside, it is sweltering hot. Dark clouds are clustering, but Emilia says it won't rain. Inside, the walls of the dining room are covered with suspended memories: tokens of trips, pictures of grandchildren, exotic glassware on top of the mantel.
Emilia, now in her eighties, apologizes for her memory—it isn't what it used to be. Then, she begins the chronicle of her grandmother Tamastima. Like other women of the valley, her grandmother peddled her way across Catalonia.
Tamastima was a turpentine maker, or trementinaire. In the spring and summer, when the work in her family's farmstead was finished, she collected herbs, licorice, mushrooms, and spices and transformed them into oils, remedies, ointments, and creams. Mostly importantly, they turned pine resin into turpentine.
"My grandmother applied it as a dressing, on the skin," Emilia explains. "It was good for getting splinters out, for aches, bruises, spider bites, ulcers, colds. It's strange to think about it now. Back then, either the turpentine did it or not, but if not, then there weren't many other good options left."
While Tamastima's turpentine recipe is lost in the cracks of memory, Emilia remembers that the resin was one of the few ingredients her grandmother purchased at the drugstore. It was so costly to manufacture in her kitchen it wouldn't have been worth it otherwise. The texture of turpentine was important, Emilia says. It was supposed to be sticky, but not as sticky as resin.
In the fall and winter, when there wasn't work left for more than two in the farmstead, she "went into the world"—an old turpentine makers' expression for traveling outside the home county to sell goods. She left her children with her mother, as her husband was also off to make charcoal or extract resin. The tough mountain women walked for months at a time, twice a year, as far as two hundred miles round trip. There were buses, of course, but women made the trip to earn wages, not to spend them.
Tamastima began going into the world in 1899. She was twelve then; her companion, Rosa Arnau, was eight. Although they took pride in their traditional herbal knowledge, their main motivation was capitalism. Until the early 1800s, the economy of the valley was that of basic subsistence: farming, fishing, hunting. When the communal lands were privatized, the farmers without any land found themseves in dire straits. In addition, the state began to tax farmers. In 1860, there were 1,500 inhabitants in the valley but only jobs for about 300. The poor men and women of the valley became seasonal migrants to survive.
Although Tamastima and Rosa carried other remedies on their backs,  turpentine was the most popular. When politician Pascual Madoz wrote about the valley in 1894, he reported that the most important product in Tuixent and nearby towns was turpentine. Tamastima peddled her way across Catalonia selling turpentine until 1959 when she felt her knowledge was no longer valued, but she still made sure to pass on her knowledge to Emilia.
"I went into the world when I was seven years old," Emilia explains. "Though, really, I went along with my grandmother, because I wanted new shoes and clothes and knew that if I went along I'd be more likely to get them."
That was 1941, and although the Spanish Civil War had officially ended two years earlier, there were still guerrilla fighters in the mountains. Trementinaires walked in pairs; it was safer for the women and young girls. However, as Lina Sevillano, curator of the Museum of the Turpentine Makers, points out, the two last trementinaires to come back from the world in 1982 were Sofia Montané and her husband, Miquel Borrell.
"We always used the same route," Emilia remembers, following old shepards' trails. "Grandmother knew all the forests, charcoal stacks, bridges, and places to cross rivers and creeks."
They never went into town, where doctors and apothecaries with their antibiotics and other modern medicine had replaced the traditional herbal knowledge of rural areas. Instead, Tamastima and Emilia stopped in isolated farmsteads.
"The families waited for Tamastima eagerly! Grandmother helped them with everything—sores, aches, pains. She had it all covered."
They walked from sunrise to sunset. At night, Tamastima sold her remedies while Emilia played with other kids. Once business was done, they told stories by the fire until Emilia couldn't keep her eyes open.
Tamastima and Emilia went into the world together until the latter was seventeen. After that, Emilia moved to Andorra and became a seamstress. She later returned home and opened a hostel that served hot lunches and dinners to the workers building the new road through the valley. After the contruction was complete, she witnessed the valley empty out. In the nineteenth and beginning of the twentieth century, the solution to a sparse market was seasonal migration, but in the second half of the twentieth century, more and more locals left to never return again.
"That's why," Emilia explains with a heavy sigh, "it is strange to talk about how we peddled to be able to stay here. It is strange to think that scholars find our peddling all that relevant, and that there is a museum about us today. I wonder what Tamastima would make of it. Simply put, it was our way to stay. We love it here. We didn't want to leave. Going into the world was tough, but it was what preserved our world a while longer." 
It didn't rain that evening, just as Emilia had predicted, although we both wished it had as we bid our farewells.
Meritxell Martín-Pardo is a research associate for the Catalonia program at the 2018 Smithsonian Folklife Festival. She studied philosophy at the Universitat Autònoma de Barcelona and earned her PhD in religious studies at the University of Virginia.