Tales of the Turpentine Makers of Catalonia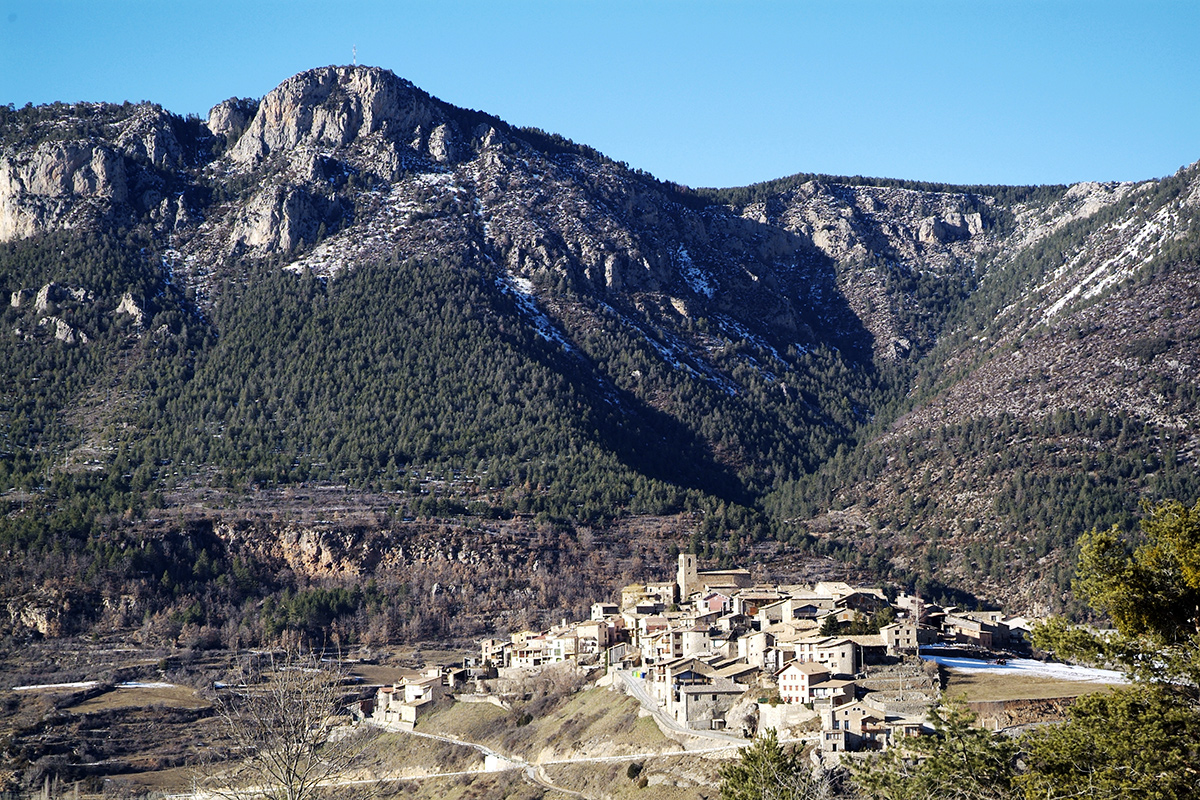 Llegiu aquest article en català
Emilia Llorens looks down at her restless fingers.
"We only spoke about this at home," she says. "Nowadays, writers and researchers like you want to know all about us, what we did, how we did it, and most importantly why. Do you want to know something funny? We 'went into the world' to preserve our world."
I'm sitting across from Emilia at her dining room table in Cal Peret, Cornellana, in the north of Catalonia. This town is one of ten to dot the county of Vall de la Vansa i Fórnols at the westernmost foothills of the Moixeró range. To the south, the buttresses of Port del Compte flank the valley which then flows into a small basin drained by the Vansa river and its three tributaries.
These days, these towns might have as many as fifty inhabitants or as few as two. However, the scattered Romanesque churches of St. Pere de la Vansa and St. Julià dels Garrics, just to name two, remind us of the well-worn highways of the Middle Ages which joined these centers of prayer and exchange.
Outside, it is sweltering hot. Dark clouds are clustering, but Emilia says it won't rain. Inside, the walls of the dining room are covered with suspended memories: tokens of trips, pictures of grandchildren, exotic glassware on top of the mantel.
Emilia, now in her eighties, apologizes for her memory—it isn't what it used to be. Then, she begins the chronicle of her grandmother Tamastima. Like other women of the valley, her grandmother peddled her way across Catalonia.
Tamastima was a turpentine maker, or trementinaire. In the spring and summer, when the work in her family's farmstead was finished, she collected herbs, licorice, mushrooms, and spices and transformed them into oils, remedies, ointments, and creams. Mostly importantly, they turned pine resin into turpentine.
"My grandmother applied it as a dressing, on the skin," Emilia explains. "It was good for getting splinters out, for aches, bruises, spider bites, ulcers, colds. It's strange to think about it now. Back then, either the turpentine did it or not, but if not, then there weren't many other good options left."
While Tamastima's turpentine recipe is lost in the cracks of memory, Emilia remembers that the resin was one of the few ingredients her grandmother purchased at the drugstore. It was so costly to manufacture in her kitchen it wouldn't have been worth it otherwise. The texture of turpentine was important, Emilia says. It was supposed to be sticky, but not as sticky as resin.
In the fall and winter, when there wasn't work left for more than two in the farmstead, she "went into the world"—an old turpentine makers' expression for traveling outside the home county to sell goods. She left her children with her mother, as her husband was also off to make charcoal or extract resin. The tough mountain women walked for months at a time, twice a year, as far as two hundred miles round trip. There were buses, of course, but women made the trip to earn wages, not to spend them.
Tamastima began going into the world in 1899. She was twelve then; her companion, Rosa Arnau, was eight. Although they took pride in their traditional herbal knowledge, their main motivation was capitalism. Until the early 1800s, the economy of the valley was that of basic subsistence: farming, fishing, hunting. When the communal lands were privatized, the farmers without any land found themseves in dire straits. In addition, the state began to tax farmers. In 1860, there were 1,500 inhabitants in the valley but only jobs for about 300. The poor men and women of the valley became seasonal migrants to survive.
Although Tamastima and Rosa carried other remedies on their backs,  turpentine was the most popular. When politician Pascual Madoz wrote about the valley in 1894, he reported that the most important product in Tuixent and nearby towns was turpentine. Tamastima peddled her way across Catalonia selling turpentine until 1959 when she felt her knowledge was no longer valued, but she still made sure to pass on her knowledge to Emilia.
"I went into the world when I was seven years old," Emilia explains. "Though, really, I went along with my grandmother, because I wanted new shoes and clothes and knew that if I went along I'd be more likely to get them."
That was 1941, and although the Spanish Civil War had officially ended two years earlier, there were still guerrilla fighters in the mountains. Trementinaires walked in pairs; it was safer for the women and young girls. However, as Lina Sevillano, curator of the Museum of the Turpentine Makers, points out, the two last trementinaires to come back from the world in 1982 were Sofia Montané and her husband, Miquel Borrell.
"We always used the same route," Emilia remembers, following old shepards' trails. "Grandmother knew all the forests, charcoal stacks, bridges, and places to cross rivers and creeks."
They never went into town, where doctors and apothecaries with their antibiotics and other modern medicine had replaced the traditional herbal knowledge of rural areas. Instead, Tamastima and Emilia stopped in isolated farmsteads.
"The families waited for Tamastima eagerly! Grandmother helped them with everything—sores, aches, pains. She had it all covered."
They walked from sunrise to sunset. At night, Tamastima sold her remedies while Emilia played with other kids. Once business was done, they told stories by the fire until Emilia couldn't keep her eyes open.
Tamastima and Emilia went into the world together until the latter was seventeen. After that, Emilia moved to Andorra and became a seamstress. She later returned home and opened a hostel that served hot lunches and dinners to the workers building the new road through the valley. After the contruction was complete, she witnessed the valley empty out. In the nineteenth and beginning of the twentieth century, the solution to a sparse market was seasonal migration, but in the second half of the twentieth century, more and more locals left to never return again.
"That's why," Emilia explains with a heavy sigh, "it is strange to talk about how we peddled to be able to stay here. It is strange to think that scholars find our peddling all that relevant, and that there is a museum about us today. I wonder what Tamastima would make of it. Simply put, it was our way to stay. We love it here. We didn't want to leave. Going into the world was tough, but it was what preserved our world a while longer." 
It didn't rain that evening, just as Emilia had predicted, although we both wished it had as we bid our farewells.
Meritxell Martín-Pardo is a research associate for the Catalonia program at the 2018 Smithsonian Folklife Festival. She studied philosophy at the Universitat Autònoma de Barcelona and earned her PhD in religious studies at the University of Virginia.
Històries de les trementinaires de Catalunya
L'Emília Llorens es mira els seus dits inquiets.
«D'això només en parlàvem a casa», diu. «Ara, hi ha escriptors i investigadors com vostè que volen saber-ho tot sobre nosaltres: què fèiem, com ho fèiem i, sobretot, per què. Vol saber una cosa curiosa? "Anàvem pel món" per mantenir viu el nostre món.»
Sec davant l'Emília a la taula del menjador de casa seva, a Cal Peret, Cornellana, un dels deu pobles dispersos que formen el municipi de la Vansa i Fórnols, als estreps occidentals del massís del Moixeró. Al sud, els contraforts del Port del Comte flanquegen la vall, que davalla cap a una petita conca drenada pel riu de la Vansa i els seus tres afluents.
Avui dia, alguns d'aquests pobles tenen fins a cinquanta habitants i altres només dos, però les esglésies romàniques disperses per la vall, com la de Sant Pere de la Vansa i la de Sant Julià dels Garrics, per posar-ne tan sols dos exemples, ens recorden l'existència dels camins fressats de l'Edat Mitjana que unien aquests centres de pregària i d'intercanvi.
A fora fa una calor sufocant. El cel s'omple de núvols negres, però l'Emília diu que no plourà. A dins, les parets del menjador estan cobertes de records: souvenirs de viatges, fotos dels nets, peces de cristall que adornen la lleixa de la xemeneia…
L'Emília, que ja passa dels vuitanta, es disculpa per la seva memòria: «ja no és el que era», diu, i tot seguit comença la crònica de la seva àvia, la Tamastima, que, com altres dones de la vall, recorria Catalunya a peu venent els seus remeis.
La Tamastima era trementinaire. A la primavera i l'estiu, quan ja s'havien enllestit les feines del camp a la masia, collia herbes remeieres, regalèssia, bolets i espècies, i els transformava en olis, remeis, ungüents i pomades, i sobretot, elaborava trementina amb la resina dels pins.
«L'àvia l'aplicava com un ungüent sobre la pell», explica l'Emília. «Anava bé per treure estelles, per als dolors, els cops, les picades d'aranya, les úlceres i els refredats. Ara sembla estrany. Aleshores, la trementina podia funcionar o no, però si no anava bé no hi havia gaire més opcions.»
Encara que la recepta de la trementina de la Tamastima s'ha perdut pels racons de la memòria, el que sí que recorda l'Emília és que la resina era un dels pocs ingredients que la seva àvia comprava a la drogueria. Era tan car fabricar-ne a la cuina de casa que no hauria sortit a compte. L'Emília explica que la textura de la trementina era important. Havia de ser enganxosa, però no tant com la resina.
A la tardor i l'hivern, quan a la masia no quedava feina per a més de dues persones, «anava pel món» —aquesta és l'expressió que les trementinaires feien servir per dir que marxaven del poble a vendre els seus remeis. Deixava els fills a càrrec de la seva mare, perquè el marit també marxava a fer carbó o extreure resina. Dos cops a l'any, aquestes dones fortes de la muntanya caminaven durant mesos distàncies de més de 300 quilòmetres entre anada i tornada. És clar que hi havia autobusos, però elles sortien a guanyar diners, no a gastar-ne.
La Tamastima va començar a anar pel món l'any 1899. Tenia dotze anys; la seva companya, la Rosa Arnau, en tenia vuit. Malgrat l'orgull que sentien pels seus coneixements tradicionals sobre herbes medicinals, la motivació principal era capitalista. Fins a l'inici del segle xix, l'economia de la vall era purament de subsistència: agricultura, pesca i caça. Quan es van privatitzar les terres comunals, els pagesos sense terres es van trobar en una situació difícil. A més, l'Estat va començar a cobrar impostos a la pagesia. El 1860, la vall tenia 1.500 habitants, però només hi havia feina per a uns tres-cents. Els pagesos pobres de la vall van haver de recórrer a la migració temporal per sobreviure.
Encara que la Tamastima i la Rosa portaven altres remeis a l'esquena, la trementina era el més popular. Quan el polític Pascual Madoz va escriure sobre la vall l'any 1894, va explicar que el producte més important a Tuixent i els pobles dels voltants era la trementina. La Tamastima va recórrer Catalunya a peu venent trementina fins al 1959. En aquell moment va comprendre que els seus coneixements ja no eren prou valorats, però tot i així es va assegurar de transmetre'ls a l'Emília.
«Vaig començar a anar pel món amb set anys», explica l'Emília. «La veritat, però, és que anava amb la meva àvia perquè volia roba i sabates noves, i sabia que si l'acompanyava era més fàcil aconseguir-les.»
Era l'any 1941, i malgrat que la Guerra Civil havia acabat oficialment dos anys abans, encara hi havia maquis a les muntanyes. Les trementinaires anaven en parelles; era més segur per a les dones i les noies joves, encara que la Lina Sevillano, responsable del Museu de les Trementinaires, assenyala que els dos últims trementinaires que van anar pel món, el 1982, van ser Sofia Montané i el seu marit, Miquel Borrell.
«Sempre fèiem la mateixa ruta», recorda l'Emília, «seguint vells camins ramaders.» «La meva àvia es coneixia tots els boscos, les carboneres, els ponts i els guals per travessar rius i rierols.»
La Tamastima i l'Emília no anaven mai a les ciutats, on els metges i els farmacèutics, amb antibiòtics i altres medicaments moderns, havien substituït els coneixements tradicionals sobre herbes remeieres de les zones rurals. En canvi, sí que visitaven masies aïllades.
«Les famílies esperaven l'àvia amb candeletes! Els ajudava en qualsevol problema: irritacions, dolors de tota mena... Tenia una solució per a tot.»
Caminaven de sol a sol. Al vespre, la Tamastima venia els seus remeis mentre l'Emília jugava amb altres nens i nenes. Un cop feta la venda, s'explicaven històries a la vora del foc fins que a l'Emília se li aclucaven els ulls.
La Tamastima i l'Emília van anar pel món juntes fins que l'àvia va fer setanta anys. Després, l'Emília es va traslladar a Andorra, on va fer de cosidora. Més endavant va tornar al poble i va obrir-hi una fonda on servia dinars i sopars als treballadors que construïen la carretera que travessaria la vall. Una vegada es va haver completat la construcció de la infraestructura, va veure com la vall es va anar buidant. Al segle xix i a l'inici del xx, la solució davant un mercat escàs era la migració temporal, però a la segona meitat del segle, cada vegada més habitants de la vall marxaven per no tornar.
«Per això», explica l'Emília deixant anar un profund sospir, «és estrany parlar de com sortíem a vendre per poder-nos quedar aquí. Es fa estrany que els estudiosos considerin que la nostra activitat fos tan important, i que avui dia hi hagi un museu sobre nosaltres. No sé pas què en pensaria la Tamastima. Per dir-ho d'una manera simple, era la nostra forma de continuar aquí. Estimàvem aquestes terres. No volíem marxar. Anar pel món era dur, però era el que mantenia viu el nostre món un xic més de temps.»
Tal com havia predit l'Emília, aquell vespre no va ploure, encara que totes dues vam desitjar que ho hagués fet quan ens vam acomiadar.
Meritxell Martín-Pardo és investigadora associada per al programa de Catalunya de l'Smithsonian Folklife Festival del 2018. És llicenciada en filosofia per la Universitat Autònoma de Barcelona i doctora en estudis religiosos per la Universitat de Virgínia.