Journey to the Zest: Food Memories in Taiwanese and Middle Eastern Flavors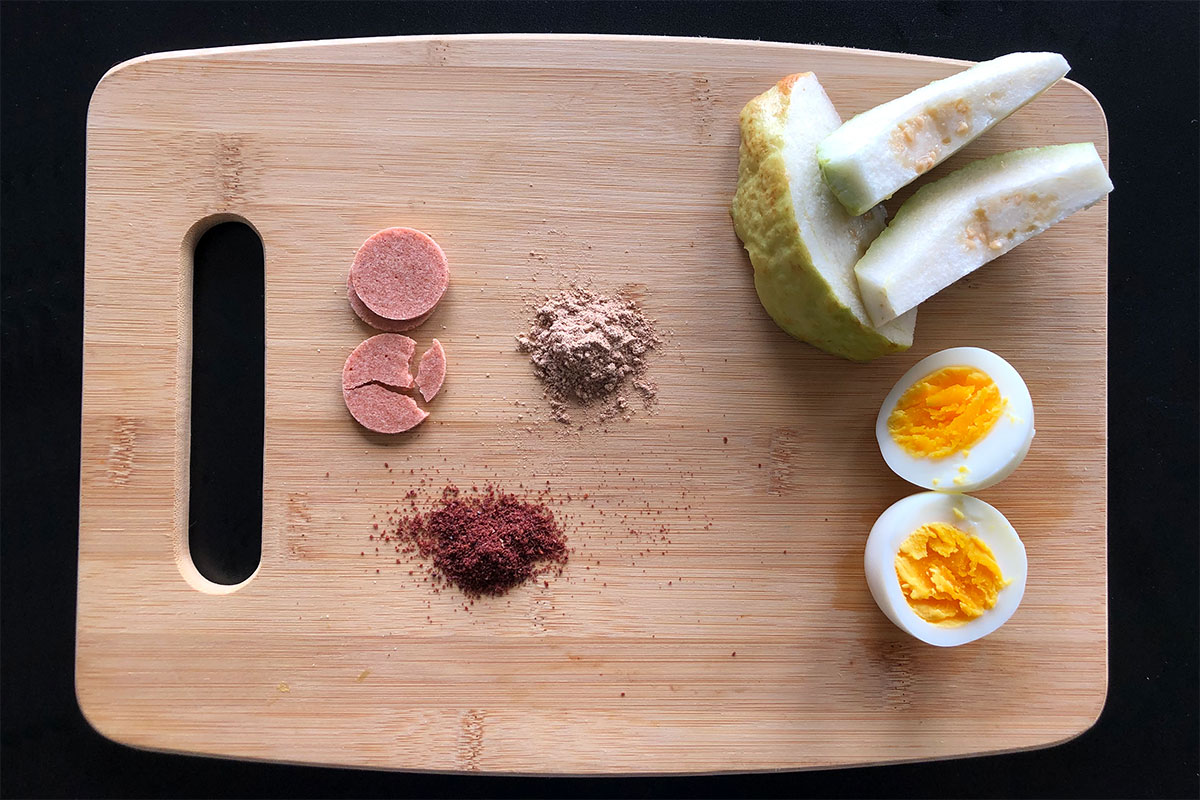 At the Smithsonian Folklife Festival, the abundance of foods and flavors brings people together. Spices were central to the United Arab Emirates program's foodways, from coffee to barbecue, and it was clear that these flavors and aromas were closely linked with stories and memories for the visiting chefs. Experiencing flavors with others brings back memories but can also launch new culinary journeys.
My own culinary moment of inspiration came in a small packet of sumac, part of a kabob meal I was given while working at the Festival. I had tasted the spice in Middle Eastern dishes before, but it never occurred to me to find out what it was. Initially, I only dipped a bit of meat in it out of curiosity, half-expecting to be stung with the heat of other powdery red spices like paprika or chili. Instead, I was met with a fragrant hint of sourness that enhanced the other spiced and roasted elements of the dish. My brain struggled to comprehend the flavor as I proceeded to dump the entire packet into my food.
I eventually landed on two particular flavors from my homeland of Taiwan: plum powder, which I liked with string beans growing up, and hawthorn candy, which my grandmother used to give me after a trip to the Chinese medicine store.
That nostalgia quickly turned into curiosity: how accurate was my memory? How similar are these flavors, really? I set out to visit a few Asian markets (barely) reachable by public transportation from Washington, D.C.
My first destination was Eden Center, a large Vietnamese American strip mall and community center in Falls Church, Virginia. The largest supermarket in the complex, Good Fortune, had a wonderful produce section where I found fresh guava, which would come in handy later. The rest of the mall felt strangely familiar with occasional red and gold spring couplets hanging from the ceiling and an abundance of rice, red bean, and mung bean treats stacked on shop counters. I discovered a new love for pandan rice cakes and jellies and got to explore a variety of affordable and delicious Vietnamese dishes.
Two days later, I went to H Mart, a large Korean-focused supermarket in Fairfax, Virginia, as well as Great Wall, a smaller Chinese-focused supermarket nearby. I had fun in H Mart shopping around the section dedicated to different kinds of kimchi and also found a great selection of sashimi materials. Great Wall had a snack and soup base aisle that almost made the air smell like winter and Chinese New Year. There, I found hawthorn flakes and other snacks I hadn't had since leaving home for college.
I did not find plum powder in any of the markets, and eventually I ordered it from a shop called Yun Hai Taiwanese Pantry, which shipped it from New York. I also double checked that the extra pouch of sumac from the Festival was still in the pantry. So, all three flavors of interest were successfully acquired by the end of the week, and my little taste-test experiment was nearly ready.
But first I called my dad to refresh my memories of plum powder. I originally thought it was only used on fruits and occasionally added to some vegetable dishes. However, our discussion and a quick search online revealed that, much like sumac, people will put it in anything and everything. My mom was apparently an exception, as she didn't really like sour things and mostly used plum powder only with string beans.
A few days after learning that one of my core childhood experiences wasn't as universal as I thought it was, the taste test finally commenced. I dug out my old bamboo chopping board and set out my spread.
From left to right:
Hawthorn candy (仙楂餅) is a sweet made from the red berries of the Chinese hawthorn tree (Crataegus pinnatifida). It can be served as a snack or used to counter the bitter taste of traditional herbal medicine, hence the association with Chinese medicine stores.
Sumac spice (سماق) plays a substantial role in Middle Eastern cuisine. It is made from the dried fruits of Rhus coriaria, one of the many species of sumac plants. Highly compatible with both vegetables and meat, sumac can be found in the well-known za'atar (زَعْتَر) spice mix and popular dishes such as fattoush and kebab.
Plum powder (梅子粉) is a condiment made from a mix of preserved Chinese plum (Prunus mume), sugar, salt, and licorice powder. It seems more widely known in the states as Li hing mui powder, and it is commonly used on candy (particularly in Hawai'i) and fruits. In Taiwan, it is also used in numerous household dishes (though this varies by preference) and in street food such as fried chicken cutlet and popcorn chicken.
It was immensely fun to have friends and acquaintances taste-test these flavors. I served the sumac on hard-boiled eggs and the plum powder on pieces of the guava from Good Fortune, a combination I also hadn't had in a while. Preparing it felt like layering two of my worlds on top of each other, just enough to reveal the differences. The guava looked a bit out of place among the tomatoes and peppers I got earlier that week. I found the plum powder at the back of the mailbox instead of in my mom's wooden pantry. The hawthorn candy came in thin flakes wrapped in paper and set in a hard plastic shell instead of flower-shaped chunks in thin orange wrapping buried at the bottom of a hand-labeled bag of herbal soup base.
It felt a bit surreal to travel and search for almost a week to piece together a household snack—one that took five minutes to assemble back in Taiwan—and share it with people in another country as something new. The general reaction seemed to be that the plum powder was good, but the flavor was hard to describe. The hawthorn flakes, on the other hand, got interesting comparisons to a subtler version of Skittles or Smarties.
In my side-by-side tasting, it was very clear that these spices tasted different, but I had a lot of trouble distinguishing how. (At the time I am typing this, I'm still periodically dipping my finger into the leftovers to refresh my memory.) Both start out with a sharp, vibrant tang. Sumac is more fragrant, while plum powder leaves a fruity aftertaste. I've been enjoying experimenting with them both on different foods.
When I first ripped open that packet of mysterious red powder, I did not expect to enter a culinary adventure filled with nostalgia, reconnection, and delighted confusion. Opening yourself to other cultures and experiences may lead back to new discoveries about your own, and food is a great way to start.
Stephanie Chen is a former intern who worked with the 2022 Folklife Festival's United Arab Emirates program team. She is a linguistics master's student at Georgetown University focusing on language and communication. Originally from Taiwan, she enjoys illustration, travel, and trying foods with intriguing names and ingredients.