"Each Quilt Can Tell You a Story": An Interview with Sylvia G. Stephens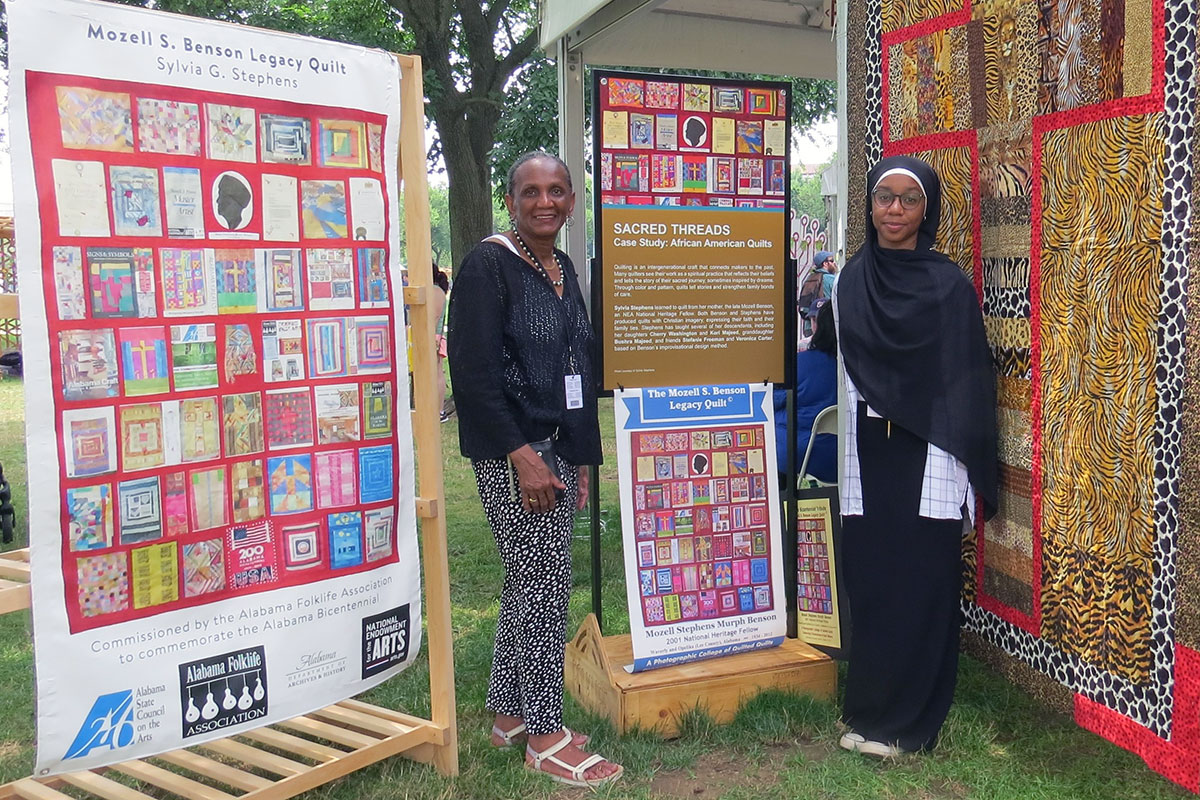 For generations, quilts have woven together stories of resilience, creativity, and community, providing both warmth and a powerful medium for expression.
During the 2023 Smithsonian Folklife Festival, I met Sylvia G. Stephens, a fourth-generation quilter originally from Alabama. She learned how to quilt from her mother, Mozell Benson, who was nationally recognized for her quilts and was a participant in the 1983 Folklife Festival. Stephens documented Benson's unique quilting method which she calls the "7-Step Easy Improvisational Quilting Technique." Stephens has passed the technique down to her daughters and granddaughters, making the fifth and sixth generations of quilters in the family.
As I helped her display her quilts during the Festival, I was inspired to explore my own family's quilting history. I discovered that my grandmother, who was born in St. Louis, Missouri, learned how to make quilts from watching her grandmother, and that she may be the only living person out of her ten siblings who learned. I immediately asked her to teach me so that I could continue the tradition for my family.
I spoke with Stephens again after the Festival to gain some insight into her journey and her family's quilting legacy, and here's some of what she had to say. This interview has been edited for length and clarity.
How did you get into making quilts?
I made my first quilt around 2003. My mother taught me to sew when I was about nine or ten years old. She taught me to sew on a family sewing machine that I think belonged to my grandmother. It was a Singer model, the kind that you peddle with your foot, because we didn't have electricity at that time. That's how I remember learning to sew. I just loved it so much because I used my sewing skills to make clothes for myself. I enjoy sewing, but the quilting didn't come until later.
My mom received the 2001 National Endowment for the Arts National Heritage Fellowship. I didn't really realize that my mother was so well known. During one of the ceremonies, they asked her if any of her children made quilts, and I'm sitting in the audience thinking, "Well, I haven't made a quilt," and I'd been sewing all these years. At that ceremony, she couldn't say I was one of her children who learned to quilt.
I later asked her if she could teach me, and I became her apprentice under the Alabama State Council on the Arts' Folk Arts Apprenticeship program. That's how it all started. To this day, I make more quilts than I make anything else.
Tell me about your very first quilt.
The very first one I made and finished was actually a quilt for my first granddaughter, Sanaa, who was born when I was living in Alabama helping to take care of my mom. She was born here in Washington, D.C., so I decided I would make her a quilt. It was rainbow colors because, in the scriptures, the Bible says that God made a promise to mankind, and after he made that promise there was a rainbow in the sky. I wanted the quilt to be colorful, so I used all those colors. It was just strips of fabric. It wasn't anything fancy.
Can you name all the generations of quilters in your family? This is how we keep their legacy alive.
Jenny Stephens was my mother's grandmother—that's one generation. My grandmother, Cleo, would be two. Three would be my mother, Mozell Benson, and I would be generation four.
My daughters, Kori Majeed and Stefanie Freeman, are the fifth generation. Kori learned to quilt directly from my mother. Then my granddaughters, all of them now have made a quilt. Granddaughter number three, Aya, came to me and asked me if I would teach her how to quilt. She was my apprentice quilter under the Maryland State Arts Council's Folklife Apprenticeship program. Then the next granddaughter, Duaa, and I made her first quilt. The baby of the five girls is Bushra. She came to me and said she wanted to make a quilt, so we made her first two quilts.
So those are the six generations that we are able to account for. We have an image of a quilt for everybody except for generation number one. In the legacy quilt that I made to honor my mom, the Mozell S. Benson Legacy Quilt, we document five generations in quilt images.
Can you tell me more about the Mozell S. Benson way of quilting?
Mom's style of quilting has been called improvisational because she would say that she doesn't use patterns. The way she started a lot of her quilts was by using any fabrics she would have, and she would lay the pieces out on her bed until they fit the bed. She said she laid it on her bed because if she sewed the pieces together and laid it back on the bed, and it fit the bed, then it was the right size.
Another way she knew it was the right length is she would put her foot on one end of the quilt and raise it up over her head, because she was about five-foot-ten.
Then she sewed the backing of the quilt to the front across the top, and then put the batting—or the middle part—in between the top and backing. This is one of her techniques that I still use. There was always something in the middle. Most of the time, it was old blankets.
After those three layers were laid together, she tied them together. She started calling the ties "prayer knots" because a lot of times when she was tying the layers together, she would say prayers, so whoever got the quilt got prayers from Mozell. When I started doing it, I wanted to be sure the knots would stay, so I tied another knot. I started calling mine "trinity knots." To finish, she would fold the backing into a binding or border to cover the edges around the three layers.
The last thing she would say is "Sleep under it. Quilts are made to be slept under." You can hang yours on your wall if you want to. You can do whatever you like, but make your quilt and sleep under it for the warmth that it gives you and the prayers.
What is the most important thing that you want your granddaughters to learn from you when it comes to quilting?
To do something you like, because that's what my mother told me. She said if you do something you like, somebody else is going to like it, too. That also gives you freedom, which my mother gave me.
The other thing that she would tell me is it didn't have to be perfect. Sometimes you would set it aside, and you may never get back to it because you thought it had to be perfect.
Another thing she said was to finish the quilt. She said it's not a quilt until it is finished. So, what I would say to my granddaughters, if you enjoy sewing, is to be creative. You can use fabrics to create something that you have in your mind or that you dream. Enjoy what you do, share it, and, as Mom would say, sleep under your quilt.
What would you tell someone like me who wants to begin quilting?
You can do it! You can make a quilt. Quilts can be as simple as just straight sewing. If you like to do it by hand, you can do it by hand. If you want to do it by machine, you can do it by using a sewing machine. Basically, all you really need is a straight stitch to sew the pieces together, and you need to also finish it.  It can be beautiful, and you're going to love it because you made it.
What impact has quilting had on your life?
For me, the biggest impact has been how it has allowed me to create something in my mind, something that I've dreamed of. As you know, each quilt has a story; each quilt can tell you a story, or you can create your own story with your quilt. So, quilts can do a lot for you.
How do you feel these quilts connect you to your culture and history?
Quilting has been around for centuries. In my mother's family, when she told me that she learned to quilt from her mama's mama and her daddy's mama, as well as her own mama, it helped me to understand it's something that's passed along through families.
But I also heard my mother say once that there's something in the DNA, and that's what she picked up when she went to Africa. She saw something there that was familiar, and that made me think even more deeply that we do things sometimes out of cultural memories.
When I was back in Alabama, to help take care of my mother, that helped me understand that there were family traditions that my mother was carrying, ones that people loved and appreciated and maybe without knowing the history themselves, but there was just something about it that attracted people to her quilts. Being in Alabama and growing up with quilts on my bed and learning how to make them when I was in my early fifties has taught me a lot about family traditions that I didn't know but I believe are inherent in me.
What emotions come up when making these quilts, considering the connection to family and the legacy your mother left behind?
Wow. Sometimes I feel like I can hear my mother talking to me. Especially when she said you don't have to be perfect. Sometimes I don't take stitches out. I just keep going like she used to do. I'm encouraged by memories of her to finish the quilt. That's so important because I still have quilts that I started years ago that I have not finished.
I make the LOVE quilts and they're usually two feet by two feet, but I get to create the top, and I get to put them together the same way that she did. I can just see in the future so many more quilt blocks being made, and I think the important thing is to finish. I pray for longevity, so I can finish the quilts I've started.
What would be your dream for the future of your family's legacy?
I would like to see quilt making continue as a part of our family legacy, and I can see that it will likely do that through my own family. I have a cousin, Veronica Carter, who came from Alabama to help at the Festival. She asked me to help her make quilts for her granddaughters, so we made two LOVE quilts. I have a sister, Karen, who lives in Montgomery, and when I visit, part of our plan is to spend a day or so together to make a quilt. She's my baby sister. We're like fifteen years apart. So if she continues it, and my cousin Veronica and my daughters and granddaughters continue it, I can see the possibility of the legacy being carried on in our family for generations to come.
Taylor Freeman is an aspiring quilter and museum studies student at the Duke Ellington School of the Arts in Washington, D.C. She was a Robert P. Kogod intern during the 2023 Smithsonian Folklife Festival.