"A Houston Story": Finding Connection between Gospel and Qawwali Devotional Music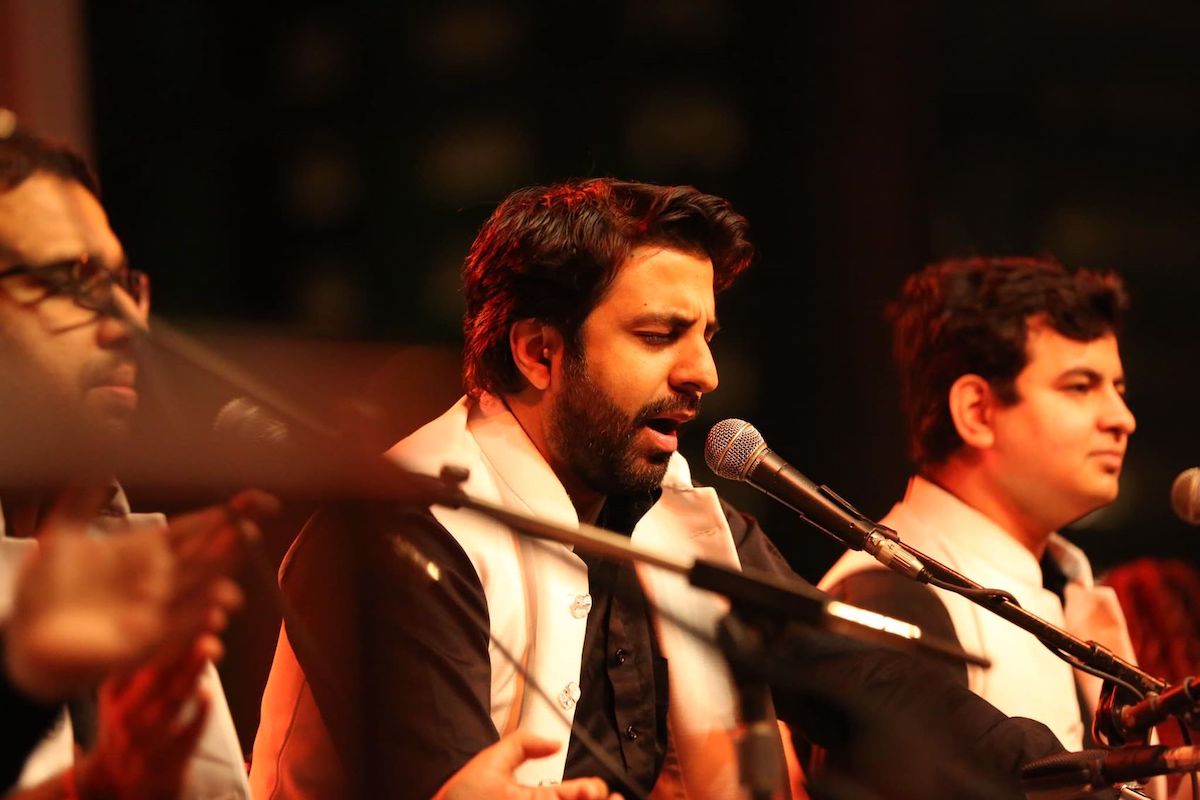 When Sonny Mehta first witnessed the lush harmonies of The Jones Family Singers, a gospel soul group from Texas, he was struck the moment they started singing: "Every moment of interaction is inspiring musically but also as individuals—this family is the living, breathing embodiment of a faith that they're practicing, a music that they're using to build community with everyone else."
Just two sets earlier at globalFEST 2015, Mehta had been singing on the stage himself as the musical director of Riyaaz Qawwali, an ensemble that performs qawwali, a form of Sufi devotional music. A fellow Texan, Mehta invited the Jones Family Singers to perform together with Riyaaz Qawwali in their shared home state in 2021. On July 2, they will take to the stage together once again at the Smithsonian Folklife Festival.
Despite the vast distance between the origins of gospel soul, which traces its roots back to Black churches of the American South in the early twentieth century, and qawwali, which first converged from Persian, Arabic, Turkish, and Indian traditions on the Indian subcontinent in the thirteenth century, the two collaborators have found no dissonance between their musical practices.
Instead, the pairing is a familiar weld of the diverse soundscapes found in urban Texas. "I actually took on the collaboration because it really represents my childhood," Mehta explained. "I grew up as a kid in Texas, and so I heard gospel music. Then when I would come home, I would listen to other religious music from South Asia. That melding was inside me. This collaboration is a Houston story that I'm more than excited to celebrate."
Riyaaz Qawwali and the Jones Family Singers have since discovered many exciting moments of connection springing from their shared purpose as religious folk music groups. Mehta noted how both ensembles perform in an accessible manner designed to invite the audience's participation: "The melodies and rhythmic cycles used are usually very similar. They're not very complicated or difficult-to-follow melodies. It is so that the audience, the congregation, the qawwali listener can follow and sing along and can be one with a spiritual experience."
"The next would be that the lyrics are very important," Mehta continued. "In gospel and qawwali, they're usually praising the divine. And from songs like 'Amazing Grace' to 'God Is Great' to 'Jesus Is My Savior,' these are all either recognizing and praising God or the Prophet. And very similarly in qawwali, you have qawwalis for God, which are called hamd, for Prophet Muhammad, called naat…so that's another similarity in lyrics."
"And then third, we clap in qawwali a lot!" Mehta said. "Clap is used as a rhythmic marker in both of these genres. There are several other musical similarities that exist."
The connections between the two ensembles are not only musical—they are also historical. Mehta emphasized that they are another installment in a long tradition of collaboration between South Asian and Black communities. "While this collaboration is new, these communities have been inspired by each other before," he said. "It dates back to Dr. King being inspired by Mahatma Gandhi. It dates back to the Black Panthers and the Dalit community of India meeting at a conference in Bali in the '90s. And to this day, the Dalit have the Black Panthers logo in their flag. What I feel that music does, and this collaboration does, is remind us of how historically we have found our ways to the other."
Bishop Fred A. Jones, the leader of the Jones Family Singers and pastor of the Mt. Zion Pentecostal Cathedral in Markham, Texas, expressed gratitude toward Mehta for taking the initiative to bring the two groups together. "I feel like it has been an eye-opener for all cultures to respect one another and show that we have much to offer one another if we applied ourselves. It's one thing to guess and quite another to know of others through united efforts."
Both ensembles perform within a democratic ethic of grounding the sacred in everyday human experiences. The ghazals (an Arabic form of poetry addressing themes of love and separation) Riyaaz Qawwali source their lyrics from compare the absence of a lover to the absence of faith, just as the Jones Family Singers compare the relief of financial debt to the relief of grace.
In the song "I Miss You" from the Jones Family Singers' 2018 album Soul Grooves of Jfs, in which the gospel group describes mourning the loss of a mother by looking to God, Jones dedicates the song to "all of you who grew up with a mother who taught you all about Jesus…showed you the way and was an example for you all your days." In their 2015 album, Ishq, Volume 2, Riyaaz Qawwali sings a song dedicated to mothers, "Mai ni," as well.
"Amir Khushrow, the founder of qawwali also wrote a famous qawwali addressing his mother upon finding his spiritual master, saying he found his spirituality through his mother," Mehta said. "There are so many interesting connections."
For both ensembles, the purpose of their work ultimately returns to inspiring their audiences to live life with greater vitality, regardless of faith. Mehta recalled, "You know, the bishop said this beautiful line when we talked once: 'I don't think my God is concerned with what religion I follow, but how I interact with other human beings.' That's just so powerful—and I come from that exact way of living."
Riyaaz Qawwali and the Jones Family Singers look forward to embodying the spirit of the Creative Encounters program on the National Mall. As the program encourages in its introduction, by "engaging with rituals and secular stories," they will "build community, agitate for social change, and transmit [their] heritage and worldviews to others." Both ensembles will share an evening concert on Sunday, July 2, at 5 p.m. on the Ralph Rinzler Main Stage and a narrative session on Monday, July 3, at 12 p.m. on the Encounter Stage. 
Daniel Zhang is a media intern at the Smithsonian Folklife Festival from Edison, New Jersey. He is a rising sophomore at Yale University studying Humanities. At school, he sings with the Doox of Yale and leads tours at the Yale University Art Gallery.