The Return of Mariachi Aztlán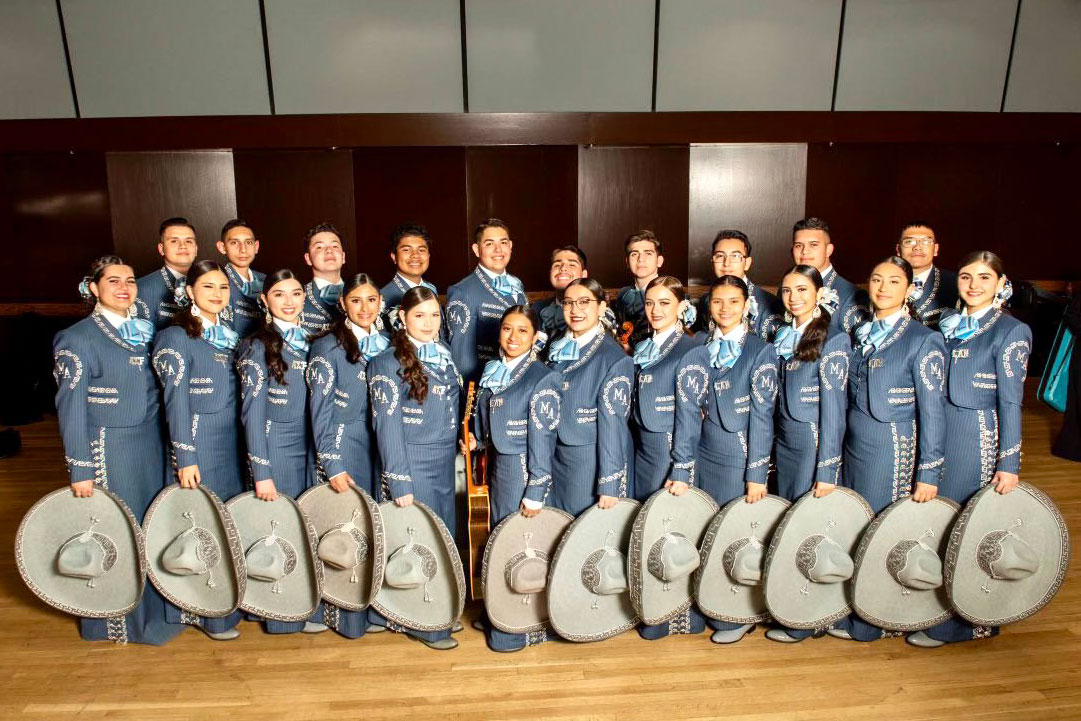 You'll recognize Mariachi Aztlán by their traditional trajes de charro (Mexican cowboy suits). They will also be among the youngest performers on the National Mall. The twenty-six student performers from Pueblo High School in Tucson, Arizona, promise a stunning performance of Mexican hits—fourteen years since the mariachi's last appearance at the Smithsonian Folklife Festival.
Raising $60,000 from their local community, the mariachi made up entirely of high school students from ages fourteen to eighteen was invited by U.S. Representative Raul Grijalva of Tucson to represent the state of Arizona at the annual National Independence Day Parade in Washington, D.C. The group consists of classic mariachi instrumentation: four trumpets, twelve violins, one guitarrón, one vihuela, two guitars, one guitarra del golpe, and two Mexican harps. They frequently cover classic mariachi songs from Mexican icons such as Pedro Infante, Vicente Fernández, and Mariachi Vargas de Tecalitlán—who performed at the White House in June.
Mariachi Aztlán was founded in 1992 by Richard Carranza, former Chancellor at the New York City Department of Education and a figurehead of the movement to create mariachi programs in schools nationwide. For the past eighteen years, director John Contreras has led the highly successful group, winning the Governor's Arts Awards in Arts in Education in 2021, as well as bringing home seven consecutive first place wins at the Tucson International Mariachi Conference's High School Division.
As a high school program and class, each student must audition in both singing and instrument playing and maintain a high GPA. But the music becomes more than an extracurricular. For many students of Mexican descent, Mariachi Aztlán becomes a mode of creative expression to connect with and sustain their heritage in the United States. Instigating a sense of cultural pride, mariachi has turned into a family affair, as the group plans on bringing along parents, siblings, and extended family to the Festival—totaling to a group count of over sixty.
But this is not their first time coming to D.C. for the parade. Each year, Mariachi Aztlán saves up for one out-of-state performance as a culmination of their work throughout the school year, with previous appearances in New Mexico and California, and they have traveled to perform with Rufus Wainwright III, Linda Ronstadt, Rita Moreno, and others.
In 2009, the mariachi was first invited to perform at the same Fourth of July parade. After their performance, the students went to visit the Folklife Festival and were surprised to find their friends Mariachi los Camperos de Nati Cano (a Smithsonian Folkways GRAMMY-winning group) performing. The two groups have known each other for many years—the students learn from the pros at the Tucson International Mariachi Conference—so Los Camperos invited them up to help with their big finale, "El Sol de la Negra."
Now in 2023, Mariachi Aztlán returns to the Festival in their own dedicated performance slot, bringing along three alumni who graduated during the pandemic years and were unable to travel to the parade. They will close out the first week of the Festival on July 4 at 5 p.m., playing along with the completion of the alfombra de aserrín (sawdust carpet) by Guatemalan Maya artist Ubaldo Sánchez and Los Viajeros de las Americas. Earlier at 4 p.m., the mariachi will participate in a jam session and chat with fellow teens in the Ozarks bluegrass group Sylamore Special from Mountain View, Arkansas.
Come celebrate the Fourth of July with the return of Mariachi Aztlán!
Luis Guevara-Flores is an intern in U.S. Latinx expressive culture for the Folklife Festival program Creative Encounters: Living Religions in the U.S. He is a Mexican American undergraduate student at Yale University double-majoring in art history and Latin American studies.