Passing the Big Apple: A Landmark Day for a New York Icon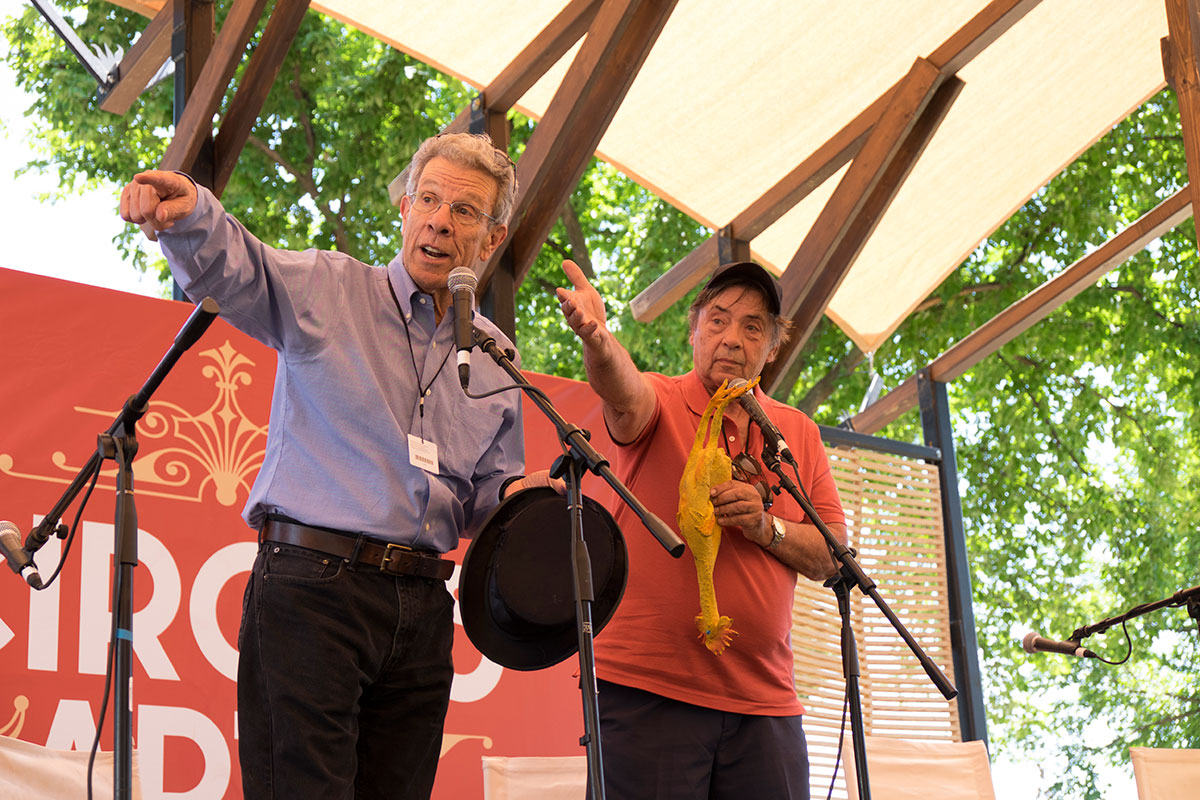 On opening day of the Folklife Festival, audiences at the "Circus Dreams: Running Away with the Circus" panel witnessed an unexpected and touching moment.
Big Apple Circus cofounders Paul Binder and Michael Christensen marked the beginning of the 50th annual Festival with a momentous occasion of their own when they presented the "keys" to the Big Apple Circus to one of its new proprietors, Larry Solheim of BigTop Works. In classic Big Apple spirit, the "keys" were in fact a worn top hat and a rubber chicken named Leonard.
The duo explained that the chicken had been with them ever since their pre-Big Apple days touring and performing in Europe. Solheim took the stage, the hat, and Leonard, and offered his own heartfelt reflections.
"The reason I'm coming is to save the legacy," Solheim promised. "Our intention is not to change the heart and soul of the Big Apple Circus. Our intention is to continue it."
Christensen and Binder founded Big Apple in 1977, based out of a single-ring tent near Lincoln Center in New York City. Over the past four decades, the Big Apple Circus became a treasured New York icon, recruiting performers from all over the world, including Festival participant and aerialist Elena Panova. Big Apple was known for its creative and diverse acts—including beloved characters like Barry Lubin's Grandma the Clown, who will also be at the Festival—as well as for its lack of exotic animals. The organization also made inroads in inclusivity in the circus, hosting programs for those with autism and sight or hearing impairments.
Although it was forced to declare bankruptcy in 2016, Big Apple was bought by a dedicated group of investors in early 2017 and is set to resume shows just in time for its fortieth anniversary in fall of 2017. Lubin will revive his characters for its revival this coming season, and high-wire legend Nik Wallenda will join the cast as well.
As Solheim vowed to revive the Big Apple Circus, he acknowledged the immensity of the legacy he had sworn to save. As he noted, "We have big shoes to fill."
See Big Apple Circus in the Big Top for the "Circus of the Senses" on July 3 at noon. To reserve audio description headsets, ASL interpreted seating, or space on the touch tour, please RSVP on the Eventbrite.
Julia Berley is an intern at the Center for Folklife and Cultural Heritage. She is a rising junior at Emory College of Emory University, double majoring in history and psychology.