A Guide to NASA Day at the Festival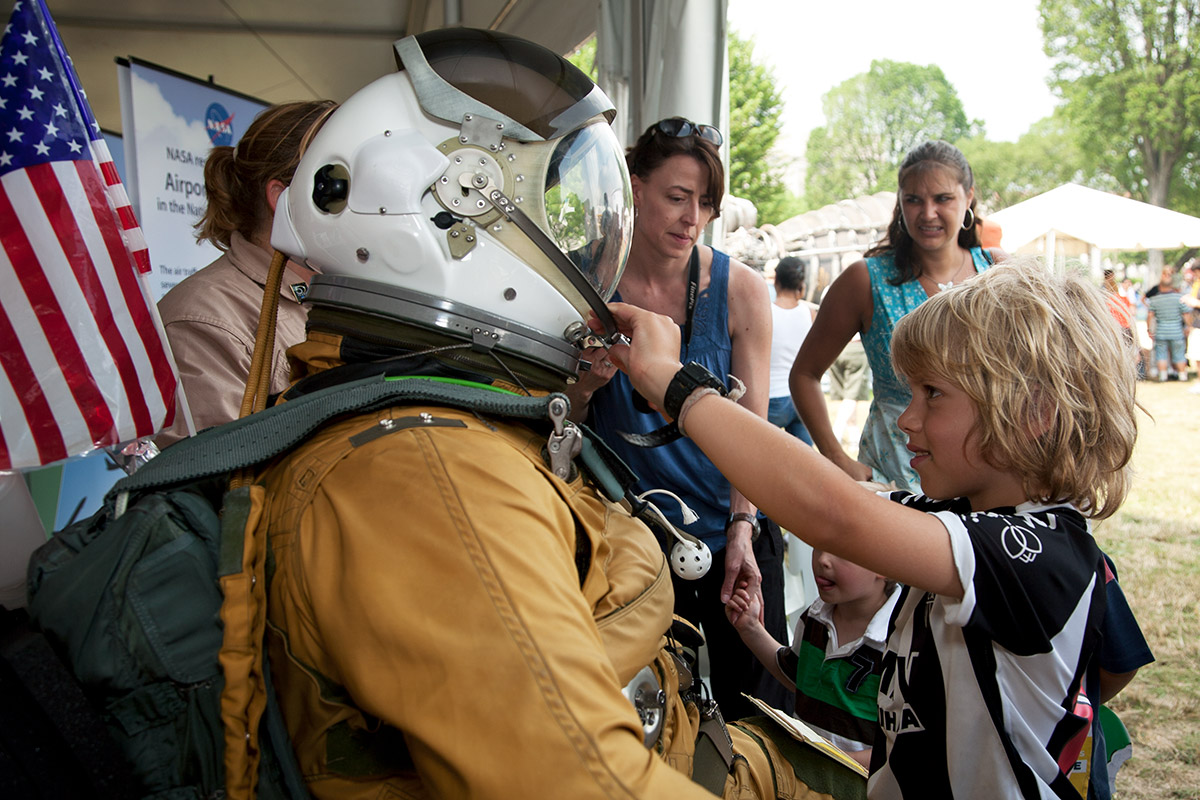 At this year's Folklife Festival, the National Aeronautics and Space Administration will return to the National Mall for NASA Day on Saturday, July 2. Throughout the day, Earth Optimism × Folklife programming will feature NASA activities, discussions, and demonstrations that bring the space organization back down to Earth.
In 2008, the Festival featured NASA: Fifty Years and Beyond, which celebrated the founding of the organization in 1968 and gave visitors the opportunity to meet with and learn from experts in aeronautics, Earth science, robotics, space art, and more. One tent was designated to record oral histories from astronauts and visitors alike on their memories of NASA and their hopes for NASA's future.
Now, fourteen years later, NASA is back for a special, one-day-only feature this weekend. The following sessions show how NASA's research and efforts support people, animals, plants, and ecosystems right here on Earth.
Join NASA in the People-Powered Science tent for family-friendly workshops throughout the day. Join for hands-on activities at 11 a.m., 1 p.m., and 4 p.m. Make a collage of satellite images and learn how the oceans' salt levels impact the tides.
At the Earth Optimism Stories narrative stage, stop in for two panel discussions focusing on specific NASA projects related to Earth sciences. NASA DEVELOP Program: Sustaining Earth by Observing Earth at 12 p.m. will address how NASA builds the capacity of external organizations to tackle environmental and policy issues by utilizing NASA Earth observations. At 1 p.m., NASA's Decision Support for Natural Resource Management will highlight work addressing biodiversity, conservation, and ecological forecasting.
We won't be serving space food, but drop in at Festival Foodways in the afternoon for two NASA-assisted kitchen demonstrations. Sustainable Seafood: Amberjack at 2 p.m. will pair Forever Oceans chef Mark Allison with NASA Director of Applied Sciences Lawrence Friedl to discuss sustainable fish farming. At 3 p.m., Oysters and NASA will continue the Festival's oyster craze by diving into NASA's involvement in the ocean. Or visit Folklife Studio at 3 p.m. for the last EO x Folklife Studio session of the Festival: What Is Sustainable Food Production? featuring NASA Earth Science director Karen St. Germain. 
Before attending our final evening concert, visit Pocket Cinema at Folklife Studio at 5 p.m. for the People & Nature film screenings, which includes NASA Presents: Jane Goodall.
We can't wait to see you this weekend to explore what NASA has to offer to Earth conservation efforts here on our planet.
Annabella Hoge is an intern with the 2022 Folklife Festival's media team. She is a rising senior at Georgetown University studying American studies, anthropology, and journalism and hails from Los Angeles, California. Her favorite planet was Pluto.