"My Goodness We Were Hungry!"
An Immigrant's Voyage to Catalonia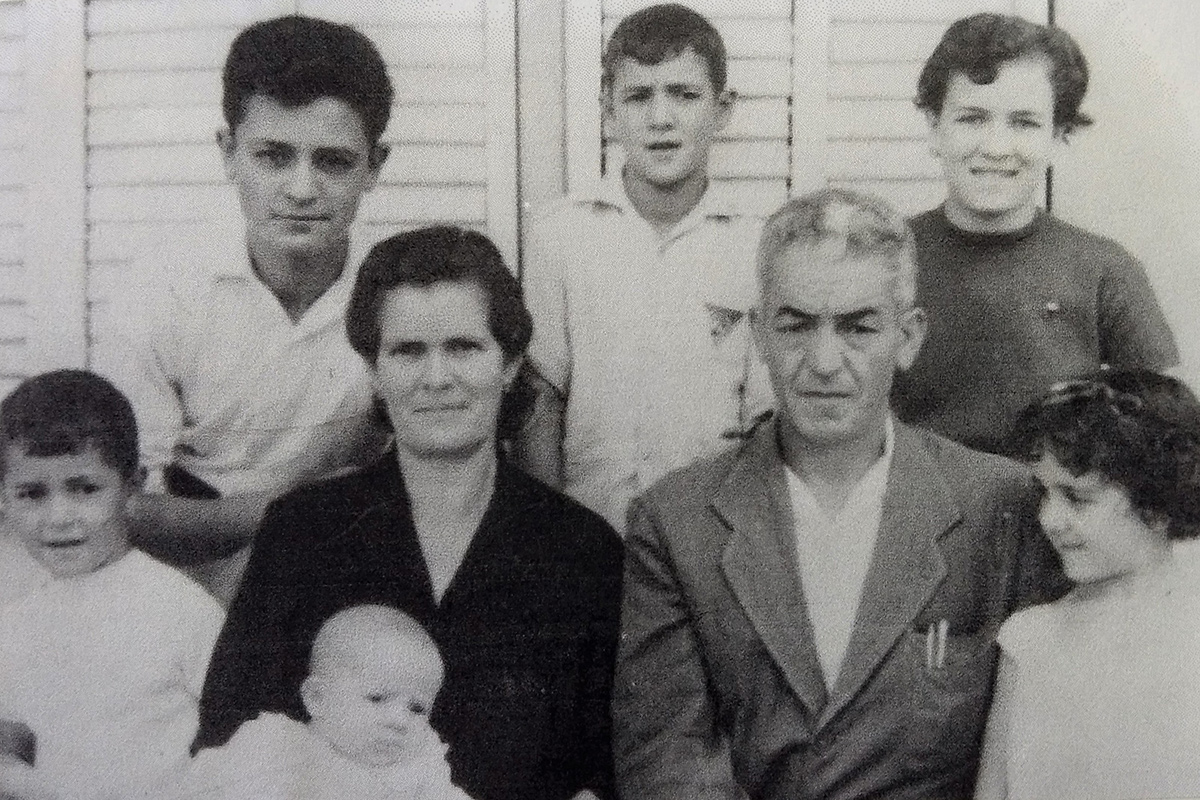 Llegiu aquest article en català
Maria Àngels Córdoba tells me her story in steady Catalan, but when she wants to emphasize a feeling, like these ferocious hunger pangs, she quickly switches to Spanish.
"In the morning, we had some café con leche [half coffee, half milk]—well, it was brown, but it wasn't coffee—and sopitas, slices of day-old dry bread. For lunch, chickpeas, olives, corn, grapes. Meanwhile the señoritos owned mountains, forests, creeks, rivers, entire towns even, but they didn't pay the day's wages in good time. My dad protested—he had five children to feed and one on the way. He worked days and nights and still owed the daily bread. He didn't want to leave. He'd been stationed in Catalonia during the Civil War, and he didn't want to return to Catalonia... but in Catalonia there were jobs and regular weekly wages. In the end, we left."
In 1963, when Maria Àngels left Salinas, Córdoba, for Navas, Catalonia, she was thirteen years old. What she didn't realize until she attempted to get in the train with the family mattress on her back was that their journey was a common one. So prevalent, in fact, that between the early 1950s and 1975, Catalonia's population increased by 2,222,812 people. Maria Àngels is considered an immigrant, even though she was a Spaniard moving to another part of Spain.
"Our train came from Granada, and it was packed with people, belongings of all kinds. The air was thick. We pushed to get in. Grandma and Mama, round as a watermelon, sat down. We, kids crowded on the mattresses on the corridor. It was fun!" says Maria Àngels, looking both excited and sad.
It took them two full days to get to Catalonia—nowadays it takes half a day. They shared games, stories, food, and dreams.
Then, "I saw the sea! It was so big and blue. It hurt my eyes to look." The sea was, to Maria Àngels, the promise of the good things to come.
In Navas, Maria Àngels went to school for a month, but soon she found a job in a factory in Ametlla de Merola. She remembers the peals of laughter from the teenage girls working next to her. It was there, over the noise of the loud textile machinery, that she realized her manager, Mr. Ton, spoke another language.
He gave her an order, and Maria Àngels stood there dumbfounded. She asked for clarification in Spanish, but he responded in Catalan. She discovered later that he didn't understand Spanish. She was sure she would be fired. But, in what she interprets as an act of kindess, Mr. Ton approached her and, speaking slowly, showed her what he had asked her to do. This is how she began to learn Catalan.
While Maria Àngels took language lessons with Mr. Ton, other Andalusian immigrants who, like her, escaped hunger or political persecution, weren't so lucky. Since the 1950s immigration wave took place during Francisco Franco's dictatorial regime, many Catalans misinterpreted the arrival of 100,000 Andalusian inhabitants per year as an attempt to erase Catalan identity, according to Imma Boj, curator at the History of Immigration in Catalonia Museum. Franco declared these immigrants illegal, and many were even deported. Many immigrants felt not only uprooted but also rejected by many Catalans, as their presence was seen as a form of political occupation.
Meanwhile, Maria Àngels' family moved as much in Catalonia as it had in Andalusia, looking for a place to settle. "We were like snails" she jokes, because they carried their possessions with them from one house to another. "We stayed in Navas for five years, but then moved to Ribes de Freser. There the bell rang to call the workers to the factory. On winter Sundays, we went to the movies, and in the summers, we hiked the Taga [Mountain]. Life had changed.
"One good day, the director of the Tolrà factory from Castellar del Vallès came to Ribes. He was looking for large families, so the Pérez, Pinilla, Gallardo, Jurado, and Córdoba families moved to Castellar. We were given a new appartment to live in, and we all started to work at the Tolrà factory."
Founded in 1856, the Tolrà textile factory took advantage of the rugged landscape of Castellar del Vallès by installing two hydraulic wheels in the Ripoll River to generate energy to move the looms. The looms were renowned for two reasons: 1) the quality of the product, with the bright white cotton fabric winning international awards, and 2) the quality of life for the workers. The managers established a daycare center and several schools for children of employees. They gave workers regular holidays and a retirement pension before it was required by the law. They built housing, laundry facilities, a church, a coffee shop, a soccer field, a theater, and a supermarket. The Tolrà patronage is a paradigmatic example of how Catalan industries behaved in the nineteenth and twentieth centuries.
"In Tolrà, my father continued to be an unskilled laborer, but I wasn't. I worked in the salvage team—there were three of us. The chemical products we worked with were so dangerous that once I saw a cat disappear when it fell, accidentally, into one of the tanks. But what fabrics we produced! Nothing like it today, nothing at all," Maria Àngels explains melancholically, remembering how the Tolrà looms shut down in 1995.
"It was there that I met Jordi, a handsome industrial master. I kind of had to hurry and learn Catalan well. But, you know, Jordi helped me!" she jokes.
According to geographer Anna Cabré, Catalonia was a pioneer in a new model of population growth, with immigration rather than procreation at its center. Between 1787 and 1887, Catalonia went from having the highest matrimonial fertility rate in Spain to the lowest. This transition paved the way for the capitalist transformation of the Catalan economy. The industry offered tempting job opportunities and higher salaries—just what immigrants sought.
So in the late nineteenth century, immigrants began to arrive from Aragon, Valencia, and the Balearic Islands. In the 1900s, they came from Murcia, Alicante, and Almeria, and in the 1950s, from Andalusia. By 1975, 38.4 percent of the Catalan population had been born outside Catalan territory.
As was common in Catalonia in the 1970s, Maria Àngels stopped working when she got pregnant with her first daughter. In her living room hangs a painting of the Salinas house her father sold to purchase the train tickets, but she has never been back. She would like to, but there was never time or money. Anyway, she found a place to settle and call home a long time ago.

Meritxell Martín-Pardo is a research associate for the Catalonia program at the 2018 Smithsonian Folklife Festival. She studied philosophy at the Universitat Autònoma de Barcelona and earned her PhD in religious studies at the University of Virginia.
«¡Que hambre había, madre mía!»
El viatge a Catalunya d'una immigrant
La Maria Àngels Córdoba m'explica la seva història en català, però de seguida canvia al castellà quan vol emfasitzar sentiments i sensacions, com aquella gana ferotge i punyent que passava.
«Al matí, preníem cafè amb llet —bé, era de color marró, però no era cafè— i sopitas, llesques de pa sec del dia abans. Per dinar, menjàvem cigrons, olives, blat de moro, raïm... Mentrestant, els señoritos eren els amos de muntanyes, boscos, rius i torrents, fins i tot de pobles sencers, però no pagaven els jornals puntualment. El meu pare protestava, tenia cinc fills per mantenir i un altre en camí. Treballava nit i dia per guanyar-se el pa. No volia marxar. Durant la Guerra Civil havia estat destinat a Catalunya, i no hi volia tornar..., però a Catalunya hi havia feina i es podia cobrar una paga setmanal amb regularitat, de manera que, finalment, vam marxar.»
El 1963, amb tretze anys, la Maria Àngels va deixar el poble cordovès de Salinas per anar a Navàs. Quan va intentar pujar al tren amb el matalàs a l'esquena, es va adonar que el seu era un viatge força comú. De fet, era tan comú que, entre principis de la dècada del 1950 i el 1975, la població catalana va augmentar en 2.222.812 habitants. La Maria Àngels és considerada una immigrant, encara que fos una espanyola que es traslladava a una altra part d'Espanya.
«El nostre tren venia des de Granada i anava ple com un ou. Els viatgers duien tota mena d'efectes personals, les seves pertinences. L'ambient estava carregat. Vam entrar al vagó a empentes. L'àvia i la mare, molt grasses, seien, mentre que els nens ens atapeíem sobre els matalassos al passadís. Era divertit», explica la Maria Àngels, amb una barreja d'emoció i tristor al rostre.
Van tardar dos dies sencers a arribar a Catalunya —avui tardarien mig dia. Compartien jocs, històries, menjar i somnis.
«Vaig veure el mar! Era tan gran i tan blau que feia mal als ulls.» Per a la Maria Àngels, el mar era com la promesa de les coses bones que havien de venir.
A Navàs, la Maria Àngels va anar a l'escola un mes, però aviat va trobar feina en una fàbrica de l'Ametlla de Merola. Recorda les riallades de les seves companyes de feina adolescents. Va ser allà on, amb el brogit de la maquinària tèxtil de fons, es va adonar que el seu cap, el senyor Ton, parlava en una altra llengua.
Li va donar una ordre, i la Maria Àngels es va quedar esbalaïda. Va demanar que li ho expliqués en castellà, però ell va respondre en català. Més tard va descobrir que ell no entenia el castellà. Estava convençuda que la despatxarien, però, en el que ella interpreta com un acte d'amabilitat, el senyor Ton se li va acostar i, parlant a poc a poc, li va ensenyar el que li havia demanat que fes. Així va ser com va començar a aprendre català.
Mentre la Maria Àngels aprenia català amb el senyor Ton, altres immigrants andalusos que, com ella, fugien de la fam o de la persecució política, no eren tan afortunats. Segons Imma Boj, directora del Museu d'Història de la Immigració a Catalunya, com que l'onada d'immigració de la dècada del 1950 va tenir lloc durant la dictadura de Franco, molts catalans van interpretar l'arribada de 100.000 habitants andalusos a l'any com un intent d'esborrar la identitat catalana. Franco va declarar aquells immigrants il·legals, i molts fins i tot van ser deportats. Molts d'aquells immigrants es van sentir no tan sols desarrelats, sinó també rebutjats per molts catalans, perquè la seva presència es percebia com una forma d'ocupació política.
Mentrestant, la família de la Maria Àngels recorria Catalunya com havia recorregut Andalusia, a la recerca d'un lloc on establir-se. «Fèiem com els cargols», comenta rient, perquè s'enduien totes les seves pertinences d'una casa a una altra. «Vam quedar-nos cinc anys a Navàs, però després ens vam mudar a Ribes de Freser. Allà la campana tocava per avisar els treballadors per anar a la fàbrica. Els diumenges d'hivern anàvem al cinema, i a l'estiu, fèiem excursions al Taga. La vida havia canviat.
«Un bon dia, el director de la fàbrica Tolrà de Castellar del Vallès es va presentar a Ribes. Buscava famílies grans, i així va ser com els Pérez, els Pinilla, els Gallardo, els Jurado i els Córdoba ens vam traslladar a Castellar. Ens van donar un pis nou per viure-hi i tots vam entrar a treballar a la Tolrà.»
La fàbrica tèxtil Tolrà va ser fundada el 1856. Aprofitant el terreny accidentat de Castellar del Vallès, van instal·lar al riu Ripoll dos molins per generar energia per fer anar els telers. La fàbrica tenia molta anomenada per dos motius: per una banda, la qualitat dels seus productes (les seves peces de roba blanca de cotó havien guanyat premis internacionals), i per una altra, la qualitat de vida dels treballadors. Els responsables de la fàbrica van obrir una llar d'infants i escoles per als fills dels treballadors. Els empleats tenien dret a vacances periòdiques i a una pensió de jubilació abans que ho exigís la llei. La Tolrà havia construït habitatges, safareigs, una església, un cafè, un camp de futbol, un teatre i un economat. El patronat Tolrà és un exemple paradigmàtic del comportament dels industrials catalans als segles xix i xx.
«A la Tolrà, el meu pare seguia sent un treballador no qualificat, però jo no. Treballava a l'equip de socors —érem tres. Els productes químics amb què treballàvem eren tan perillosos que una vegada vaig veure com desapareixia un gat que va caure per accident en un dels dipòsits. Però quins teixits que fèiem! Avui dia no es fa res semblant, res», explica la Maria Àngels amb malenconia, recordant el tancament de la Tolrà, el 1995.
«Allà vaig conèixer en Jordi, un capatàs molt ben plantat. Vaig haver d'espavilar-me i aprendre bé el català, però en Jordi m'hi va ajudar!», diu rient.
Segons la geògrafa Anna Cabré, Catalunya fou pionera en un nou model de creixement de la població, basat en la immigració, més que no pas en la procreació. Entre el 1787 i el 1887, Catalunya va passar de tenir l'índex més elevat de fecunditat matrimonial d'Espanya a tenir el més baix. Aquesta transició va propiciar la transformació capitalista de l'economia catalana. La indústria oferia oportunitats laborals atractives i salaris més elevats, justament el que buscaven els immigrants.
A finals del segle xix, van començar a arribar immigrants des d'Aragó, València i les illes Balears. A la dècada del 1900, van venir de Múrcia, Alacant i Almeria, i a la del 1950, d'Andalusia. L'any 1975, el 38,4 % de la població catalana ja havia nascut fora del territori català.
Com era habitual a Catalunya als anys setanta, la Maria Àngels va deixar la feina quan es va quedar embarassada de la seva primera filla. Al menjador té penjat un quadre on es reprodueix la casa Salinas, la casa que el seu pare va vendre per comprar els bitllets de tren. No hi ha tornat mai. Li hauria agradat, però no ho ha fet per falta de temps o per falta de diners. En qualsevol cas, fa temps que la Maria Àngels va trobar un lloc on instal·lar-se, una llar.

Meritxell Martín-Pardo és investigadora associada per al programa de Catalunya de l'Smithsonian Folklife Festival del 2018. És llicenciada en filosofia per la Universitat Autònoma de Barcelona i doctora en estudis religiosos per la Universitat de Virgínia.