"My Goodness We Were Hungry!"
An Immigrant's Voyage to Catalonia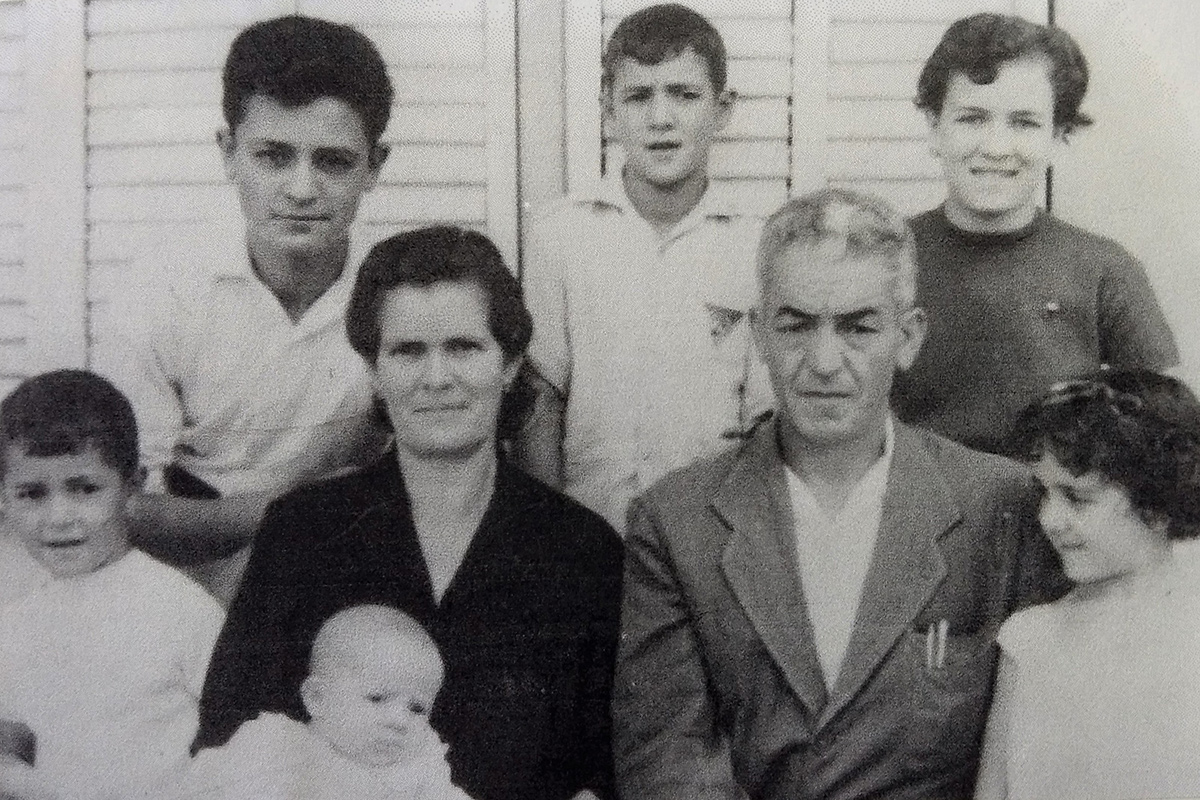 Maria Àngels Córdoba tells me her story in steady Catalan, but when she wants to emphasize a feeling, like these ferocious hunger pangs, she quickly switches to Spanish.
"In the morning, we had some café con leche [half coffee, half milk]—well, it was brown, but it wasn't coffee—and sopitas, slices of day-old dry bread. For lunch, chickpeas, olives, corn, grapes. Meanwhile the señoritos owned mountains, forests, creeks, rivers, entire towns even, but they didn't pay the day's wages in good time. My dad protested—he had five children to feed and one on the way. He worked days and nights and still owed the daily bread. He didn't want to leave. He'd been stationed in Catalonia during the Civil War, and he didn't want to return to Catalonia... but in Catalonia there were jobs and regular weekly wages. In the end, we left."
In 1963, when Maria Àngels left Salinas, Córdoba, for Navas, Catalonia, she was thirteen years old. What she didn't realize until she attempted to get in the train with the family mattress on her back was that their journey was a common one. So prevalent, in fact, that between the early 1950s and 1975, Catalonia's population increased by 2,222,812 people. Maria Àngels is considered an immigrant, even though she was a Spaniard moving to another part of Spain.
"Our train came from Granada, and it was packed with people, belongings of all kinds. The air was thick. We pushed to get in. Grandma and Mama, round as a watermelon, sat down. We, kids crowded on the mattresses on the corridor. It was fun!" says Maria Àngels, looking both excited and sad.
It took them two full days to get to Catalonia—nowadays it takes half a day. They shared games, stories, food, and dreams.
Then, "I saw the sea! It was so big and blue. It hurt my eyes to look." The sea was, to Maria Àngels, the promise of the good things to come.
In Navas, Maria Àngels went to school for a month, but soon she found a job in a factory in Ametlla de Merola. She remembers the peals of laughter from the teenage girls working next to her. It was there, over the noise of the loud textile machinery, that she realized her manager, Mr. Ton, spoke another language.
He gave her an order, and Maria Àngels stood there dumbfounded. She asked for clarification in Spanish, but he responded in Catalan. She discovered later that he didn't understand Spanish. She was sure she would be fired. But, in what she interprets as an act of kindess, Mr. Ton approached her and, speaking slowly, showed her what he had asked her to do. This is how she began to learn Catalan.
While Maria Àngels took language lessons with Mr. Ton, other Andalusian immigrants who, like her, escaped hunger or political persecution, weren't so lucky. Since the 1950s immigration wave took place during Francisco Franco's dictatorial regime, many Catalans misinterpreted the arrival of 100,000 Andalusian inhabitants per year as an attempt to erase Catalan identity, according to Imma Boj, curator at the History of Immigration in Catalonia Museum. Franco declared these immigrants illegal, and many were even deported. Many immigrants felt not only uprooted but also rejected by many Catalans, as their presence was seen as a form of political occupation.
Meanwhile, Maria Àngels' family moved as much in Catalonia as it had in Andalusia, looking for a place to settle. "We were like snails" she jokes, because they carried their possessions with them from one house to another. "We stayed in Navas for five years, but then moved to Ribes de Freser. There the bell rang to call the workers to the factory. On winter Sundays, we went to the movies, and in the summers, we hiked the Taga [Mountain]. Life had changed.
"One good day, the director of the Tolrà factory from Castellar del Vallès came to Ribes. He was looking for large families, so the Pérez, Pinilla, Gallardo, Jurado, and Córdoba families moved to Castellar. We were given a new appartment to live in, and we all started to work at the Tolrà factory."
Founded in 1856, the Tolrà textile factory took advantage of the rugged landscape of Castellar del Vallès by installing two hydraulic wheels in the Ripoll River to generate energy to move the looms. The looms were renowned for two reasons: 1) the quality of the product, with the bright white cotton fabric winning international awards, and 2) the quality of life for the workers. The managers established a daycare center and several schools for children of employees. They gave workers regular holidays and a retirement pension before it was required by the law. They built housing, laundry facilities, a church, a coffee shop, a soccer field, a theater, and a supermarket. The Tolrà patronage is a paradigmatic example of how Catalan industries behaved in the nineteenth and twentieth centuries.
"In Tolrà, my father continued to be an unskilled laborer, but I wasn't. I worked in the salvage team—there were three of us. The chemical products we worked with were so dangerous that once I saw a cat disappear when it fell, accidentally, into one of the tanks. But what fabrics we produced! Nothing like it today, nothing at all," Maria Àngels explains melancholically, remembering how the Tolrà looms shut down in 1995.
"It was there that I met Jordi, a handsome industrial master. I kind of had to hurry and learn Catalan well. But, you know, Jordi helped me!" she jokes.
According to geographer Anna Cabré, Catalonia was a pioneer in a new model of population growth, with immigration rather than procreation at its center. Between 1787 and 1887, Catalonia went from having the highest matrimonial fertility rate in Spain to the lowest. This transition paved the way for the capitalist transformation of the Catalan economy. The industry offered tempting job opportunities and higher salaries—just what immigrants sought.
So in the late nineteenth century, immigrants began to arrive from Aragon, Valencia, and the Balearic Islands. In the 1900s, they came from Murcia, Alicante, and Almeria, and in the 1950s, from Andalusia. By 1975, 38.4 percent of the Catalan population had been born outside Catalan territory.
As was common in Catalonia in the 1970s, Maria Àngels stopped working when she got pregnant with her first daughter. In her living room hangs a painting of the Salinas house her father sold to purchase the train tickets, but she has never been back. She would like to, but there was never time or money. Anyway, she found a place to settle and call home a long time ago.

Meritxell Martín-Pardo is a research associate for the Catalonia at the 2018 Smithsonian Folklife Festival. She studied philosophy at the Universitat Autònoma de Barcelona and earned her PhD in religious studies at the University of Virginia.