How Mountainside Montessori Nurtures "Children of the Earth"
Plus a Recipe for Pulled Pork and Root Vegetable Hash with Poached Egg and Chimichurri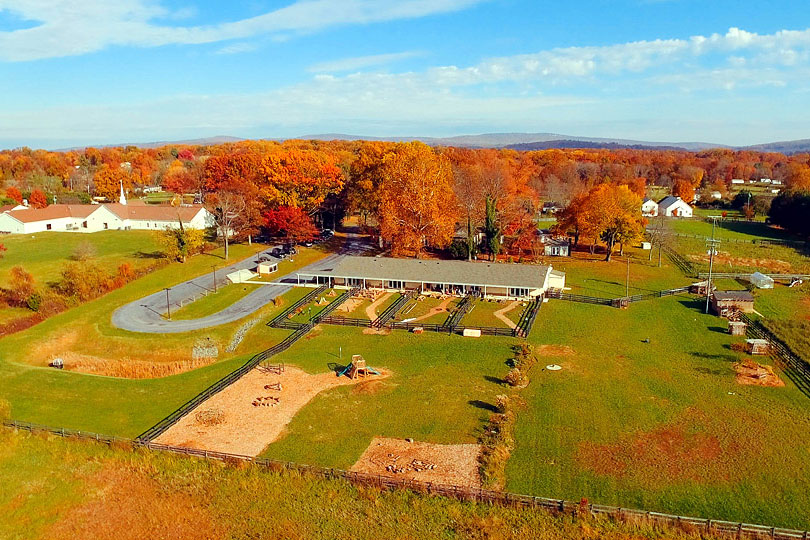 The concept of "earth optimism" can be difficult for a world in the midst of climate crisis and for a society whose environmental impacts loom larger than those of any one individual. These issues can feel even harder for young people, whose place within their ecology is often severely disrupted by forces outside of their control.
The staff at Mountainside Montessori School in Marshall, Virginia, understand this but maintain that young people do have a place within their community, larger ecology, and food systems, and it's up to them to harness their power as individuals and community members to make the actionable changes we all need to work toward a more sustainable future.
Based on the Montessori philosophy that children already have everything they need to become independent people and that education's goal is to facilitate that growth, Mountainside's programs work to get young people involved in their own community and food systems from their youngest students of eighteen months to their graduating class of ninth graders.
Edel Kunkel started Mountainside Montessori in her living room as a place for her and her neighbors' children. After a few years, her school became so popular that she had to relocate from her living room to find the space the school needed to grow. And grow it did, in all senses of the word! After obtaining a ten-acre plot in Marshall, they grew from their starting class of four students to their current enrollment of 111. With this move, and the addition of their adolescent program connecting youth to their environment using the Montessori principle of Erdkinder or "children of the earth," they embarked on a truly impressive sustainable agriculture microeconomy, called the Mountainside Farm, run by the adolescent students in grades seven through nine.
On the farm, these students raise livestock including pigs and turkeys and manage laying hens to harvest eggs. They grow vegetables in the Fare Harvest Community Garden, a part of Rooted In Education, a Virginia-based nonprofit which provides access to free, fresh produce for all who wish to harvest and a venue for educational. In addition to this partnership, Mountainside recently started developing a food forest. Although it's not quite ready to produce crops, it already educates children about land stewardship and patience in food production.
Students are responsible for all farm activities, under the guidance of program director Theo Grayson, giving them both independence and creativity they need to become active citizens and community members. Students take control of supplies, bookkeeping, marketing, donor outreach (livestock and supplies are mostly provided through community donations), and planning community events. Mountainside Farm runs a local hot lunch program, sells their turkeys at Thanksgiving, makes and sells wreaths for the holidays, puts on three community cooking events per year, and uses one of their raised pigs for a large fundraising dinner each spring. All together, they make a profit of around $6,000 per year, which gets invested back into their educational programs.
Kunkel notes that students from the youngest ages learn by working with the materials provided to them. When those materials include a fully functional farm, children learn at their most formative ages how their land, ecology, and foodways are a part of them as humans. Students of all ages "touch dirt," in Kunkel's words, taking out compost, gardening, and feeding chickens.
Sometimes, the world around them shapes their education in unexpected ways. One day, a group of students found a fluffle of newborn bunnies on their property. They immediately started caring for these baby rabbits as a part of their daily education. Growing into themselves as individuals in this agricultural system, Mountainside students are able to become advocates and workers for themselves, for sustainable foodways, and for the long-term health of our planet.
Through a combination of academic study and casual conversation, students come to understand issues of agricultural impact and food waste. It is important to Grayson that her students understand where their food comes from and that they have a choice and a voice to ensure they're eating ecologically sustainable food. Their pigs are sourced from a thirty-mile radius to reduce their carbon footprint. When it comes time to butcher and cook the meat, they work with local chefs to develop farm-to-table principles, making sure that the whole hog (and whole vegetable) gets used.
The following recipe was developed by Mountainside Montessori students alongside local chef Neal Wavra of Field & Main Restaurant, also in Marshall. This dish incorporates the three ideals of earth optimism—individual, community, and agriculture—that these students develop at the Mountainside Farm. Taking root vegetables from the garden, they use the tops to create a no-waste chimichurri sauce. The veggies are cooked in pork fat rendered from their pig, while the meat pairs with the hash. This is topped with eggs from the farm, creating one dish that marries together all components of their operation!
At the 2022 Folklife Festival, Mountainside alumni Nora Stewart, Courtney Harrington, and Fahren Wilcox prepared this dish in the Festival Foodways demonstration kitchen. Catch them on Thursday, June 30, at 2 p.m.
Pulled Pork and Root Vegetable Hash with Poached Egg and Chimichurri
Ingredients
1 pork chop
1/2 cup carrots, reserve tops
1/2 cup beets, reserve tops
1/2 cup turnips, reserve tops
1/2 cup baby potatoes
2 eggs
2-3 cloves garlic
3/4 cup olive oil
1/4 cup white wine vinegar
Salt and pepper
Salted water

Preparation
For the hash, heat oven to 400 degrees. For the eggs, bring sauce pot of salted water on stove to a boil. Season pork with salt and pepper, then set aside at room temperature.
To make the hash, cut all vegetables into uniform bite-sized pieces, then dress in olive oil, salt, and pepper. Place all vegetables on a baking sheet in the oven until beets and potatoes are tender, roughly 15-20 minutes.
To prepare the pork, heat a sauté pan over medium-high heat. Score fat layer of pork chop, then rock the fat layer on pan to render the fat. (If the pork chop does not have a fat layer, use 2 tablespoons of olive oil instead.)
Once several tablespoons of fat have rendered, lay the pork chop on its side. Sauté for 2-3 minutes then flip to other side for another 2-3 minutes. Keep the pork chop in the pan and place it into the oven until the internal temperature is at 145 degrees (8-10 minutes).
To make the root vegetable top chimichurri, thoroughly wash and chop the reserved carrot, beet, and turnip tops finely. Chop garlic cloves very finely, sprinkle with salt, then mash with knife into a paste. Combine greens and garlic. Mix vinegar into the greens, then slowly add in oil while whisking.
Poach egg in the simmering salt water. Plate the cooked pork chop on a plate and top with the roasted vegetables and poached egg. Garnish with chimichurri and enjoy!
Kathryn Casey is the 2022 Folklife Festival foodways assistant and a graduate student of cultural studies and folklore at George Mason University. Her love of food comes from a long family tradition of wonderful home cooks as well as a decade's experience working in food service.