The Spirit of Ethiopia in Kino Musica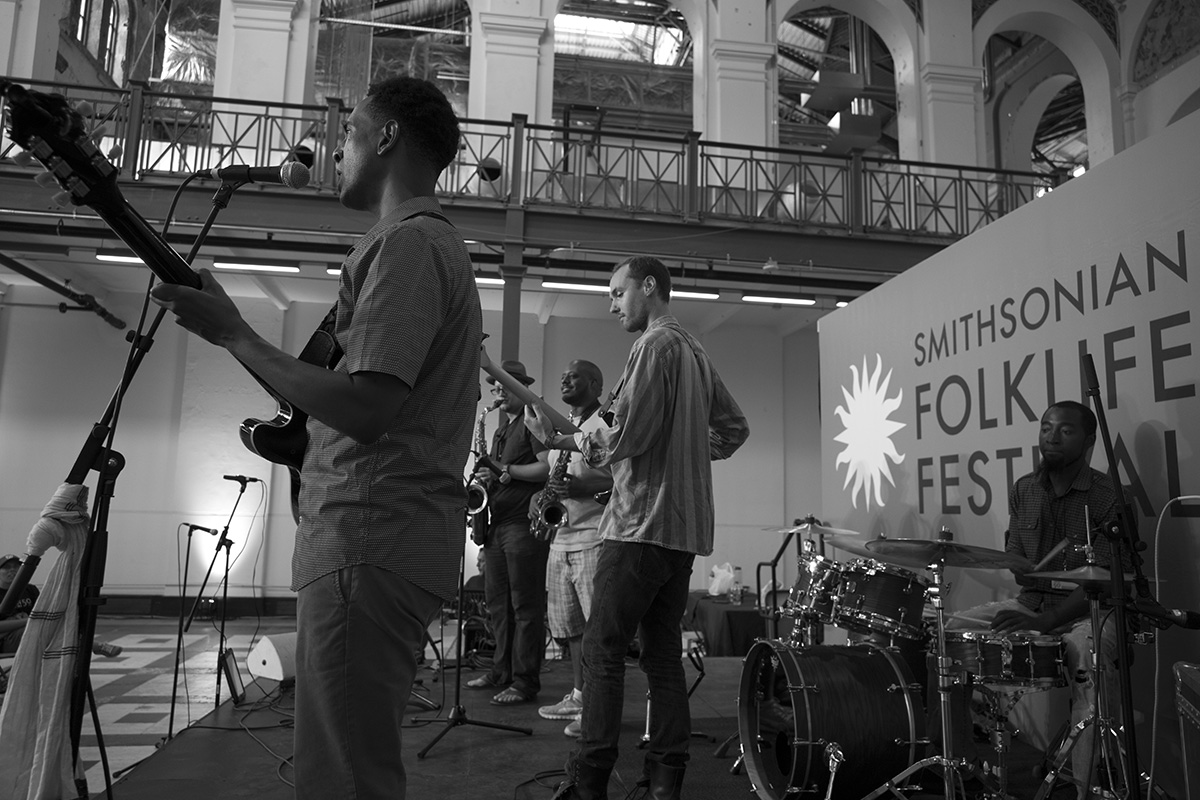 by Kino Musica, July 4, 2017
Kino Musica is a very D.C. band: the product of colliding music scenes, friendships made during Smithsonian internships, and influence of the Ethiopian community. In fact, Washington, D.C., is known for the largest population of Ethiopians outside of Africa. With musical elements from East Africa, Latin America, and American jazz, and members from Maryland, Minnesota, Texas, Alabama, and New York, it's a truly cross-cultural group—a perfect fit for On the Move.
At the 2017 Folklife Festival, they performed a song called "Mehaber"—meaning a community that provides safety and support—about people who long to migrate away from Ethiopia and those who struggle once they return. As saxophonist Besu Tadesse explains, the first verse in English is from the perspective of a man who wishes to find success abroad, knowing that he will come back changed:
Each day I drink and think about my plan
How to leave this hell, find a way to be a man
Deserts and seas, take me from my home
Give me three years, I'll make a world of my own
When spirits come home, they're never alone
Then, switching languages, singer Kumera Genet takes the role of a man returning to his country. The lyrics in Amharic lyrics translate roughly to:
The spirits have returned
To Ethiopia, Ethiopia my homeland
They won't leave me be
Where is my ground?
The spirits have returned
"For the Amharic lyrics," Tadesse continues, "the spirits that return to Ethiopia refer to both the individuals who return (in which case there is the physical and financial stress that comes with people repatriating after being away for so long) and the spirits within those who come back, as many of them also suffer emotional and mental issues during their time abroad."
Tadesse grew up in D.C. with his immigrant parents' Ethiopian pop music and jazz from the 1980s and 1990s. He doesn't remember hearing much traditional Ethiopian music, but he was accustomed to Amharic song lyrics.
"I think we have taken to do more research around the music, understanding the history of it, learning the theory and modes of the different scales, and trying to connect it to a broader worldview," he says. With Genet and saxophonist Regan Carver's Brazilian music and merengue experience, bassist Jonathan Newton's classical training, and percussionist Frederick James's multi-genre experimentation, "It's just been fitting our aesthetics and approach to music to a new musical language that we are all still learning."
Admittedly, they are not the first to experiment with Ethiopian fusion music. In the 1970s, artists in Ethiopia took great influence from Latin rhythms and funk music—especially James Brown, Tadesse notes. The following decades introduced electronic instruments, seemingly growing further and further away from classical styles. But now, he says, there is a growing interest in learning Ethiopian scales, and Kino Musica is following suit with their signature sound.
"With so many Ethiopians that have been in the D.C. area for so many years, it all feels right at home."
Elisa Hough is the editor for the Center for Folklife and Cultural Heritage. Audio recorded and mastered by Dave Walker.