How Eva Rosich Blends the Lines of Modern Medicine & Natural Remedy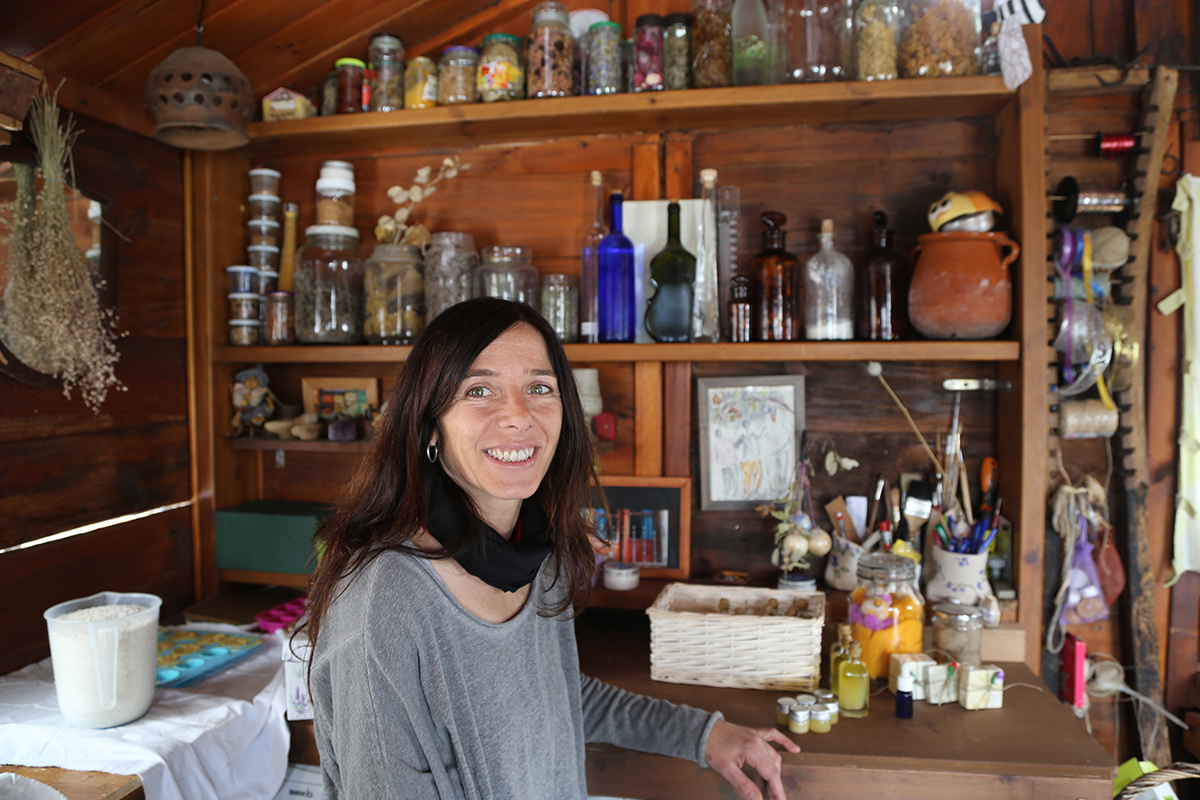 As our world moves forward, many traditions are left behind and forgotten. Originally trained as a nurse, Eva Rosich lives in a rural part of Catalonia, working to revive the best of those traditions and intertwine them with modern medicine.
Her relationship with nature is long and loving. Many of Rosich's techniques and even the process through which she treats her patients are reminiscent of the practices of trementinaires, "turpentine makers" who once traveled across Catalonia by foot selling their natural remedies. Like them, Rosich seeks to share her knowledge with her community and beyond.
At the 2018 Folklife Festival, Rosich will lead demonstrations and workshops with the public on making exfoliating soaps, aromatherapy pillows, and more, using lavender donated by Lovemore Lavender Farm in Owings, Maryland. Before her trip to the United States, we asked her a few questions about her story and processes.
How did your love of nature transition into your practice of making natural remedies?
I was always in nature. Up here, in the valley, nature is in our face. Growing up, I admired little wildflowers and all the herbs. They were part of my landscape. They were in my hikes, walks, and adventures.
I loved—and still love—collecting and harvesting what nature has to offer. It just makes a lot of sense to me. It takes a bit of time to understand it, but if it doesn't make sense, it isn't because it doesn't, but rather because we haven't taken the time to make sense of it. In addition, the idea of not participating in the waste circle has always appealed to me. If I can reuse, recycle, take advantage of something that is already there, then why buy it?
How did you learn to make soaps and natural remedies?
I am basically self-taught. I tried and failed. Then, failed and failed, until eventually I tried and succeeded. Although, I wasn't really starting from zero. Around here, everybody knows the basics of soap making. All it takes is water, lye, essential oils. Around here, people reused the dirty oils to make soap. While I recycle and reuse as a principle, I do not do that with dirty oils; I don't want the free radicals to get in touch with the skin, so I use coconut oil or another kind instead. I try to find the best water I can find—I love the water from the spring on my property.
How do you carry out the traditions of the trementinaire?
In my mother's family line, there was a very famous and renowned medicine man in the valley. His name was Adobador of Mas Bernat. Whether or not this has anything to do with my choices, whether there is a connection between his abilities and mine, healing has always been an interest of mine, as well as herbs. The more I know, the more I want to know, so it has become a self-feeding circle. In many ways, for me it was like awakening, something that just makes sense. Whether that means that the Adobador's gene resurfaced in me, who knows, but what I do know is that I feel as connected to that line of healing as to the one I was trained in as a nurse.      
I also like to observe. I like to pay attention to how others do things, how animals in nature do things, what processes take place. Have you ever noticed that St. John's wort grows in places where the natural course of things has been altered, such as on the margins of newly constructed roads, or near where the dirt has been flattened for the construction of a new house? That's because it has anti-depressant qualities. St. John's wort grows in these places to heal the sore—nature's sore.
How does your focus on natural remedies relate to your career as a nurse?
When I became a nurse, I realized that while pills and drugs are sometimes very necessary, they are not always so. Because I'm a rural nurse in Camprodon, I tend to people who come and tell me how this ache or that one would have been taken care of by the medicine man before socialized medicine became the affordable option for all. I'm truly interested in all the stories that these men and women tell me.
Over the years, I've collected their recipes. I have tiny pieces of papers all in a folder waiting for me to have some time and turn it into something that might be readable—one day, maybe. Most of this knowledge is disappearing. Some of these recipes or traditions seem somewhat strange. For example, there was a medicine man who could heal a sore throat by massaging the wrist. It sounds awesome, but I'd have to know more about it for it to really make sense. Other stories or recipes, when I examine from my medical background, they quickly make a lot of the sense.
Not so long ago, I had a patient from Rocabruna who had an ugly sore taking its time to heal. She told me how she would have taken care of it herself, but she hadn't managed yet to get her perfume done. That puzzled me, of course. A perfume for a sore sounded strange. But I always keep an open mind. I've learned to never dismiss or laugh at, but rather observe and inquire systematically. I asked more about the perfume. She explained how she turns the dry flower of the elder into a syrup. She smokes the syrup, adds oil, and smokes it again. Once it is ready, she applies the perfume concoction over the sore.
I talked about this recipe with the doctor I work with over lunch. The elder flower has antiseptic properties. It turns out that Francisca's "perfume" makes a lot of sense, regardless of what she calls it. Who knows, maybe her perfume even beats resistant bacteria.
Because of my professional training as a nurse and lab technician, I understand the technology of the lab. I use the new technology to concoct former recipes adapted to our times. Herbs have power to heal—that's just been known for centuries. So, I just bring new and old together and have them interact.
As natural products become more popular, how can we tell which ones are better for us?
The rule of thumb is: the less ingredients it has, the better. That's easy enough. 
1 / 4

Lavendar Tonic Moisturizing Facial

Recipe by Eva Rosich, design by Rachel Barton

2 / 4

Aromatic Salts

Recipe by Eva Rosich, design by Rachel Barton

3 / 4

Soothing Ointment

Recipe by Eva Rosich, design by Rachel Barton

4 / 4

Solid Hydrating Cream

Recipe by Eva Rosich, design by Rachel Barton
Click on the image above to see four DIY remedy recipes from Eva Rosich
Rachel Barton is a media intern at the Smithsonian Center for Folklife and Cultural Heritage. She is a rising senior at Rowan University, double majoring in English and Writing Arts. She is a sucker for skincare but is always looking for ways to help heal the environment.
This interview was translated by research associate Txell Martin i Prado and excerpted for length and clarity.