Fran Grace and the Bountiful, Blessed Blues of the Sacred Steel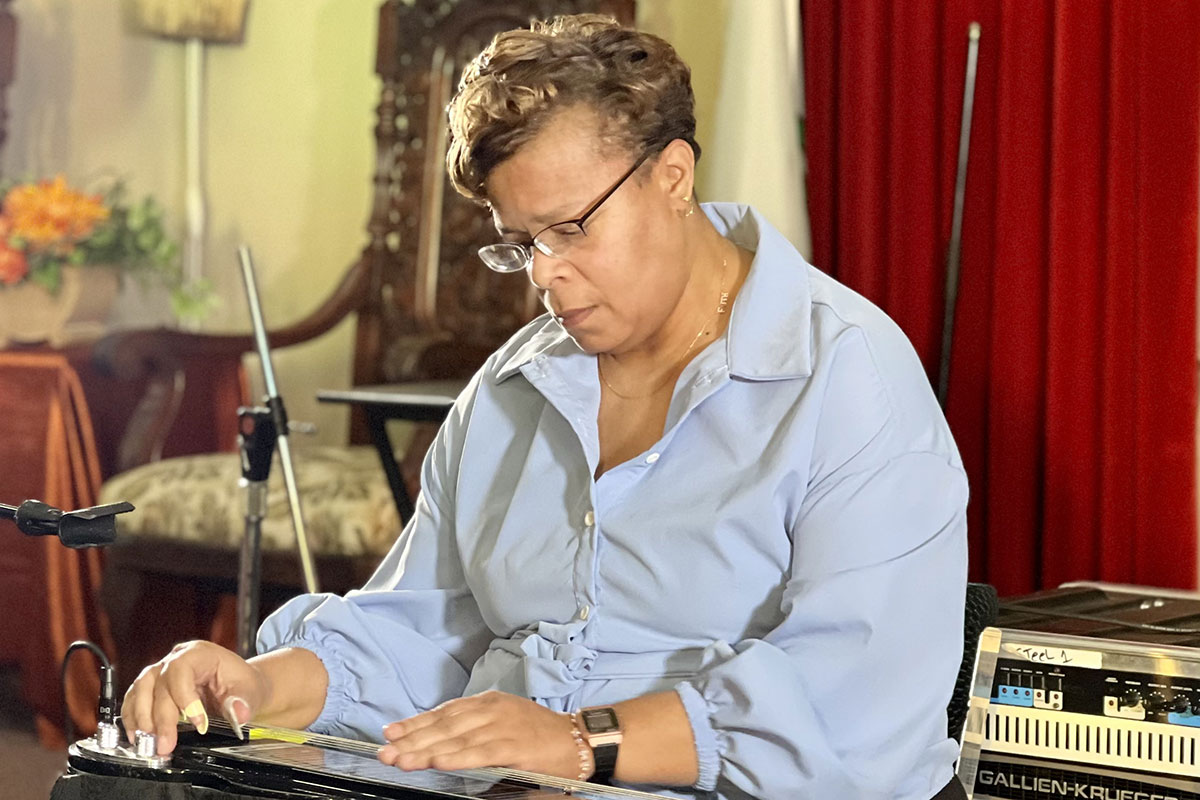 "I play this instrument in my room; it soothes me. When I'm upset and I don't have the words to explain what I'm feeling, it comes out in my music. Some people are skilled. I'm an emotional player. How my expressions come out, it blesses people."
Fran Grace lets her guitar speak for itself. Her calm composure, as she plucks and slides her fingers along the lap steel guitar, juxtaposes the holy hollers and spiritually syncopated claps her music invokes from audiences. With her guitar laid flat on a table adorned with her stage name, Lady Strings II, and her foot pressing meticulously on a Morley pedal, Grace carries the words of older African American hymnals in the sacred style of gospel singers—with plenty of vibrato and vocal gymnastics.
This is the sacred steel style, a gospel subgenre defined by its prominent use of the Hawaiian steel guitar. The genre grew out of the Pentecostal denomination—the Church of the Living God, one of the few Protestant denominations to be founded by an African American woman. Grace, at age fifty-seven, is one of only a handful of women who play sacred steel. The church, steel guitar, and Grace have intersecting identities that leave them predisposed to be overlooked, but as sacred steel goes mainstream, there is hope for its history.
The Church of the Living God's traditions are grounded in what Grace calls "strong women." When Mother Mary Magdalena Lewis Tate incorporated the church in Greenville, Alabama, in 1908, she became one of the first African American women to found a Pentecostal denomination. During her twenty-seven years serving as general overseer, Mother Tate sought to prioritize the women of the church. Despite male members' disapproval, Tate mentored and uplifted women in leadership positions. Today, women continue to lead the church, in roles almost always passed down through the family.
Grace's family has a similar story. Her grandmother, Ella Mae Dupree, established the State Line Church in Toledo, Ohio. Just as any church in the denomination, music was a core part of praise and worship. After an accident that left Dupree with only one arm, she led the church and carried its music ministry. (Grace recounts her grandmother playing a bass drum on the floor of the church using a rolled-up hanger.) Dupree's lifelong resilience and spiritual service inspired her children and grandchildren to carry on their family's musical tradition.
"My grandmother prayed for us," Grace recalls. "She anointed our heads with oil. It blessed us to where, as we grew up, we're all in the church. We all are talented."
The steel guitar has a fascinating, syncretic history, undergoing several innovations before its informal establishment as a cornerstone of the Pentecostal denomination. Its story begins in colonial Hawai'i, where Joseph Kekuku, as a teen, experimented with different metal tools to give the basic guitar a new sound. His technique—playing the guitar horizontally in his lap and sliding a steel bar along the neck (hence the "steel" in steel guitar)—exploded in popularity across Hawai'i. It then spread to the American South following Hawai'i's annexation in 1898 and the subsequent migration of thousands of Native Hawaiians to the mainland. Hawaiian migrants established music conservatories to teach others the art of Hawaiian instruments—including the steel guitar.
Sacred steel pioneer Willie Eason picked up the steel guitar from his brother who was trained at one such conservatory. Eason innovated the instrument by raising the strings, which produced a clearer sound and made the guitar "sing." Eason began to take the guitar to church services and revivals, where he echoed his singing voice with the instrument. Slurring the vocals to create "runs" on a single string and using the others to carry the rhythm, Eason conventionalized the sacred steel style in the Church of the Living God.
The goal for steel players is to always make sure the lyrics come across through the instrument, even when there is no vocal accompaniment. As Grace explains,
"My mother was a piano player in the church. She would say, 'Play the words. Don't overtake them.' That's where the voice sound comes in."
Sacred steel is a diverse genre, ranging from bright praise-and-worship to emotive, secular-sounding blues. The style split is in part because the Church of Living God split into several dominions following Mother Tate's death in 1930.
Grace's family comes from the Jewell Dominion, notable for its more "bluesy" style of playing the steel. She explains that Jewell musicians tend to be more contained than the more mainstream Keith Dominion musicians like The Campbell Brothers and Calvin Cooke. As evident in Grace's music, Jewell Dominion steel players start slowly and gradually build up. They stick to a consistent swinging rhythm, relying on the steel string for extra vocal runs or harmonies.
Ohio has become somewhat of a hub for sacred steel, which Grace attributes to her brother, Del Ray Grace.
"Ten or fifteen years ago, Del Ray started recording people, young and old people, that play this instrument," she explains. "He put it all on YouTube, and people started to take notice. The Lord gave him a vision to store this great music and create a museum so people from all over the world could hear it. Maybe someone's great-grandkids never got the opportunity to see their grandfather play this type of music. This is something that people can always come to and enjoy."
Del Ray Grace's collection is so comprehensive that the Smithsonian and other institutions have reached out for materials. He notably supplied audio from famed Jewell Dominion steel player Felton Williams to the Smithsonian's National Museum of African American History and Culture.
Del Ray is also significant to Fran's story as he was the first to give her a shot on the steel guitar. As Fran notes, "
Most men don't give up their seats. If it's a main service or a convention, usually the church is letting the men carry the service. My brother, he would rotate, especially if he wanted us to be a part of something. He would give up his seat and let us girls play."
Growing up, Grace was known as the "pickup person." She played every instrument in the church band as needed. "Little me, that came from nine siblings, always behind, doing what I gotta do," she jokes. "But God turned that around. I flipped it. Now I'm in the front instead of the back."
Within the church and sacred steel genre, there are still contentions regarding gender. Despite the Church of the Living God's lengthy lineage of female leaders, women still scarcely lead in praise and worship. Grace notes that women have always played the sacred strings but, unlike her, were not pushed to perfect their craft. The few who excelled were never recorded.
Grace represents the genre's future as a highly visible figure who uplifts women like Nicole Brown—a fellow steel player—and her sisters Tressa Boles and Angela Grace Russell. All four performers will share their stories and talents during the first week of the 2023 Smithsonian Folklife Festival, June 29 to July 4, as part of the Creative Encounters: Living Religions in the U.S. program.
"My vision is to have a stage with female steel players," Grace says. "I say if Beyoncé can do it, how come we can't do it spiritually? These women can play; they just don't get the opportunity. I'm praying that the Lord sends who I need to continue this genre of female musicians. I believe he will."
Mia Sturdivant is an intern with the 2023 Folklife Festival's Creative Encounters program team. Originally from Charlotte, North Carolina, she is a junior history major at Howard University.