Five Ways to Stay Cool at the Festival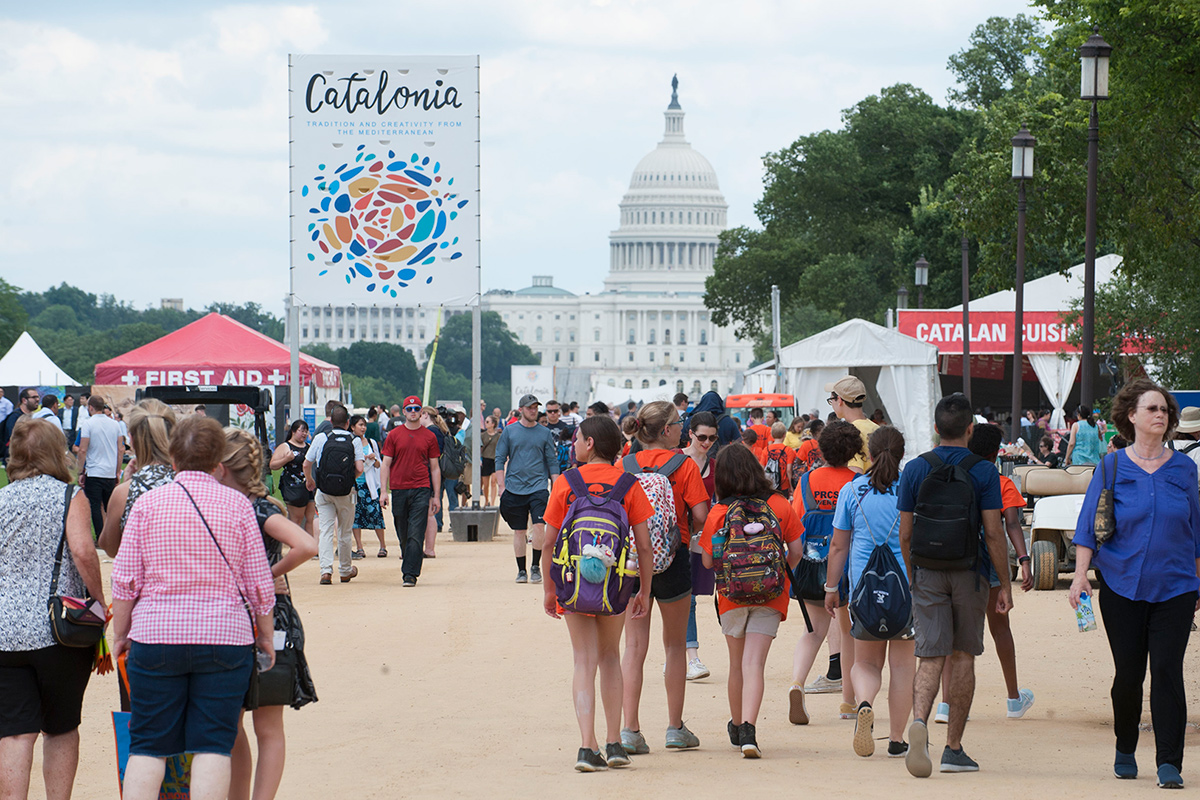 As you explore the rich cultures of Catalonia, Armenia, and others featured in the Festival Marketplace, it can get a little hot out on the National Mall. This weekend especially, temperatures will soar into the mid-nineties. But don't worry! There are plenty of ways for you to stay cool and have a great time at the Festival.
1. Snack on artisanal gelato
What better way to stay cool than with a delicious dessert? You can keep perusing the tents as you enjoy. Five rich flavors are available at stations throughout the Festival: apricot, cherry, chocolate, mango, and pomegranate. There are even vegan options! See all concessions menu items.
2. Hang out in the Marketplace
The Marketplace is located in a white tent on the south patio of the National Museum of American History, and it's air-conditioned!
While you're enjoying the air, check out all the crafts, clothing, toys, jewelry, and more available, or enjoy one of the Crafts of African Fashion demonstrations. On your way out, grab a free bottle of Bai Antioxidant Infusions!
See the full schedule of Marketplace events.
3. Take a seat at the Hyurasenyak
To break up all your walking, you can find a seat at the Hyurasenyak, located within the Armenia program area, across from the Marketplace. Throughout the day, we are featuring demonstrations, performances, discussions, and workshops focused on exploring culture. For details on these sessions, check out our full schedule of events.
4. Celebrate Vardavar
Vardavar, an Armenian Christian festival with pagan roots, falls on July 8. It is tradition for individuals to sprinkle water on each other—or completely drench them—as a blessing for fertility and a good harvest. You can celebrate Vardavar in designated sections at the Festival.
5. Enjoy the evening concert series
Hang around and cool off in the evening by taking in one of our many concerts. Since the concerts begin at 6:30 p.m. on the Ralph Rinzler Stage, you can relax as the sun goes down.
Our upcoming concerts include Irish American ensemble Green Fields of America on July 6 and the Sisterfire tribute to women artists on July 8. A few concerts even feature a Catalan fireworks display! View the full schedule of evening concerts.
We hope you'll join us on the National Mall—just come prepared. Bring along a hat, sunglasses, and sunscreen. You can fill your water bottles at free hydration stations scattered throughout the Festival grounds. Stay safe, and enjoy!
Rachel Barton is the media intern for the 2018 Folklife Festival.