Finding Joy and Voice in Music: A Q&A with Sonia De Los Santos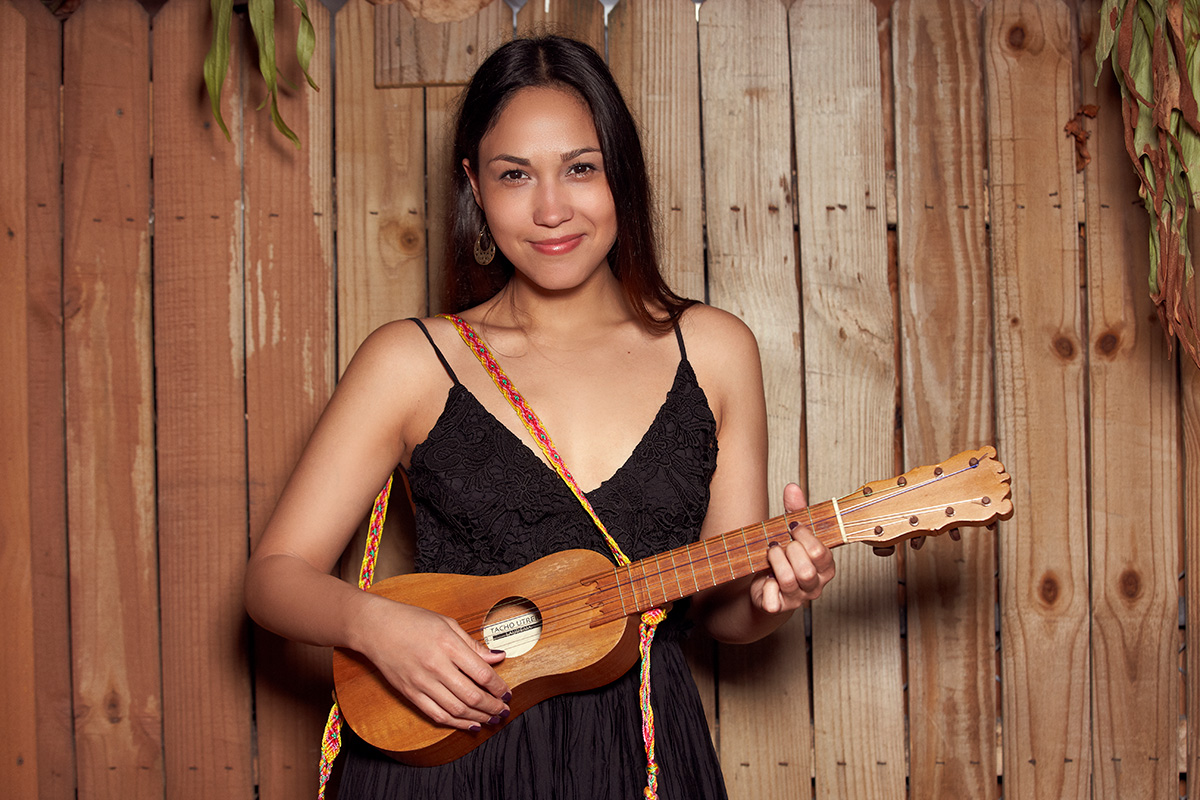 Uniting Mexican heritage and life in the United States through song, marrying the folk music traditions of Latin and North America—this is what Sonia De Los Santos does best. She sings in Spanish and English, plays the jarana and the guitar. She reinvents and translates classic folk songs to pass on their messages to younger generations.
Born in Monterrey, Mexico, Sonia has always been interested in music. She moved to New York to pursue musical theater when a chance audition with Dan Zanes led her to tour with the group Dan Zanes and Friends. The opportunity opened the doors to folk music as well as to family music. During the time she toured with Dan Zanes, she learned how to perform for children and used that experience to make her own album.
In 2015, Sonia released her first album Mi Viaje: De Nuevo León to the New York Island, reflecting her journey from Mexico to the United States. She is currently touring the country promoting her second album, ¡Alegria! Through this album, Sonia wants to spread joy to the families across the country.
On Sunday morning, Sonia will bring her songs to the Smithsonian Folklife Festival, performing in Spanish, transforming and translating the classic songs of Pete Seeger and Woody Guthrie. In this interview, she explains some inspirations and aspirations for her music.
What inspired your album ¡Alegria!?
The story behind ¡Alegria! ("joy!") is an anecdote that my mom always tells me. She says, "Sonia, you were born with a smile on your face." And my answer is always, "What? That's not true! All babies are born crying." And my mom was like, "No! I mean, yes, you cried a little bit, but it was very early on when you started to see the world around you and started smiling. You had a bright smile and you looked pretty obvious to be so happy that you were in the world."
First, if my mom said I was born smiling, I'm going to believe her. Second, even if there are rainy days and things don't go where you want them to be, which happens all the time for all of us, doesn't matter how old you are, who says I can't go back to that smile? I was born with that smile, so I know I can go back to that place in my heart and find joy anytime I want. I wanted to pass that idea out to people of all ages.
What's your favorite song from your catalog?

"La Golondrina." Golondrina means the "swallow bird." It's a migrant bird, and of course I identified with that bird. In the song, I tell the story of visiting my grandmother and sitting on her porch, watching these birds who are up in a little nest in the corner of her house and learning all about them. Then going back there and all of a sudden the birds are not there. They're gone. My grandmother explains to me that they are migrant birds.
Many years later, I got inspired by that story to write this song, "La Golondrina." It's about my own journey being an immigrant in the United States.
What have you learned from performing for children?
If, fifteen years ago, you told me I was going to be in a kids' band, the first thing I would think of is people all wearing the primary colors and dressed exactly the same, jumping around. Then being able to do with Dan Zanes for so many years, watching how organic his performance was, I learned a lot about that. I can be myself and be natural and tell stories of how I grew up and things I like to do, and get people singing. I'm excited about that.
It doesn't have to be something that's super high energy and everybody jumping at the same time. There can be some of that. At the beginning, I was concerned about retaining people's attention, but I feel like the more relaxed I am and the more time I take to explain something and try to convey why a song is important to me, then people get interested and people can find a way in.
When you perform, what do you want the children listening to come away with?

A sense of possibility. First of all, you're seeing a woman of color singing and playing an instrument and leading a band, singing in English and in Spanish. For young people to see that kind of representation I think is really important nowadays.
I spend time thinking of all of the messages that I say in my songs, how I present things, how I try to engage children to sing and play with each other. I think hard about those things. I want them to walk away with a sense of possibility and a sense of hope for the future.
What do you think music can do for others?
I think music is so powerful. I feel fortunate that I can pass on important messages through song. It gives me a voice, because if Sonia just stands somewhere and tries to say something, maybe it's hard to get across, but if I have the opportunity to perform at a festival like this, it gives me space as an immigrant woman to share my story, to say I am here and this is what I believe in.
I want to honor the life of Pete Seeger and other folk icons that have done so much not just for the music of this country but to social issues that have shaped this country.
Catch Sonia De Los Santos at Smithsonian Folklife Festival on the National Mall at 11:30 a.m. on Sunday, June 30. The event is free and open to the public.
Malgorzata Mical is an intern at the Smithsonian Center for Folklife and Cultural Heritage and a senior at University of Florida, where she is studying English and Russian.