The Inclusivity of Music: A Q&A with Dan and Claudia Zanes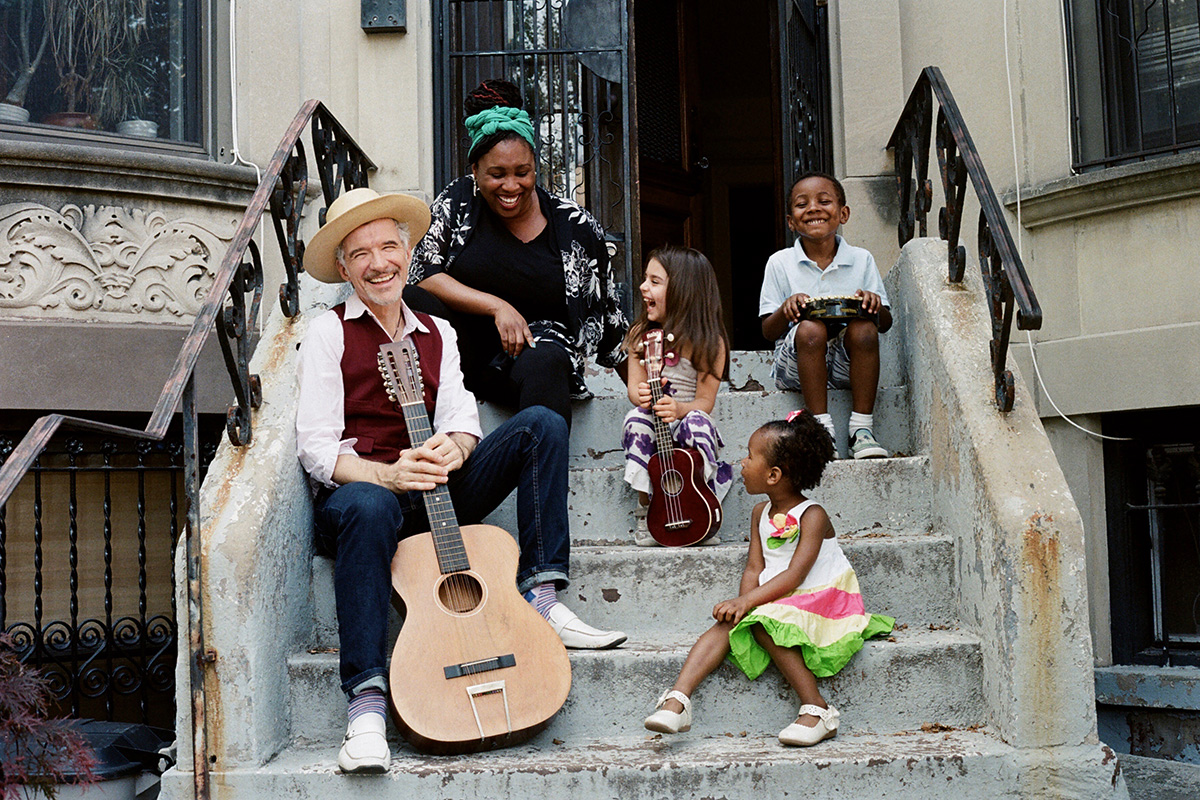 This weekend, the Smithsonian Folklife Festival will feature artists who embrace the social power of music, and nobody embodies this theme more than Dan and Claudia Zanes.
The husband-wife duo is passionately focused on making their music accessible to as many audiences as possible: children, adults, people on the autism spectrum and their families, the elderly, and everyone else. With Dan's belief that music should never cater to one age group and Claudia's background in music therapy, they've spent years pursuing the most inclusive performances possible.
Although neither Dan nor Claudia started out as children's music artists, they have spent a long time now performing for family-oriented audiences. In fact, Dan earned a GRAMMY in 2006 for Best Musical Album for Children, Catchy That Train! More recently, he released a super-group tribute album, Lead Belly, Baby!, on Smithsonian Folkways in 2017. The same year, he and Claudia together developed Night Train 57: A Sensory Friendly Comic Folk Opera.
"We've been playing music together since the day we met," Dan says. "We met playing music, and that was about three years ago, and we've ended up in so many incredible situations over those three years."
In advance of their appearance this Sunday at the Festival, Dan and Claudia spoke about their musical attachment to Pete Seeger, Haitian folk music, and the power of music to connect all people.
How will you incorporate the work of Pete Seeger into your performance? What else can we expect to see at your show?
Claudia: Some of the big things that we learned from Pete Seeger are the inclusivity of music, getting people to be a part of the celebration, and encouraging and inspiring people to make their own music. That is the focus of our music and mission, to inspire young and old to find their voice and create their sound, and to show how beautiful it can be when we can collectively sing and participate in music together.
Dan: And to involve audiences, to not just leave it to the professionals.
We're going to be doing songs old and new, near and far. In past years, we've done a lot of Pete Seeger. There's always one or two songs in our song bag that were at some point done by him. He's performed so many songs along the way that it's hard not to be inspired by them. That will include some Lead Belly songs as well, because it's always fun to highlight their friendship. We'll also be doing some gospel songs and Haitian folk music.
What's it like to perform Haitian folk music for an American audience?
Claudia: It's awesome because it's an opportunity to educate the audience a little bit more about Haiti. It's an opportunity to tip a hat to the first black republic, and to explore the rhythms of Haiti.
There are a lot of incredible folk songs that have been around for generations in Haiti that my parents sang to me and that I've passed along to Haitian friends. I usually teach the national language of Haiti, which is Haitian Creole, then I teach the audiences songs in creole and give them a little background so they can sing along and learn new terms.
What are the more rewarding aspects of performing for children?
Dan: Everything feels rewarding. Once you start playing music for all-ages audiences, it's hard to go back the other way because it feels weird and almost segregated. That was the old-fashioned way, to play for everybody that wanted to come out. The idea that now children have their entertainment and grown-ups have their entertainment and they go off and do it on their own is a little nutty. So we're happy to play for these intergenerational audiences—that in itself is extremely rewarding.
Claudia: In the last couple of years, Dan and I have really been focusing on sensory-friendly music and creating performances that are really accessible for all, so that's been a really rewarding part of our work as well.
Dan: It was eye-opening to find out that a lot of families with kids on the autism spectrum didn't always feel comfortable coming to our shows because the conditions weren't suitable, and because there is often a feeling that other families might be judging their child's behavior. So creating conditions where everybody feels comfortable, especially our audience, has been such an important part of what we're doing.
Claudia: We're opening things up for children, for families with children with disabilities, and we're thinking about who might not be included. We're making music more accessible to everybody.
Claudia, how does your music therapy work impact your performance style?
Claudia: Wow, I could go on and on a lot about that! But I'll really try to boil it down: music is an innate thing. We're born with music from the first cry, from the heartbeat. Music therapy is really an opportunity to use it as a medium or tool to address non-musical goals.
If you're working with someone on the autism spectrum and you're working on socialization goals, it's about using music as a way to address those things. It can be used in aging geriatric populations. Music is a powerful tool that you can use to connect people to yourself and to others.
For me, it's been a really powerful thing to create music for people who are both verbal and non-verbal, to find creative modes through the arts to connect and to express. So that's singing, that's songwriting, that might be writing poetry. Because of my background in music therapy, I'm always looking at new ways of sharing our music. I'm always trying to find ways to excite people. Some people might like to sing along, some people might like to dance, some people like to express in other ways, and finding those pathways to interact through the creative process is our goal.
What are you looking forward to most about the Festival?
Claudia: Seeing all of the other incredible artists and musicians who will be performing as well, and the collaborations that will take place. I'm excited because it will be my first time performing on the National Mall.
Dan: Mine too, I think. And to tip the hat to Pete Seeger on his hundredth birthday is something I'm looking forward to as well.
See Dan and Claudia Zanes perform at the Smithsonian Folklife Festival on the National Mall this Sunday, June 30, at 12:30 p.m. The concert, and all other events at the Festival, are free.
Riley Board is an intern at the Smithsonian Folklife Festival and a rising sophomore at Middlebury College in Vermont where she studies linguistics and geography.