Kids of All Ages Welcome! A Family Guide to the Festival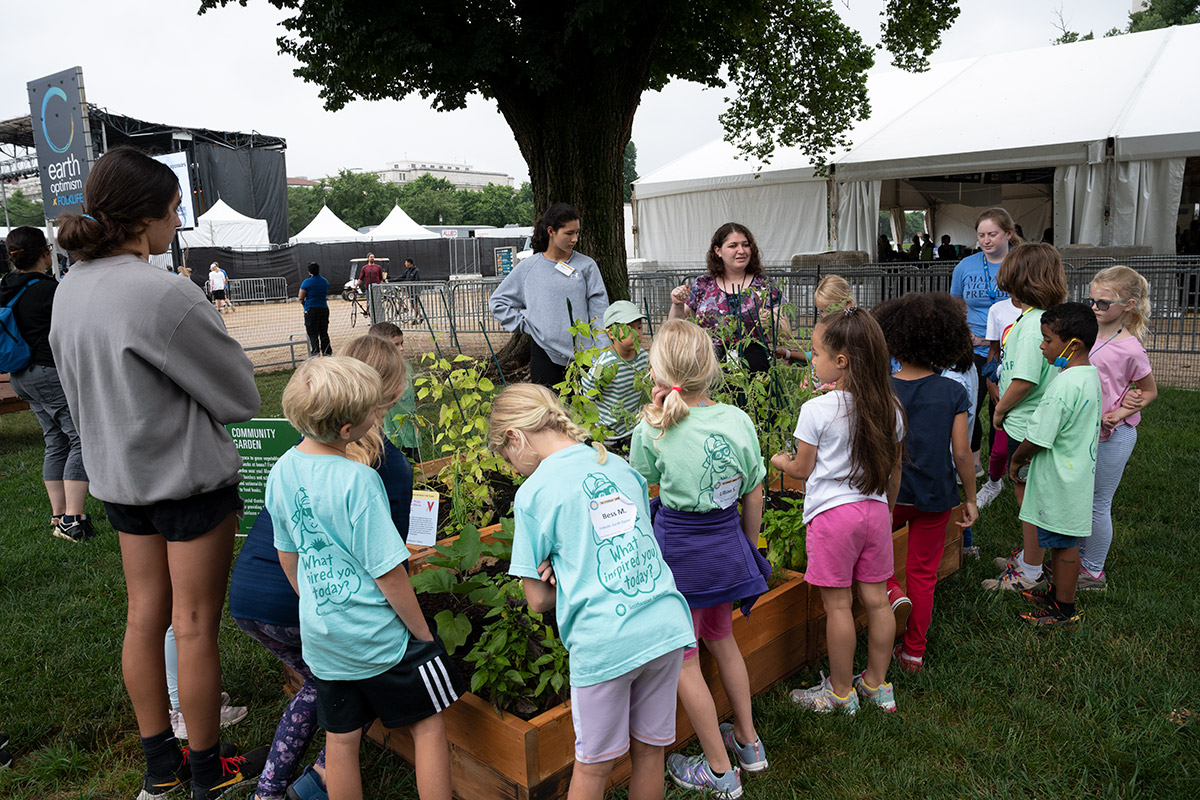 This year's Folklife Festival returns to the National Mall with an exciting array of activities for the whole family. Kids can learn about positive environmental conservation efforts with Earth Optimism × Folklife and the rich cultural traditions of the United Arab Emirates. Join us every day for family-friendly events and activities!
If you're bringing young visitors to the Festival this weekend or next week, here are ten activities we recommend. These events are all free and open to the public. Assisted listening devices and captioning will be provided when applicable.
1. Pocket Cinema
Start your day at 10 a.m. at Pocket Cinema, the pop-up movie theater within Folklife Studio. The first hour of screenings features family-friendly short films. Running from 10 to 1 p.m. and 5 to 6 p.m. most days, the Pocket Cinema covers topics from animal conservation and watersheds to Emirati identity and Indigenous languages. 
2. People-Powered Science
Earth Optimism × Folklife's People-Powered Science stage hosts a plethora of workshops for families every day from 11 a.m. to 5 p.m. Kids can attend the Amtrak Junior Conductor workshops to learn about train travel, become an Urban Ecology Junior Ranger with the National Park Service, fold origami orchids, do a dance workshop, make a worm finger puppet while learning about compost, and more for the budding environmentalists.
3. Falconry Demonstrations
Join the United Arab Emirates program for daily falconry demonstrations at 4 p.m., starting at the Falconry stage! Falconry has a rich history, embodying values of endurance and patience, and has been a traditional sport in the region practiced for over 2,000 years. Learn about the tools and techniques of training and hunting with these birds of prey from falconers and observe these magnificent birds. Kids may meet nine-year-old Osha Al Mansoori, who is learning the tradition from her mother, Ayesha.
4. NASA Day
On July 2, join the Festival for NASA Day, an all-day event featuring workshops, speakers and more all along the National Mall. Hear about NASA's work here on Earth at Earth Optimism Stories, watch videos at Pocket Cinema, visit Festival Foodways to discuss NASA and oysters, and go to the People-Powered Science tent for workshops and activities, like collaging satellite images, and more.
5. Make Music with NOON
Join members of NOON, an experimental band from the United Arab Emirates, for a series of interactive workshops at the Story Majlis stage. Sing and clap along while learning about contemporary global jazz either through the oud instrument and Arabic scales or percussion instruments.
6. Ode to the Ozarks Concert
Join a musical performance preview of the 2023 Smithsonian Folklife Festival program The Ozarks: Faces and Facets of a Region. The unique musical style of the Ozarks that blends folk, fiddle, and mountain music will echo out on June 26 at 4 p.m. at the Folklife Studio. The concert will start with a jam session from a trio led by David Scrivner, and feature a performance by Sylamore Special, a quintet of teenage bluegrass musicians from Mountain View, Arkansas.
7. The Species Conservation Tent
At the UAE's Species Conservation tent, kids of all ages can join in environmental education games. Learn about the conservation efforts of the Mohammad bin Zayed Species Conservation Fund, while engaging in hands-on activities for kids, like the sea turtle survival challenge, where kids can learn about the struggles of sea turtles through role-playing.
8. The Wavelength Installation
Discover what's in store at Earth Optimism × Folklife's Wavelength installation, which runs programming continuously every day. Kids can meet artists and make origami whales, soapstone sharks, and other aquatic animals while learning how to protect their ecosystems. Nearby, kids can enjoy the Come Out and Play area!
9. Grab a Bite to Eat
Hungry? Head over to the various concession stands for delicious food starting at 11 a.m. until closing. At the Folklife Kitchen, try a taste of the United Arab Emirates and local dishes rooted in stories of sustainability and creativity. Try beef kofta kebabs, fattoush salad, mushroom patty melts, catfish rolls, and more. Visit the Folklife Café for Arabic coffee, tea, and pastries and Guillermo's Artisanal Gelato stand for a sweet treat!
10. Snap a Picture Before You Leave!
Throughout the Festival, there are plenty of opportunities to take pictures to remember your visit. Check out the Earth Optimism × Folklife tents to take a picture in the Chesapeake Bay photobooth or at the oyster recovery station. Visit the United Arab Emirates architecture installations and a vibrant mural that participants can add to with a paintbrush. And don't forget to visit the "22 Folklife!" marquee to take a picture with the whole family.
Annabella Hoge is an intern with the 2022 Folklife Festival's media team. She is a rising senior at Georgetown University studying American studies, anthropology, and journalism and hails from Los Angeles, California. Her favorite origami animal is a peacock.