Elizabeth Mitchell on Singing Songs of, by, and for the Children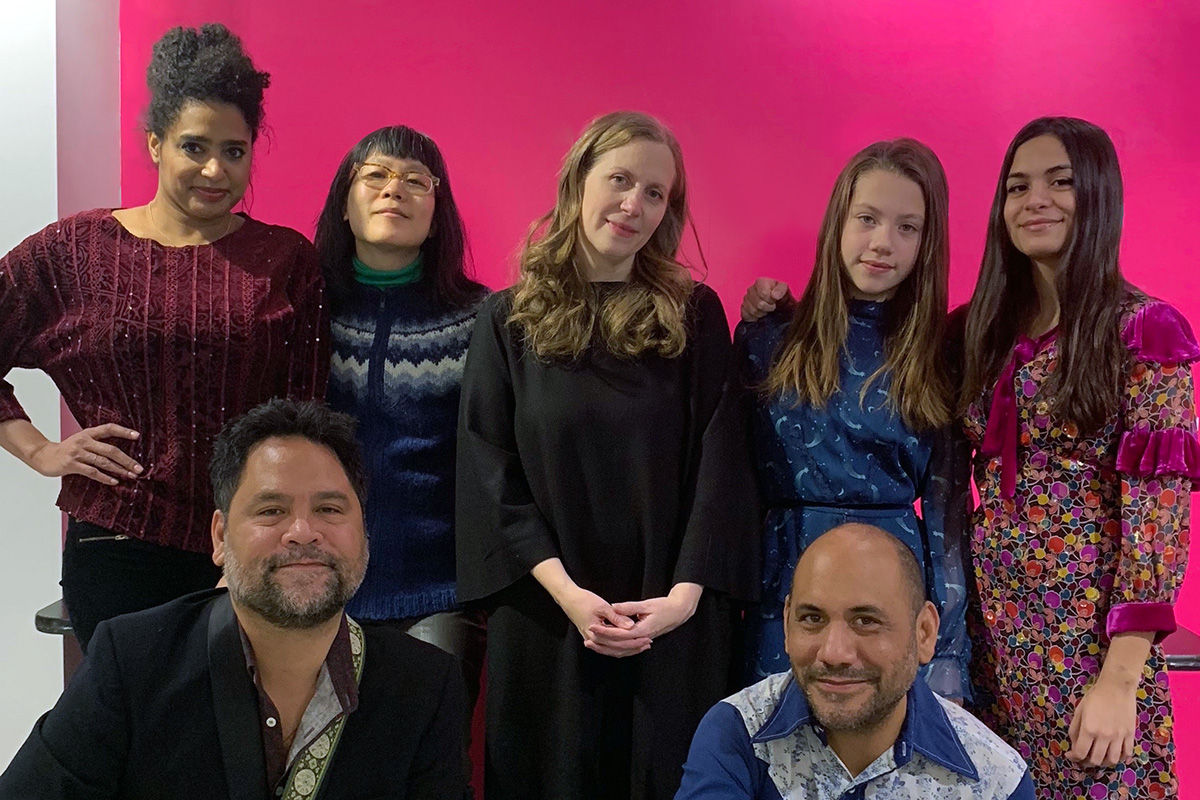 Elizabeth Mitchell never thought she would be a children's artist. But one day, in her twenties, while rifling through Folkways albums at a record shop, she picked up a vinyl copy of Woody Guthrie's Songs to Grow on for Mother and Child. The image of the mother and child struck her as peaceful and calming, and the music would inspire her to create her own children's music.
Through the encouragement of her family and friends, Mitchell began recording her songs, creating for and with young children. Since 2006, she has joined the ranks of Woody Guthrie and released six albums on Smithsonian Folkways Recordings. She now lives in Woodstock, New York, with her family.
On Sunday, June 30, as part of the 2019 Folklife Festival, Mitchell will perform along with a slate of Folkways labelmates. She'll be joined by You Are My Flower, a six-piece band that includes her daughter, Storey, and her husband, Daniel. In celebration of the 100th birthday of Pete Seeger, she will be rejuvenating his classic children's songs as well as playing some original songs.
In this interview, Mitchell describes the goals and most rewarding aspects of performing children's music, her musical inspirations, and more.
What are some of the challenges in creating music for children?
I'm not a very externally motivated person. I'm much more of an introvert. I've had to really drag out myself every time I perform. I'm really much more naturally the kind of singer that wants to sit down on the stage and close my eyes and go inside and sing from there, but with children, if you actually do that, they won't be interested. So this isn't about you, it's about the kids. So I really have to go inside and pull it out, open my eyes and connect with them. It's a beautiful challenge.
How do you retain the children's interest in the music?
It's about interaction. It's knowing how to meet them where they are. How to teach them and show them something new, something they haven't thought of or seen before, so those lightbulbs are going off in their minds. Getting inspired and excited.
I have to explain to new musicians that I perform with that the louder we get, the louder they are going to get. It's a dance. It's a constant dance between revving things up but knowing the right moment to bring it back down and get their attention. Letting the children be free and be then knowing when to bring it back so the train doesn't go off the track.
My music often works best almost one on one, especially when a child is in their car seat and they can't go anywhere—and they're just trapped, and it's rough—and I feel like I can have a direct conversation with them. I can say, 'I got you. We're together, and I'm going to sing to you, really calmly and really quietly, that everything is going to be okay.' It's a beautiful thing that I never knew my life was going to lead me to do. For me it feels like a very high purpose.
What's your favorite part of performing?
When you have a group of kids that come down to the front and dance, and you see that one kid who doesn't have a friend. The next thing you know, they're holding hands in a little circle together, getting free. When you see the sound impacting them in a way that makes them lose their inhibitions, and they start dancing and smiling. I think those are my favorite parts of performing: when you see it transform a child, and you see them feeling peace and joy.
What do you want your music to teach the children listening to it?
Well, there's a few things. I want them to feel like they can make music as well, and that their voice is important and special and should be heard. I've always included children's voices in the album so they feel a part of it.
There's a lot of different ways to be a children's performer. What works for me is to approach it like a teacher: I'm much more comfortable sitting on the floor with the kids in the circle and a guitar in my hand, and we're all singing together. I had to learn how to do it as performer on stage with that separation of performer and audience rather than all together doing something. So I try to bring that into my performances, the feeling of togetherness and unity.
I deliberate choose songs about kindness and peace and love because I feel like kids get a lot of other things from the culture they consume. I was so struck with seeing the Mister Rogers film last year. It really highlighted how he was impacted by the media the kids were experiencing. It's very fast-paced, pretty often violent. There's an energy to it that's a little bit exhausting and creating a tension. He really wanted to offer something gentle and peaceful, something accepting and grounding, that encouraged love and communication.
When I saw that documentary, I really felt is so strongly. That's where I've always been coming from, just to make sure there's something out there that represents a different energy to feel during the course of their day. I'm not necessarily saying all that other stuff is bad, but I'm just saying that I wanted to provide that alternative. And the feedback that I get from children and their caregivers is that it does serve a purpose in their life, and that's really what I'm trying to do. Music feels like a service to me, and I am so glad to hear that my music does help people get through the day, whether it's to help their children fall asleep or get through a long car ride.
Besides Woody Guthrie, who are some of your greatest sources of musical inspirations?
I really love Mavis Staples and the Staples Singers. They were a big part of civil rights movement. They were a family that performed together, as are we. I always took a lot of inspiration from their path as a family, and Mavis is still with us and making incredible records. She just put out a record produced with Ben Harper. We go see her every chance we get. To me she is the highest standard for a musician today.
Then there's the McGarrigle sisters. They also perform with their family. They were two sisters with an extended family of musicians that would perform together and on their own. They would do annual Christmas concerts at Carnegie Hall, which inspired me to start doing Christmas concerts at Woodstock, at Levon Helm Studios. I've done that for the last six years, and those are really beautiful community events where we raise funds for our local women's shelter. So they are a big musical inspiration for me.
What are you future plans for your music?
A couple years ago, I started another record exploring the arrangements of Ruth Crawford Seeger. I made a Christmas album that was in tribute to her work. Then I started a record exploring her arrangements outside of Christmas songs. I started working on it with a musician named Susie Ibarra. She's a Filipina composer, percussionist drummer, an avant-garde jazz musician. So I really want to finish that record, as a companion to the Christmas album I made.
Then beyond that, Daniel, Storey, and I want to make an album together that is not children's music but just for anybody—a record of our music. It's not necessarily made with the idea of trying to retain attention of three-year-olds. It's a beautiful thing I love doing, but we also want to try the other side of things as a family, and we'll see how that goes.
See Elizabeth Mitchell and You Are My Flower perform on the National Mall at the 2019 Smithsonian Folklife Festival this Sunday, June 30, at 1:30 p.m. The event is free and open to the public.
Malgorzata Mical is an intern at the Smithsonian Center for Folklife and Cultural Heritage and a senior at University of Florida, where she is studying English and Russian.