Dancing into Epiphanies with House Music: DJ Duane Powell's Sunday Service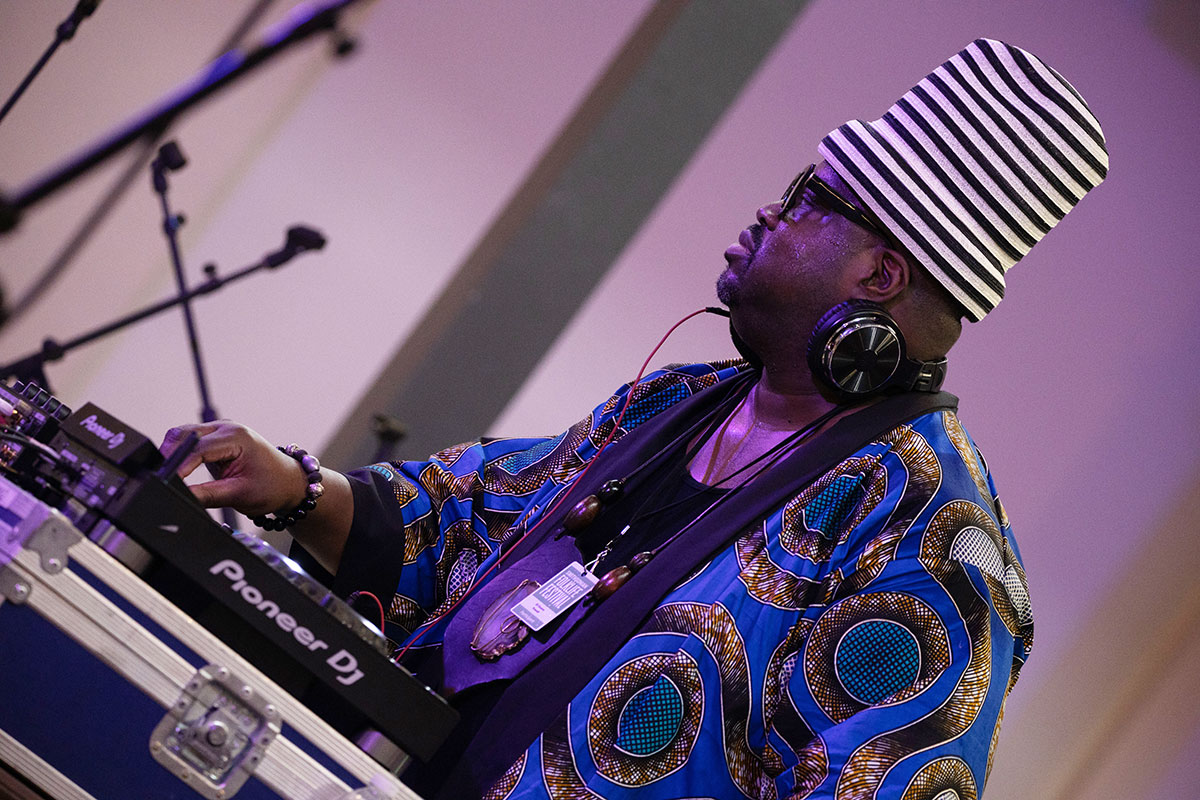 How are new forms of religious expression created? In Chicago, DJ Duane Powell is developing a moving form of Sunday service based on the repertoire of house music.
While deploying his expert techniques as a DJ as well as his deep knowledge of multiple genres, DJ Duane skillfully selects songs and tracks that activate his audience during his biweekly Sunday Service series. In this way, he systematically leads his "congregation" into ever more energetic dance movements while vocalizing lyrics. This also creates a resonating body, both within individuals as well as among a unitary congregation, that sparks experiences of liberatory joy.
Normally held at the Stone Island Arts Bank, DJ Duane's Sunday Service made its Washington, D.C., debut at the 2023 Smithsonian Folklife Festival. As part of the program Creative Encounters: Living Religions in the U.S., the 12 p.m. service—cut short and relocated indoors to the Smithsonian's Arts and Industries Building due to inclement weather—moved audience members of all ages to begin dancing in the aisles. After the abbreviated session, his D.C. followers whisked him away to the nearby Eaton Radio station where he could complete his set.
*****
Growing up in Chicago within a family that included many DJs, Duane imbibed a culture of mixing music from an early age.
"It's been with me my whole life," he says of his passion for music. "My mom insists that when she bought me a tricycle when I was three years old, I didn't ride it. I flipped it over on its side and put a 45 on the wheel in hopes that it would make it sound. She sticks by that story.
"I grew up immersed in music. Music was always the backdrop to everything. Everything we did as a family, as a people, music always accompanied it in some way—from the barbecue to the cleaning up of the house on Saturdays."
Later, Duane joined the choir at his church and eventually became an award-winning director of the youth choir. As choir director, he was always looking for just the right song that has something to say, to make God's presence tangible.
In the musical ministry that DJ Duane has developed, he consciously taps into the musical philosophy expounded by Frankie Knuckles, the late "Godfather of House Music," who claimed that house music could "set you free." At Chicago's Warehouse, where he was brought from New York to become the founding DJ, Frankie's tracks mixed different genres of Black music, from gospel and soul to disco. The Warehouse began as an exclusive Black gay club in the late 1970s but later became more inclusive, allowing individuals from any community—Black, brown, or white, gay or straight—to participate in their dance parties.
"House music isn't Black or White," Frankie wrote. "It just is. It feels good and it feels right."
This accommodation to multiple communities is one reason why house music quickly became popular nationally and globally. This also makes it an ideal genre for activating a multiracial and intergenerational community.
DJ Duane also received support and inspiration from artist and community activist Theaster Gates. Raised in a Baptist church with a gospel choir which he ended up directing, Theaster has always included spiritual music in his artistic practice. Most often he performs with his Black Monks ensemble, earlier known as the Black Monks of Mississippi. Their improvisatory performance of "Working on the Sabbath" was, in many ways, the precursor for DJ Duane's Sunday Service, which Theaster asked him to initiate at the Stony Island Arts Bank, created and operated by Theaster's Rebuild Foundation.
The Rebuild Foundation is also home to Frankie Knuckles's entire collection of 5,000 vinyl records, which he amassed to use in his live DJ sets. The collection, which preserves the audio imprint of house music, is currently being digitized and subsequentially will be available to DJ Duane and others when creating their own remixes for future Sunday Services, continuing Frankie's legacy.
*****
When creating a new genre of house music specifically for his Sunday Service, DJ Duane is conscious that his aim to have a religious affecton his congregation is very different from other DJing styles.
"There's a culture of DJs who proudly say how they don't cater to the crowd," he says. "I'm not one of those DJs. I'm going to give you me, while catering to you, because there has to be a give and take between me and the audience. I can't sit there and play over your head all night. I have to do something to bring you into the fold. That's what brings the energy in. The reason I call my event 'Sunday Service' is not necessarily a play on church. It is, but really my DJing is a service. I'm serving you."
During his Sunday Services, DJ Duane has choreographed what we can consider four progressively intensive movements through his track selection from a repertoire of religiously relevant songs, rhythm acceleration, and interludes of melodic modulation. These include moments of establishing individual presence at the service, growing congregation participation through dancing that leads to resounding resonance in repeated refrains, to the ultimate joy of release expressed in body movements.
These movements are sensitively captured by photographer Seed Lynn. As a regular attendee of the Sunday Services, Seed photographs while dancing within the congregation, capturing emotionally charged moments of individual experiences through his "listening lens."
Presence
When arriving at the Sunday Service, individuals embrace each other, while DJ Duane surveys the congregation, acknowledging their presence. This sets up a reciprocal relationship between DJ Duane and his congregation, many whose "trigger songs" he knows.
One of the refrains DJ Duane plays to set the stage for building feelings of love within the group:
"You show me, Jesus/ What it really means to love"
("Love" by Kirk Franklin, remixed by DJ Spivey)
Participation
While building the vibe of the Sunday Service, individuals participate by dancing to DJ Duane's developing sequence. Most participate by clapping, some bringing their tambourines and even at times a West African djembe drum, reinforcing a shared rhythm within the group.
"Dance, dance, dance, dance/ Come on and dance"
("Dance (Disco Heat)" by Sylvester)
Resonance
Continuing to build the pulsing emotions within the congregation, DJ Duane pulls from the gospel and soul repertoire known by the community, including the following refrains sung by both DJ Duane and the congregation: 
"Dreaming about you/ Praying about you"
("Praying for You" by Jasper Street Co., remixed by Louie Vega)
"Shine your light on the world/ Shine a light for the world to see"
("Umi Says" by Mos Def)
Release
Over three hours of dancing, DJ Duane skillfully weaves sounds and songs into a surrounding sonic tapestry that lovingly embraces his congregation. They are all moving, some together and others alone, flowing in movements that take them to ever higher levels of exclamation, of liberating joy through culminating moments of epiphany.
"Joy, joy, joy/ You make me happy"
("Joy Joy" by Black Motion ft. Brenden Praise)
"Be thankful/ Be grateful"
"Thank you, thank you"
("Be Thankful" by Jamie Lewis ft. Michelle Weeks)
The emotional effect of DJ Duane's Sunday Services is eloquently reflected in this note written by one congregation member:
"Duane: Brother DJ
Thank you for moving the People
Your heart beats through US ALL.
AND WE ARE HEALED by your Love."
Woodman Taylor is an educator, ethnomusicologist, and curator who, after teaching art history in the United Arab Emirates for a decade, has returned to "Home Sweet Chicago."
Seed Lynn is a writer, imagist, and artist now based in Chicago. Through his photographic practice, he sensitively listens to and illuminates voices and narratives.