Explore Armenia's Nature and History with HIKEArmenia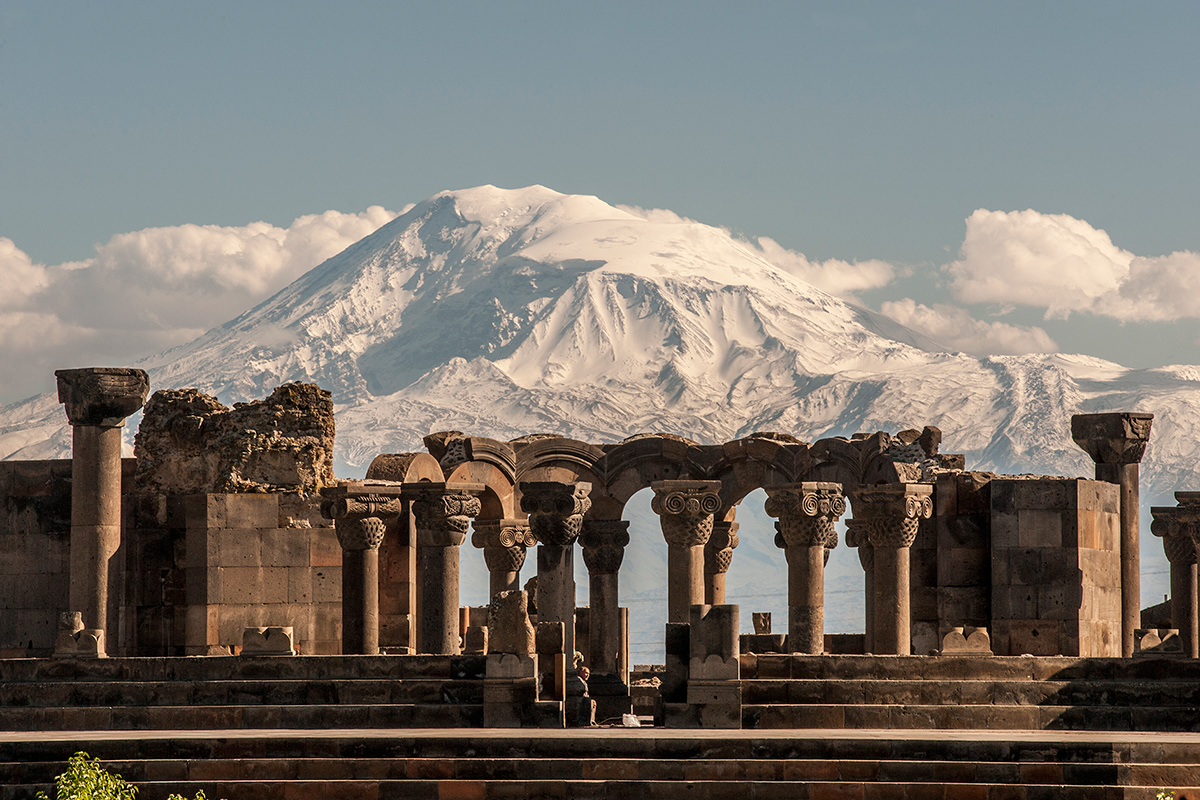 "Of all the paths you take in life, make sure a few of them are dirt."
—John Muir
Armenia is a mystical land where stones, magnificent lakes, rushing rivers, diverse vegetation, and snow-capped mountain peaks shed light on a rich and complex history of the Armenian people, often interlaced with legends, including Marco Polo's voyages along the Silk Road and of Noah's Ark landing on Mount Ararat.
Layers of Armenia's fascinating cultural heritage are embedded in the country's pristine landscapes, which are dotted with ancient cave dwellings, mountain monasteries, fortresses, and Armenian khatchkars (cross-stones). One of the main treasures of Armenia lies in the warmth and hospitality of its people.    
Armenia is increasingly budding into a hotspot for tourism. Many consider this tourism a way to reintroduce Armenia to the world by funding the revitalization of various Armenian traditions and landmarks.
"You can hike for four, five hours, end up at the top of the mountains, and in the middle of nowhere, there's a seventh-century church!" remarks Edele Hovnanian, an avid hiker and the founder of HIKEArmenia. "I don't know why it's there and how it got there. It's just a miracle, because the stones are massive. But it's one wonderful thing about Armenia that I have personally not seen in any other country."
In 2016, the Hirair and Anna Hovnanian Foundation approached ONEArmenia about investing in their new program, HIKEArmenia. Since 2017, together they have been working toward a goal of developing world-class hiking infrastructure and resources throughout Armenia. According to Hovnanian, the new organization does not try to compete with travel guides or agencies, or any preexisting infrastructure. "We're just a facilitator to make that connection." One of the goals of HIKEArmenia is to ensure a support system for international hikers exploring Armenia by foot.    
To help promote hiking and ecotourism in Armenia, HIKEArmenia has created a variety of trails. It offers the resources hikers need to plan their unique single or multiday hikes: digital maps, accommodation options that range from camping locations to bed-and-breakfasts and high-end hotels, and contact information and profiles for local multilingual guides.
The following hike will take you through a single trail from starting in the HIKEArmenia resource center in Yerevan, Armenia's capital city, to a shepherd's home for a cup of coffee, along a trail in the Tavush region of Armenia. The trail starts in Dilijan, goes through the Haghartsin Monastery complex, and ends in the village of Hovk.
Gallery
1 / 11

It all starts here! The HIKEArmenia information center, located on 5 Vardanants street in the heart of Yerevan, offers a wide array of services for local and international hikers. HIKEArmenia's friendly staff will advise on what trails to hike, how to get there, where to stay, and even what to eat! They can help you get acquainted with the application and website, which are trusty companions while out on an adventure, as well as set you up with any equipment you may need.

Photo courtesy of HIKEArmenia

2 / 11

The frenzy of trail building! Volunteers from Armenia and all over the world can attest to the effort that it takes to create world-class hiking trails. They are built and marked in accordance with U.S. standards, which was a first for Armenia. By doing so, it ensures that they will be around for a long time and meet the expectations of international hikers looking for a new adventure.

Photo courtesy of HIKEArmenia

3 / 11

The cliffs above the village of Hovk in the Tavush region. They serve as the backdrop of a scenic and historical hiking trail leading to and from the thirteenth-century HaghartsinMonastery.

Photo courtesy of HIKEArmenia

4 / 11

Trail markers along will let you know where you're going and the distance remaining. These can be found at the beginning of trails or at junctions, but there are also smaller red and white reassurance markers along the way so you can focus on the sights and sounds around you instead of worrying about your direction.

Photo courtesy of HIKEArmenia

5 / 11

The idea of a trail is not to disturb nature, but to meander gently through it.

Photo courtesy of HIKEArmenia

6 / 11

Armenians pride themselves in being the first nation to adopt Christianity as a state religion in 301 AD. Thousands of ancient churches and monasteries can be found across the country. Nestled in dense woods and often interpreted as "Dance of the Eagles," Haghartsin is a monastery complex built in the tenth to thirteenth centuries. It is located near the town of Dilijan in Tavush Province. The complex consists of churches, royal burial vaults, and a refectory. You can find khachkars (cross-stones) scattered around the site.

Photo courtesy of HIKEArmenia

7 / 11

Once you reach Haghartsin Monastery, take a break and catch your breath. It's a good time to see how far you've come and how far you have left to go on the HIKEArmenia app or maps.

Photo courtesy of HIKEArmenia

8 / 11

There are numerous khachkars scattered around the three main structures left standing that make up the Haghartsin complex. Take a walk through the complex to discover all of these intricately hand-carved stones.

Photo courtesy of HIKEArmenia

9 / 11

You never know who—or what—you will meet when you climb up and out of the tree line. Herders and farmers can be found living in their seasonal homes, along with an array of livestock.

Photo courtesy of HIKEArmenia

10 / 1

These shepherds and farmers know the hills better than the back of their weathered hands. If you want to stray off the beaten path or simply know where the trail will take you, don't let the language barrier stop you; their ever-present herding sticks will point you in the right direction.

Photo courtesy of HIKEArmenia

11 / 11

Along with directions, there usually comes an invitation. Armenians are known for their warm hospitality, so being invited into a home for some Armenian coffee (surj) along with fresh fruits, vegetables, cheese, and bread is not uncommon. This is a big part of what keeps visitors coming back for more!

Photo courtesy of HIKEArmenia
The trails featured above are two of the eight sections that make up the entire multiday hike funded by HIKEArmenia and created along with local partners, the Transcaucasian Trail and Caucasus Nature Fund. The entire trail network in the Dilijan National Park is roughly 100 kilometers (60 miles) and could be hiked continuously through the course of a week or split into day-hikes.
Explore Armenia with HIKEArmenia!
Rachel Barton is the media intern at the 2018 Smithsonian Folklife Festival.
HIKEArmenia is a sponsor of the Aygi Stage at the Folklife Festival, featuring folk and jazz music and Armenian dance workshops.