Spiritual Connections through Corn: Chef Rafael Rios's Farm-to-Food-Truck Cooking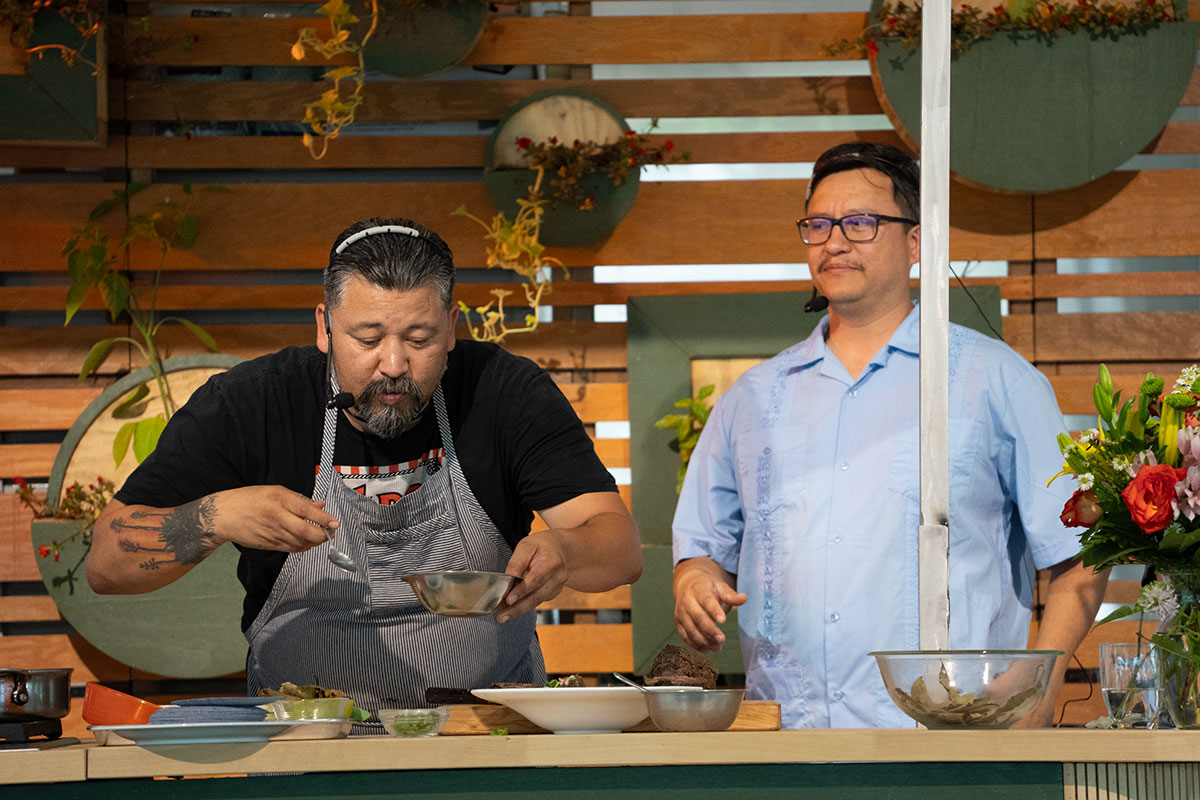 For thousands of years, teosinte grew in the south-central regions of modern-day Mexico. This wild grain slowly evolved, growing from genetic mutations carefully cultivated by the stewards of the land. These modifications—"strong" kernels and stalks, ability to withstand droughts and pests—ultimately led to the 200 variations of what we know today as corn.
Within Mexican culture, corn is a central force for connection and spirituality. Those timeless connections hold strong today. From planting, watering, harvesting, and cooking, the traditional corn of the Americas is sacred and requires love, care, and affection throughout its entire life, from the seed to the plate.
Chef Rafael Rios—owner of Yeyo's El Alma de Mexico in Bentonville, Arkansas—highlights his own Mexican roots and ancestry through traditional corn cooking techniques.
"My connection to corn is more of a spiritual connection, if you will," he said in an interview at the 2023 Smithsonian Folklife Festival, where he represented Mexican foodways in the Ozarks region. "When we were born and raised in Mexico, ninety percent of our diet consists of eating something with corn, whether it is a tamale or a tortilla. But it represents the labor of our ancestors, and it represents a way of living and way of life."
Chef Rafael continues to honor those ancestral relationships with the corn as well as with his family. Today the Rios farm is a multigenerational, collective family effort. This farm was the first stepping stone into the Rios food collaborative, launching food trucks and restaurants into the Arkansas culinary scene.
Rafael's father, Don Yeyo, has a deep passion for traditional agricultural practices and passing them onto his family. After years of farmwork in Southern California, Yeyo brought his skills to Arkansas when the family decided to move. In 2012, the Rios family established their farm, which grew to a point of yielding abundant crops—more than they needed to feed themselves. Thus, the first Rios food venture was born in the same year: The Yellow Truck, highlighting traditional and authentic Michoacan cuisine.
Following the positive uproar surrounding The Yellow Truck, the family opened the restaurant Yeyo's El Alma de Mexico in 2018. Chef Rafael has since received multiple accolades, including three James Beard Best Chef: South nominations. Building on the success of the restaurant, the family followed with Yeyo's Mezcaleria and Taqueria in 2020, and, recently, they added The Blue Truck to their fleet.
With four major food endeavors to supply, the Rios Family Farm continues to thrive. Yet some foods, such as traditional corn, require extra time and care before moving from family to community.
"We are, at this point, continuing our research to develop and preserve some of our heirloom corns for nixtamalization," Rafael said, referring to the ancient Mesoamerican process of preparing maize in an alkaline solution. "Corns that have low sugar content and great density and a lot of weight, once it gets nixtamalized, is superb. We require a lot more research, a few more years of planting and eating it ourselves. But we do have our own corn, and it sustains our family."
For the Rios family, corn is more than just food on a farm or on a plate. With all the spiritual and emotional attachments connecting us to corn, there is a larger sentimentality. Corn holds bonds to strength, survival, and resiliency. During times of drought, war, and so much more, corn has provided exactly what was needed.
In traditional corn cooking practices, there are two different nixtamalization methods depending on the type of alkaline: ash or calcium hydroxide. The Rios family uses calcium hydroxide, or "cal"—a white powdery substance that, when mixed with dent or seed corn, opens the corn, allowing for nutrients to be easily expelled and absorbed when digesting. The process is simple, as Rafael explained it: first, you make a slurry of cal and water. Place corn kernels in a pot with enough water to cover them, then add the slurry slowly. Cover and boil for twenty-five to forty minutes, depending on the quantity. The resulting grain is often called nixtamal or hominy. The hominy can then be used to create masa among other staples. This simple method, developed more than 2,000 years ago, connects cooks with past generations through cuisine to continuously highlight the beauty of corn.
Chef Rafael wants diners to learn about this fundamental technique that underlies the food on their plates.
"We have an open-kitchen concept so people can see how the tortilla manufacturing takes place—how we mix our tortillas, how we will mill our moles or masas. That's how we connect."
For Chef Rafael, it is important to show the greater Arkansas community traditional corn cooking techniques, preparations, and dishes.
"We named the restaurant Yeyo's El Alma de Mexico, which in translation is 'the soul.' The soul of Mexico encompasses a lot of elements, really. It is the music, the people, the colors, the culture, the food."
At Yeyo's, he can highlight Mexican culture and the values of traditional corn within a small Arkansas town, creating cross-cultural connection through food and community.  
Zoe Lea was an intern for the 2023 Smithsonian Folklife Festival's Creative Encounters: Living Religions in the U.S. program and is currently a student at Northern Michigan University in environmental studies and sustainability. She is Hoocak from Wisconsin and believes in the power of traditional food and food systems.