Medicine with Roots: Healing Earth and Ourselves with Plant-Based Remedies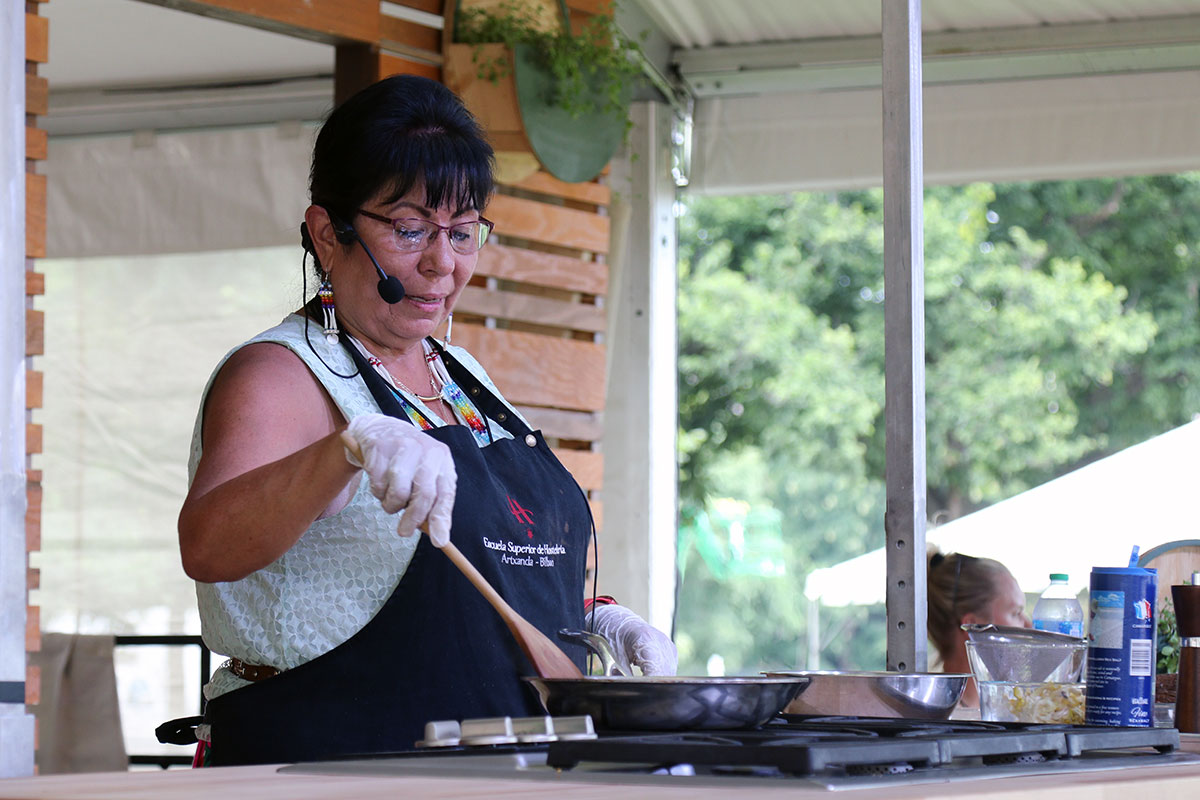 What do you think people get wrong about the human relationship to the natural world?
Cheryl Longknife Morales—a member of the Gros Ventre Tribe who teaches ethnobotany at Aaniiih Nakoda College, which serves the Fort Belknap Indian Community in Montana—suggests that humans have taken living organisms, especially plants, for granted as natural sources of food and medicine. Morales participated in the 2022 Smithsonian Folklife Festival, where she spoke of the importance of the buffalo to her people and demonstrated a recipe that featured buffalo meat and traditional plants.
As an ethnobotanist—an expert on the relationship between native plants and regional culture—Morales uses traditional knowledge imbibed during her upbringing on the Fort Belknap Reservation, home to the Aaniinen and Nakoda (or Nakota) nations, to create, use, and pass down traditional methods for using plant-based medicine to her students. Her response to my inquiry about humans and the natural world took us beyond governmental policy and economic models, to the life force that is generated by plants, the spiritual connection that binds us to them, and our responsibility to protect them.
"Humans don't understand that plants are our living relatives," she explained. "They are there for us to help keep our mind, body, and spirit healthy. We talk to plants and ask for healing. They help us with our prayers, and, in return, we take care of them and respect their knowledge in keeping us healthy. We do not destroy them or disrespect them. They are powerful, and their knowledge has carried on for centuries."
On her journey to become an ethnobotanist and educator, Morales pursued formal and self-education. She wished to learn about the practical applications of plant medicine but also to trace the lineage of plant-based healing in her community.
"I gathered books, took classes, and talked to an Elder who uses medicinal plants in her family and handed it down to her children. After speaking to several Elders in our community about medicinal plants, I realized it was becoming a lost culture, because people were turning to Western medicine."
Indigenous cultures have lived with the land, plants, and animals, in relative symbiosis for millennia. What nature provided—be it food or medicine or food as medicine—was honored and revered. Unfortunately, the connection between American Indians and their ancestral lands has historically been disrupted by violent settler colonialism and cultural erasure through forced assimilation.
This history adds gravity to Morales's work in the classroom and in the community that raised her. Renita Longknife, Morales's aunt and former pupil, has used medicinal plants for over three decades.
"I took ethnobotany because I use medicinal plants and I wanted to know more about them," she wrote to me in an email. "I carry Nakota ceremonies for our people. I also teach others about the plants and how we use them as Native Nakota people. I go out on the prairie and mountain with our people to show them how we harvest the plants."
At Aaniiih Nakoda College, the past, present, and future of Indigenous life is at the center of academic programs. According to its course catalog, the college's American Indian Studies program prepares graduates to "articulate the traditional values and Life ways of the Aaniinen or Nakoda while exemplifying those characteristics for the benefit of their community." In the Aaniiih Nakoda Ecology program, students "reflect critically about the roles of and identities of indigenous citizens and environmental stewards in their ancestral lands and in connection with the natural world." The Allied Health program trains students to "demonstrate an awareness of traditional American Indian perspectives on health, healing, and holistic medical care." Through these programs, and in courses like Morales's, Aaniiih Nakoda College exemplifies education as cultural preservation.
How can each of us reengage with the natural world and its offerings? Morales's recommendation is as practical as it is spiritual: use your senses.
"People walk through the mountains and prairies enjoying how beautiful the scenery is, but they don't really look around at the plants, trees, and wildflowers made available to us from Mother Nature," Morales reflected. "People don't listen to what is around them, what kind of sounds are in the air or from the ground.
"Learn your body's needs," she continued. "Learn about the plants in your environment because they have much to share about what they can do for you. Medicinal plants are abundant for a reason. It is up to us to take the time to hear what they have to say. They want us to hear their story. They want us to use them as Mother Nature intended."
The Q&A below is a glimpse into Cheryl Morales's story which can hopefully serve as a catalyst for us to view the plant world as a willing partner on a quest for mutual preservation.
Where did you grow up? I understand your family was displaced from Montana by the Indian Relocation Act of 1956.
I was born and raised in San Jose, California, until I was ten years old. My family and many people from Indian country across the United States were in the Relocation Act to relocate to metropolitan areas where they were required to assimilate into mainstream America. When I was ten, we moved back to my mom and dad's homelands, Fort Belknap Reservation, Montana, so we could be closer to my grandparents.
How did growing up there influence your relationship with nature?
My grandfolks were my biggest influence. My dad would take us hunting down the valley along the river and out to the Little Rockies on Fort Belknap, and we would bring the wildlife home to my grandmother who would prepare the wildlife for our meals. We always made sure we brought home pheasants, duck, deer, and elk. My grandmother would make us duck soup, and it was so delicious. We would go fishing at [Snake Butte Reservoir Dam] for trout or [Milk River] for walleye and pike, and my grandfather would tell us stories and show us how to fish and what to use on our lines. We took advantage of all seasons for food and berries.
When did you know you wanted to dedicate your career to ethnobotany?
I went to a conference with my program, and there was a presenter who discussed medicinal plants and how they could [be] used. She completely had my attention, and I just could not get enough of her information. I came back from that conference with a new focus and wanted to learn more about plants and our own plants that our people have used throughout time. I began to study and learn as much as I could by reading and finding out what plants we have in our community and how it was used. I do not go to our medical facilities for treatment very often unless I absolutely have to, because our medicines can help, but not for major surgical illnesses.
Did your family or community pass down knowledge about plant-based medicine to you?
My great-grandmother was a great medicine woman and healer. People would come from miles to be healed by her. As she was getting older, she tried to pass it down to her children, but they declined because they said it was given to her. I knew her in her elder years, before she passed away at ninety-seven years old. By then she could not talk, and I am sure she did not know who I was. But I would sit and visit her, introduce myself and how we were related, and tell her what was going on in her family. My aunt talks about how she was taken care of by [my great-grandmother] when she was sick and remembers her making her some hot peppermint tea sweetened by a candy stick.
What is the first lesson that you teach students who are interested in ethnobotany and learning more about the plant world around them?
First, they should know how to identify the plant, as there are some plants that are very similar but are toxic. Second, know your area where you are going to harvest these plants, because you want to make sure that it is healthy and that it has no toxic contaminants in the ground where plants will soak up moisture from runoffs, since you are harvesting to heal your body.
I do inform them that, if they are going to collect and harvest, to make sure they have time, because they will be walking to find these plants. It is not a quick "walk in and walk out" like at the store. When you go harvesting, bring tobacco and make your offering to Mother Earth for another abundant and healthy harvest. Also, dress accordingly because you don't know what you might come upon.
How have you used plant-based medicine in your own life?
When I started my journey towards medicinal plants, I was amazed at all the ailments they could heal and how good it was for your overall body—mind, spirit, and health. I would research plants I heard different families talking about, [plants that] they did not know how to identify or where to find them. As I researched these plants, I started to experiment and combine medicinal plants for different illnesses. I found, combined, and tried a mixture of plants I call my "cold remedy tea." It works great, and I haven't had a cold in twelve years.
I have made several more combinations of plants for allergies, anxiety, as well as plants into creams that can help heal rashes, acne, skin disorders, bruises, arthritis, aching muscles, and injuries, and repelling mosquitos. It really is amazing how well these plants can help us with all of our ailments but are rarely used anymore due to Western medicine.
Amber J. Cooper is a writer and master's student in library and information science at The Catholic University of America, with a specialty in cultural heritage information management. She enjoys reading and writing about the many manifestations of faith and spirituality, food, and Afrofuturism as a cultural force.