Spiritual Music of Armenia: A Living Religions Playlist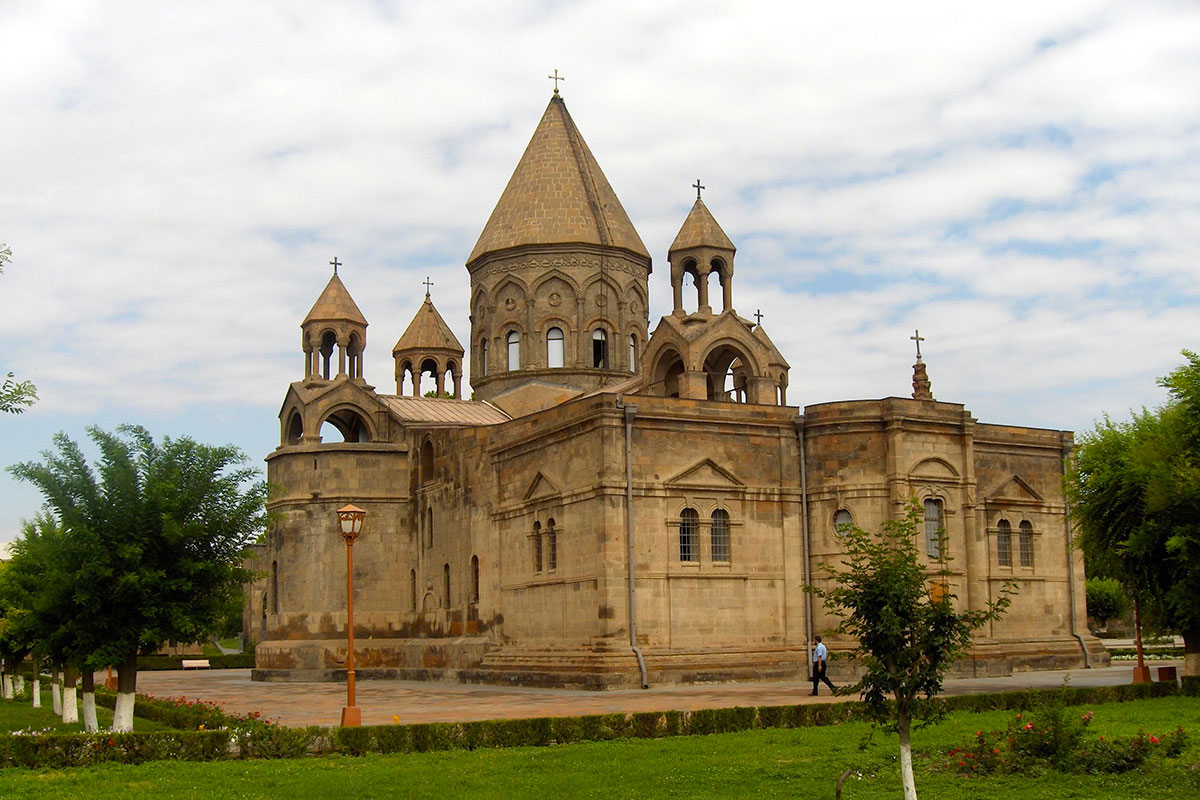 For Armenians around the world, religion plays a large role in daily life and cultural identity.
The small nation in the Caucasus region was the first to adopt Christianity in 301 AD, and Armenians today are largely a part of the Armenian Apostolic Church, an independent Oriental Orthodox Christian Church. The Mother Cathedral of the Armenian Church, Holy Etchmiadzin Cathedral, is the oldest Christian cathedral in the world. The main service of worship in the Armenian Church is the Divine Liturgy, or the Badarak.
In the spirit of the Creative Encounters program happening now at the Smithsonian Folklife Festival, I compiled this short video playlist below. It features hymns heard in the Armenian Church as well as songs that, while not a part of the church service, express themes of Armenian spirituality. Hacheli unkndrum!
1. "Hayr Mer," arranged by Komitas Vardapet
This prayer, which translates to "The Lord's Prayer," is from Komitas Vardapet's arrangement of the Divine Liturgy for the Armenian Apostolic Church. Komitas was an Armenian priest, ethnomusicologist, choirmaster, and singer, and he is credited for traveling throughout historic Armenia and transcribing and arranging thousands of Armenian folk songs. This rendition of "Hayr Mer" is performed by the Armenian National Choral Society of Boston.
In the religious service, the congregation stands and sings "Hayr Mer" in unison, which reaffirms the Armenian people's shared faith in God. According to ethnomusicologist Jonathan McCollum, author of Music, Ritual, and Diasporic Identity: A Case Study of the Armenian Apostolic Church, for many Armenians in the diaspora, the Divine Liturgy and the Armenian Church are core elements of Armenian identity.
Having attended an Armenian school, this prayer was one of the first things I learned. Listening to "Hayr Mer" allows me to connect with both my religious identity and my identity as an Armenian living in the diaspora.
2. "Doxology"
This hymn, which is also called "Amen Hayr Sourp" or "Amen Holy Father," is an expression of reverence toward God. This rendition is performed by Canadian Armenian opera singer Isabel Bayrakdarian, who sings in a solemn tone and is accompanied by violin and cello. Slow in tempo and without a steady rhythm, you would not be able to tap your foot to this hymn. The hymn is melismatic, meaning that groups of notes are sung to one syllable of text. Melisma and the largely repetitive melody allows for greater emphasis on the lyrics and allows listeners to think deeply about the message that the hymn is meant to convey.
The emotional climax of the piece (at 3:34) is marked with a dramatic change in instrumental and vocal dynamics, as Bayrakdarian shifts to sing in a forceful and powerful voice accompanied by lively strings. 
3. "Der Voghormia," arranged by Komitas Vardapet
This piece translates to "Lord Have Mercy" and is a sharagan, or liturgical hymn. It is sung during the clergy's preparation of the wine and wafer symbolizing the blood and body of Christ and before the congregation receives Holy Communion.

This sharagan is very melismatic in style. A portion of the lyrics translate to, "Lord have mercy/ All-Holy Trinity, we beseech You grant peace to this world/ And to the sick bestow health, Eternal life to the departed." The hymn is performed to enhance the spiritual experience of those who attend the Armenian Church. However, it is also performed in both sacred and secular settings, and particularly during remembrance ceremonies for victims of the 1915 Armenian Genocide.
Because of this, I believe that this hymn is also a mournful prayer that gives strength and resilience to the Armenian people. When I hear this haunting and beautiful hymn, I think back on the arrangement I performed for my undergraduate senior recital featuring a small women's choir with my classmates, whom I had met in the Klezmer Music Ensemble at UCLA. I thought it was special how all of us, despite coming from different religious backgrounds, wholeheartedly learned and performed this Christian hymn together.
4. "Meditation on Greed" by John Hodian
Although not a part of the service for the Armenian Apostolic Church, I wanted to include this piece performed by the Naghash Ensemble, a contemporary music group based in Yerevan, Armenia. It is an example of the fusion of contemporary and traditional Armenian musical elements, touching on themes of Armenian spirituality and exile through its lyrics. Composer John Hodian based the lyrics on sacred texts written by Mkrtich Naghash, an Armenian priest and poet. With its energetic tone, fluctuating rhythms, vocal harmonizations, and incorporation of the dhol, oud, Armenian duduk, and piano, this piece challenges the boundaries of what is considered Armenian spiritual music.
5. "I Have a Word with a Prayer" by Djivan Gasparyan
This piece is also not a part of the service for the Armenian Apostolic Church, but nonetheless allows listeners to transcend into a relaxed, contemplative, and spiritual state. Djivan Gasparyan, renowned Armenian musician, performs it on the Armenian duduk, an aerophone made from apricot wood and regarded as Armenia's national instrument.
Lilia Yaralian is an intern for the Smithsonian Folklife Festival program Creative Encounters: Living Religions in the U.S. She is a graduate of the UCLA Herb Alpert School of Music and is currently pursuing her MA in ethnomusicology at the University of Maryland, College Park.