The Story of a People and a Plant: American Ginseng and the Hmong People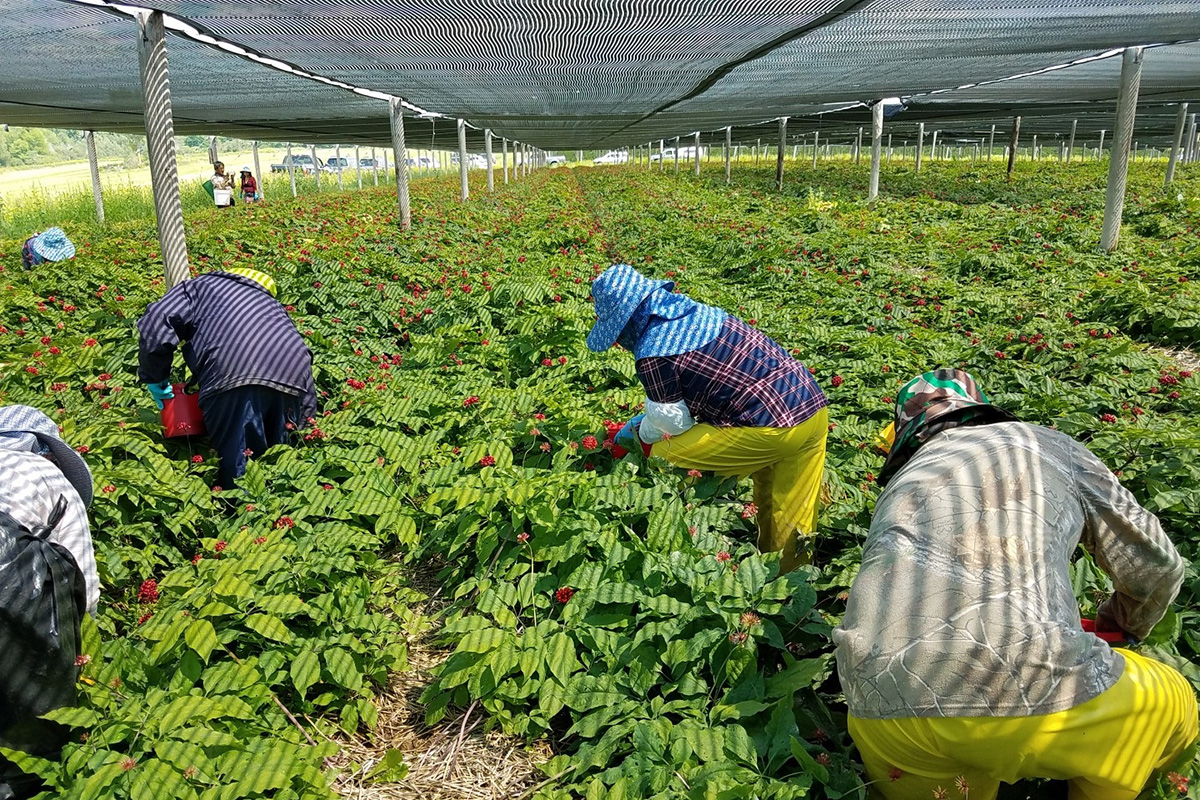 Editor's note: The fascinating history of American ginseng and the many people involved in its current cultivation, harvest, trade, medicinal use, and conservation are the subject of a proposed program for the 2020 Smithsonian Folklife Festival. Watch for more articles shedding light on this native plant in the coming months.
If you find yourself on an American ginseng farm in Wausau, Wisconsin, in mid- to late fall, you will likely discover this landscape: acre upon acre of green-leafed, red-berried plants under a makeshift roof of black mesh, much of it tended by families of Hmong workers.
Who are the Hmong, and how did they end up in this place with this job? This Southeast Asian ethnic group has a complex history, including a mass migration to the United States as refugees following the Vietnam War. They brought with them their language and a rich body of traditions. In fact, Hmong descendants have been featured many times at past Smithsonian Folklife Festivals, including the 1998 Wisconsin program.
In the program book published that year, curator Richard March wrote, "Wisconsin now has America's second largest population of Hmong...who actively pursue their unique music, craft, and social customs in the new homeland."
Many Hmong came from a rural background, and those who settled in Wisconsin were hired at farms, including the American ginseng farms of Marathon County.
Vue Yang, a Milwaukee-based machinist of Hmong descent, made the journey from Laos to Thailand to the United States at the age of six. Once he and his family arrived in the United States in 1979, they continued to move around, living in Rhode Island, Alabama and Minnesota. The summer he was sixteen, relatives told him about seasonal work available in the ginseng fields of Wausau, Wisconsin. Yang, like many Hmong people in the area, jumped at the chance. For the next two summers, he worked for a ginseng farmer he remembers only as Mark.
"I was kind of a farm hand," Yang recalled. "I'd mend fences, do some of the farm work. And then when it was time to weed the ginseng, we would weed the ginseng. Toward the end of the season, we would pick the seeds. At the very end they would take down all the posts, and they would bring what looked to be like a potato picker. It would go under the padding and shake up all the roots. And then we would pick up the roots."
Yang said that many recent Hmong immigrants were attracted to the ginseng work. Jobs were hard to come by, and much of the older generation was not proficient in English.
"In Laos all they did was farming," he said. "That's the only thing that they knew how to do."
Looking back, Yang can't estimate how many Hmong ginseng workers were in his community, but he does distinctly remember never seeing another ethnicity out in the ginseng fields during his work there.
Like Yang, Tina Lee emigrated from Laos to Thailand to the United States. And like Yang and many others, she ultimately found her way to the ginseng fields of Wausau. In the early 1990s, she rented acreage in order to have a vegetable garden. The owner noticed what great care she took of her garden and asked if she would be willing to help take care of his ginseng crop. Even though she knew next to nothing about the plant, she was willing to give it a try.
"He had about two acres, and he told me, 'This is ginseng, and this is weed. You can pull all of my weeds, but leave these ones, because these are my plants,'" she reflected. "And that was my first time."
Lee began taking her mother and aunt to help with the weeding. They were paid $3 an hour. Before long, Tina began to learn the business. An experienced friend showed her how to drive the tractor and how to plow the fields. When the time came for the owner to retire, he asked Lee if she was interested in buying the farm. She said yes. She took over in 1994, managing more than a hundred acres of ginseng.
In the years following the 2008 financial crisis, plummeting ginseng prices placed a strain on ginseng growers—Lee included. In 2013, she decided to sell her farm and work for Hsu Ginseng, a larger company that had maintained strong market ties to China. Lee still works there today.
Lee's years working with ginseng have supplied her with abundant knowledge of the plant. She describes the extensive three- to five-year growing process with the authority of a longtime expert.
"From now until December I am very, very, very busy—busy like crazy," she said.
And she is: from late spring until the end of the year, there are flowers to be picked, fields to be weeded, berries to be planted, and roots to be dug up, dried, heated, sorted, and sent off to China.
The work is demanding, and Lee said she struggles to find consistent workers. The tradition of Hmong Americans working ginseng fields, she's sure, will be gone in a generation.
"The kids, they don't care about how much you pay," she said. "Even if you pay $100 per hour, they still don't want to work. They say, 'No, I have my own job.'"
Who will complete the work? Laughing, Lee said that she regularly tells her employer that he needs to invest in robots. Until a ginseng farming robot is invented, Latino workers are taking over some of the duties, and they will bring with them their own stories.
If Lee is correct about the future of Hmong field workers in Wisconsin, then the accounts of people like her and Yang speak to a time when the story of American ginseng and the story of the Hmong people overlapped at a crucial time for both the industry and the ethnic group.
Davis Moore is an intern at the Center for Folklife and Cultural Heritage and a professional writing major at Western Carolina University, with an interest in environmental communication.