A Reunion of Ancient Cultural Roots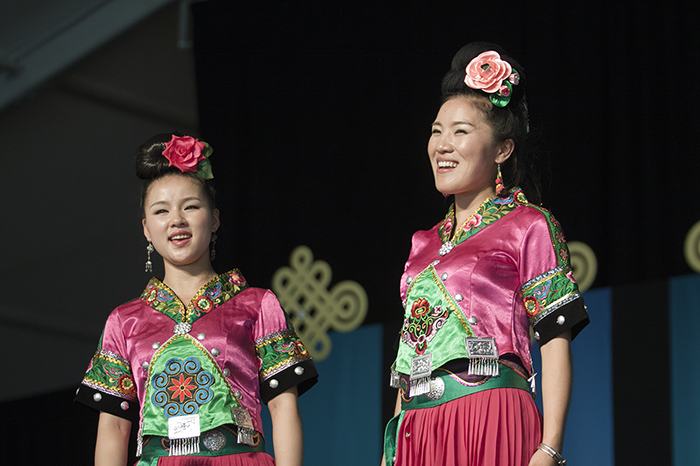 Growing up in China, the word "reunion" (tuan ju 团聚) always reminded me of a crowded, cozy, and chatty occasion when the extended family got together to catch up, eat a feast, and celebrate. Every reunion strengthens family ties and reinforces common values, which give people a sense of confidence knowing that there are some people in the world who they always belong to.
At the 2014 Smithsonian Folklife Festival, a profound moment of reunion happened that touched me very deeply.
On the first Saturday of the Festival, after the evening concert with the Leishan Miao Music and Dance Group, two women from the audience approached the performers and started talking to them. All kinds of body language was involved, so I went up to offer translation help when Professor Yang Wenbin, a Festival participant, Miao scholar, and batik maker, told me that the two ladies are from local Hmong community, and they are comparing their languages with the Miao people.
I was immediately fascinated, knowing Hmong and Miao share the same ancestors. Although there were only a few shared words that they could understand, they seemed so excited, as if they had found long-lost family members. The two Hmong ladies, Sia and Yer, invited the Miao participants for a Hmong dinner at their home later.
At this gathering, the Hmong and the Miao people compared their embroidery traditions, costumes, silver headwear, and other craft traditions. Some similarities were found, and differences were obvious too. But it seemed that finding similarities was not as important as simply enjoying the moment of reunion.
"Although I can't understand their language, I feel we are from the same ancestor," says Liang Xiaoying, one of the performers from Guizhou. "We are the same people. I feel happy and immediately at home around them."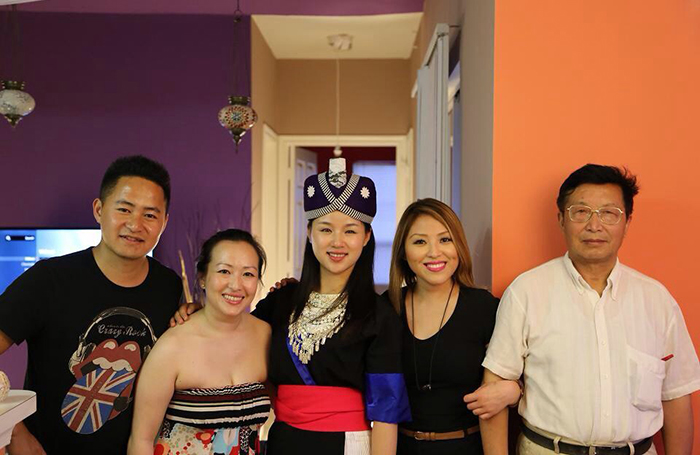 The term "Miao" is mainly used in China, referring to three major tribes sharing the same ancestry. Hmong is one of the tribes. Without a written language, Miao/Hmong history and culture are passed on through oral history. At a very young age, Sia learned to sing songs about Hmong people coming from a land called shoua, which in the Hmong language means "China."
"As Hmong diaspora in the west and Southeast Asian countries, we respect Miao people from China, because they connect us to the history and the ancestors' land," Sia said. "We feel like a family whenever we see our own people. We need to take care of each other. It was an honor to host a traditional Hmong dinner for them. "
Miao people are historically known as nomads. Originally from northern China, in the past centuries they moved all the way to southwestern China and Southeast Asia to avoid war and natural disaster. During the migration, families and especially different tribes were often broken apart. Sia told me that because Miao/Hmong people have traveled so much in history and are not confined to any political boundaries, ethnic identity is bigger than political identity to them.
The Hmong people in the United States mostly came from Laos in the 1970s and 1980s as a direct consequence of U.S. covert operations in Laos, the "Secret War," during the Vietnam War. Because of the detachment from their homeland, Hmong Americans preserve their cultural values seriously. As all immigrant communities probably experience to some degree, preserving their culture while trying to settle in a new society, especially with younger generations growing up in a new cultural environment, is difficult. Some of the first generation of Hmong immigrants had to let go of their own culture to be part of the American melting pot.
Sia and Yer, as second-generation Hmong Americans, face a different challenge. Yer told me that being a Hmong kid in America is very hard. Her parents forced the traditional rules on her that made her very different from her American friends. She once tried to run away from it to be a normal American kid. But as she grew, she learned to appreciate her own culture and feel the longing for her ethnic identity.
Meeting the Miao people is like connecting to a piece of history for Yer. "It is fascinating to meet people beyond the relatively recent history of war and immigration that we know," she said.
This reunion was one across distance, time, and language. For hundreds of years, those Miao people who settled in Guizhou and those Hmong people who came all the way to America have both managed to maintain their own cultural identities, which allow them to reconnect and celebrate their common yet distinctive journeys.
Jing Li was the program coordinator for China: Tradition and the Art of Living at the 2014 Smithsonian Folklife Festival.