The 2023 Folklife Festival Guide for Kids and Families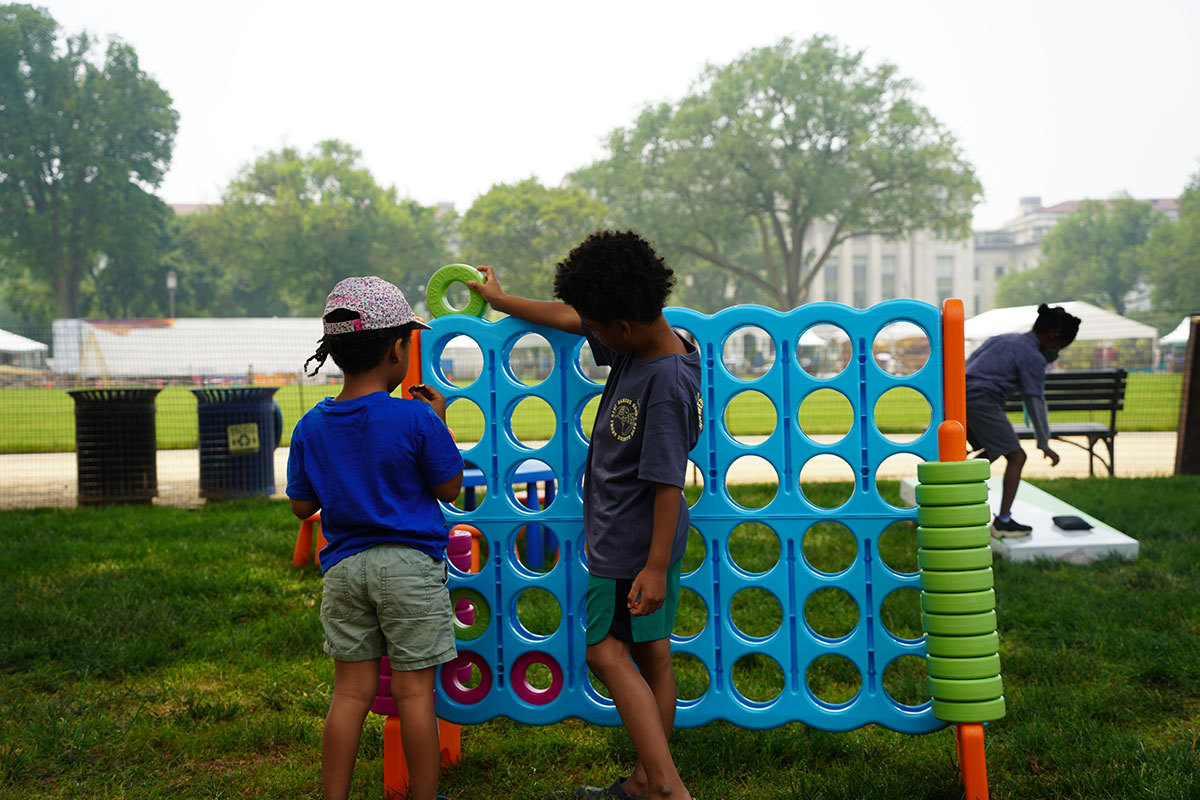 The Smithsonian Folklife Festival is a place to cultivate your curiosity, explore unfamiliar cultures, and put all your senses to work as you encounter people and traditions from all over the world. With their natural sense of curiosity, kids are some of our favorite visitors to the Festival!
This year, kids can explore creativity and spirituality throughout the nation in our Creative Encounters program and celebrate the faces and facets of the Ozarks region.
Bringing the whole family to the Festival? We've compiled a guide of suggested activities, performances, and foods to try! All events are free and open to the public. Assisted listening devices, ASL interpretation, and live captioning are provided for select events and may be requested.
💃🏻 Put on your dancing shoes
We've got no shortage of opportunities to move your body at this year's Festival, with multiple options for live music at any given hour. Swing your partner round and round at one of our Square Dance Workshops, or learn bomba, an Afro-Puerto Rican style of dance, at a workshop designed specifically for children and families. Kids can also try out the classical Indian dance Bharatanatyam, shared through the story of the Elephant and the Mouse.
🌱 Nurture your green thumb in our gardens
Get your hands dirty with ongoing gardening demonstrations and crafts that relate to the natural world at The Land in the Creative Encounters area. You'll also be able to see some farmers making "seed bombs," small clusters packed with wildflower seeds and growing soil. Head across the National Mall to the Ozarks program to explore the Teaching Garden for even more all-day gardening activities.
🖍️ Get creative with crafts️
If your kids couldn't get enough of Coco, don't miss ongoing demonstrations of constructing an ofrendra, or Day of the Dead altar, by the Esparza family from Los Angeles. Throughout the day, the Esparzas offer hands-on activities suited for families and kids, including coloring and making altar decorations. Kids can also participate in one of our clay sculpture workshops with the Hindu Temple of Greater Chicago.
Then, head over to the Sacred Images, Sacred Arts, and Mandala tents to meet artists crafting unique works that grow and develop over the course of the Festival, like Tibetan Buddhist sand mandalas, pascola masks from the Indigenous Yoeme ceremonial tradition, and more! You can also visit the Quilting Corner in the Ozarks to try your hand at some sewing and coloring.
🎶 Make some music
Try out new instruments and explore the rhythms and styles of Sikh music in a session with Raj Academy designed for young visitors. Kids can also hear from up-and-coming artists in the Ozarks music scene who will talk about their experiences in the industry as young people.
📖 Settle in for story time
Explore an exciting story from the Shahnameh, one of the world's great epic tales. This thousand-year-old poem from Iran contains many stories—it narrates the history of kings and heroes, legendary adventures, as well as a love, loss, and deep human experiences. Artist and storyteller Nazanine Aygani will share the colorful Shahnameh episode of the seemorgh, a magic bird, in an engaging session for children. If you're looking for a story straight out of the Ozarks, look no further than "Yarb Tales from the Widder Wilcox," a living history experience with plant props and stories about using plants in the Ozarks.
🍦 Fuel up with food and cool off with frozen treats
Visit the Festival Kitchen for food and drinks inspired by the Ozarks and the country's diverse spiritual traditions, with plenty of kid-friendly options. Try a taste of the Ozarks with a smoked pulled-pork sandwich, or enjoy a pastrami sandwich from the Creative Encounters menu. For dessert, tickle your taste buds with some Elderberry-Pomegranate Soft Serve Sorbet, or Vanilla Soft Serve with Missouri black walnuts. Allergen information is available on our website and in person at concession stands.
📸 Don't forget to snap some pictures
Our signature #2023Folklife marquee can be found along Seventh Street on the National Mall, but don't miss other photo ops scattered around the Festival! Grab a photo in front of the Ozarks program sign with one of our professional mountain bikers riding the trail behind you, or pose with a handmade quilt. You can also take a picture with our giant string web connecting genetic traits, courtesy of FamilySearch. With the Washington Monument on one side and the U.S. Capitol on the other, you can't go wrong with photos.
There's so much to see at the Festival, so keep your eyes open and don't be afraid to ask questions. Bring the whole family to the National Mall and enjoy a day of exploring and creating!
Grace Bowie is a social media coordinator for the 2023 Smithsonian Folklife Festival. Her passions include playing outside, making crafts, and eating ice cream. She is a kid at heart.