Welcome to the 2016 Folklife Festival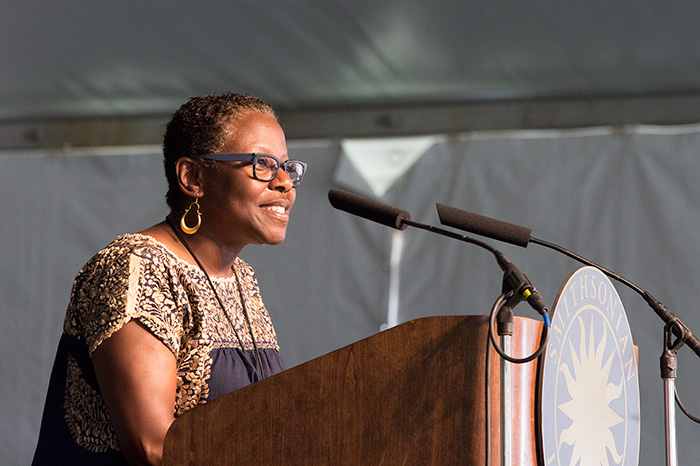 The 2016 Smithsonian Folklife Festival features two unique programs connected by the theme of resilient communities. How do language and poetry, craft and food, music and dance contribute to and reflect Basque innovation? How does California's diverse sonic landscape echo historic and contemporary demographic shifts? Basque: Innovation by Culture and Sounds of California compel us to consider how cultural heritage spurs individual, family, and community resilience across time and geographies.

"The Festival wants you to look at things a different way and to interact with them [sic] but it relies greatly on people (whether participants or volunteers) being there to spark the conversations that lead to cultural learning."
—Gabriel Perez
in "Smithsonian Folklife Festival: Many Auspicious Doors" by Betty Belanus
The new book Curatorial Conversations: Cultural Representation and the Smithsonian Folklife Festival reveals that issues of transmission, vitality, fragility, and resilience have long provided fertile ground for our curators and participants alike. This year's programs continue to explore this rich terrain with new considerations and understandings.
Each year we ask, how do we better engage you, the visitor, in the creation, production, and presentation of our programs? Since its inception, the Festival has been a unique dance between participants, curators, and visitors. As we approach our 50th anniversary in 2017, we want to strengthen the ties between us. Just as we encourage you to learn a new song or try your hand at a new craft, we ask you to complete a survey or send us an email so that we can learn what works, what doesn't, and what hopes you have for the future of this extraordinary event.
The Smithsonian Folklife Festival is the result of the hard work of a diligent staff, dedicated partners and sponsors, and gifted participants. To them, I offer gratitude beyond measure. Year after year, the Festival is brought to life by hundreds of thousands of visitors who come from across the country and around the world. To you, I offer a warm welcome. As always, I hope that your time with us is filled with learning, wonder, and delight.
Sabrina Lynn Motley is the director of the Smithsonian Folklife Festival.