The Arrow-weeds: Environmentalists, Activists, and Artists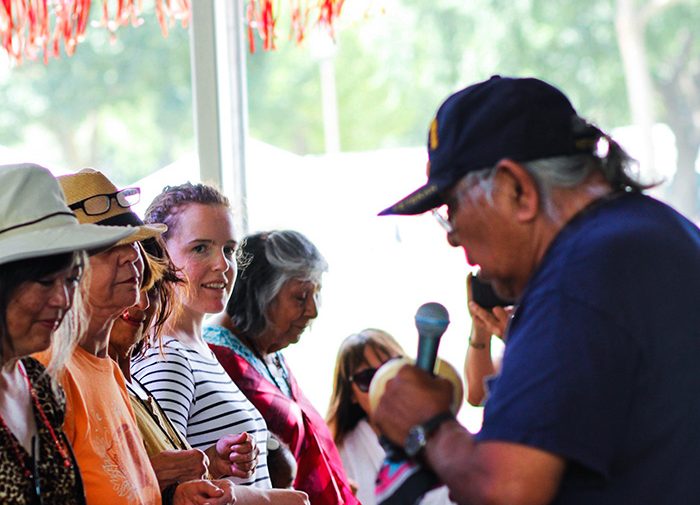 Gold mines and wind turbines are no match for Helena and Preston Arrow-weed.
Environmentalists, activists, educators—the Arrow-weeds are a force. They protect the sacred sites and desert ecosystem of their ancestral lands, the lower Colorado River region, through successfully protesting the creation of mines and turbines. They also dedicate themselves to the stimulation of tribal culture and increasing understanding of Native American history, culture, and art.
Bonded through their environmental causes, Helena and Preston have dramatically different personalities. Helena is quiet and reserved. She has the patience and grace of a seasoned teacher having worked in many educational capacities—elementary school teacher, ESL teacher, and assistant professor.
Preston is outgoing and witty, with an irreverent deadpan humor that makes a heritage bearer of his renown approachable. He is a member of the Quechan Tribe of California and only one of a few who sing the sacred songs celebrating the rites of passage from birth to death and can sing them in the correct order. Multi-talented and multifaceted, he was also a Marine, a Hollywood actor, and is now a playwright.
At the 2016 Folklife Festival, Helena and Preston shared their personal stories, their causes, and the significance of the songs that Preston performs as Helena dances.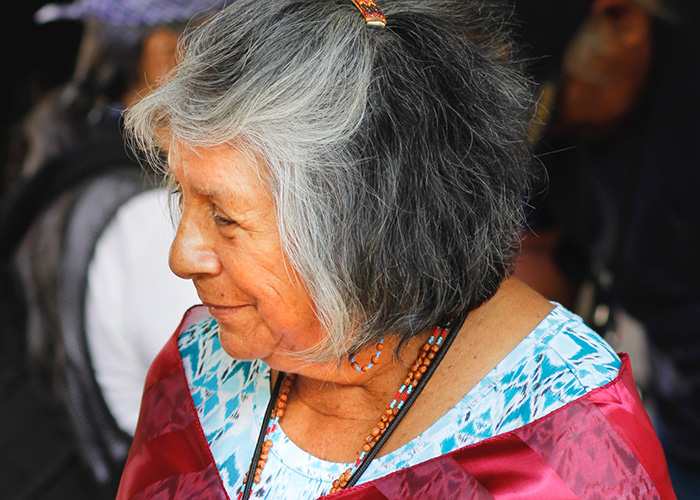 How did you meet?
Preston: Well, there I was minding my own business, and this woman came around with a rope, and she dragged me home.
Helena: Actually, we met at a hearing for environmental issues. We were both talking against it. I was really impressed with his presentation, protecting the desert and the animals—
Preston: It was love at first sight.
Helena: —and he had just such interesting stories and I thought, "Whoa. I am going to ask that guy to come to my classroom." So I called the tribe and I asked them for Preston Arrow-weed. After a few calls, they finally gave me his number. We became friends after that.
Preston: I stayed over with her after that.
***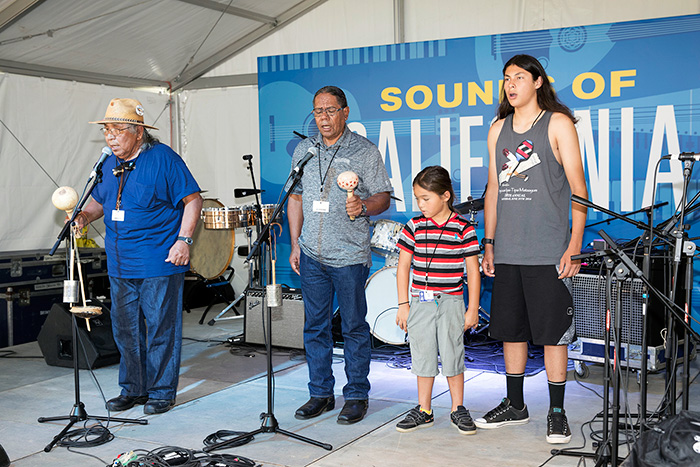 Patience and attention truly pay off with Preston's style of storytelling. The plots wind down twisted paths populated by personified animals and superhuman beings, ending in foreign but ancestral landscapes of deserts, mountains, and oceans. Enraptured by giant talking snakes and frogs, you forget to listen for the moral—until it hits you like a ton of bricks at the end.
***
Why are traditional songs and stories so important?
Preston: They teach history, teach morals. Even though I think it has more to do folklore, it has deep meanings. For instance, gold. In the creation story, there is a giant snake. This snake was created in anger. The creator was disappointed with his son, and they got in an argument. It was when the world was still wet and he was trying to mark it with a stick. The creator talked with his son, got angry and threw the stick down to the earth.
When the stick fell it became a snake, and because of the creator's anger it became an angry snake. The snake's head became poison, and his tail became a rattle from a piece of mud. The snake bit the first man that was created. The man was revived because it wasn't time for his death, but then they took the snake and threw him to the north. Soon they forgot about him.
Sometime later on they said, "We have to get that snake because he is getting bigger and bigger. He is going to be dangerous." So they went over there and tricked him. They told him they were going to build him a house, led him into it, and killed him.
But he knew that this was going to happen. He was wise. He knew that this was meant to be. He knew that this was his purpose, that he was a part of the plan of the universe. He knew that he had to play the role through.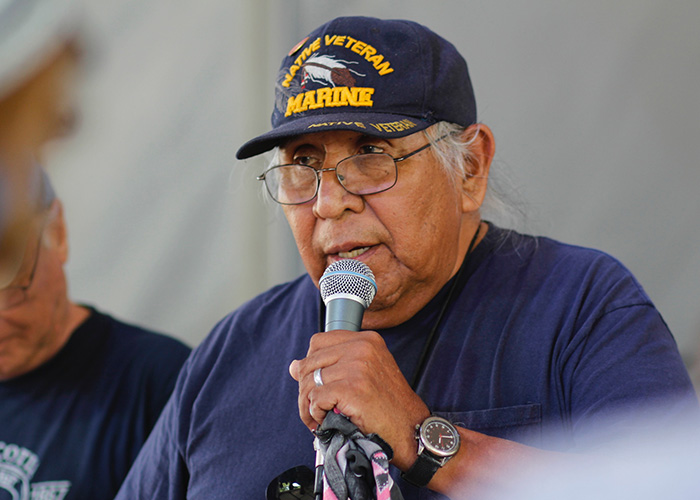 He showed up at the house. The creator's son was waiting at the entrance of the house with a big stone obsidian knife. The snake created four heads to scare the creator's son. The creator's son chopped off all four heads and killed the snake.
The creator's son took the snake's body and laid it across the shore so that the ocean couldn't come up onto it—that is the mountains. Then the head that came off, he smashed it up and the spittle became silver. The snake's urine went to the ocean—that is what makes the ocean powerful. And his blood was gold.
Today we know the power of the snake, but we also know the power of the snake's blood. Today people misuse the power of the snake's blood. And look what it has done to the world. For that snake's blood, people have killed each other. Wars are going on now because of it. The whole country is fighting over it.
So these songs really have a deep meaning about the belief of my people. So if everyone knew this story, they would learn that there is no moderation when it comes to power. You ruin everything around you. The snake's blood is very powerful. It ruins everything.
How did you learn these stories and songs?
Preston: I heard it, I joined in, and I picked it up. It was not like today: "this is the way you sing" and "this is the way you say that." They would say, "Go ahead and join me."
For a long time I really didn't know what I was saying. I had to analyze the words before I understood what it really meant. Today there are many phonetic singers, but they do not know what it means. I don't sing phonetically.
I think for that reason, I became an environmentalist because—knowing these things and ignoring it, I couldn't do it. Now, I'll make the statement. I am involved in environmental issues because of the songs. If every singer knew what their songs meant, they would be right here beside me.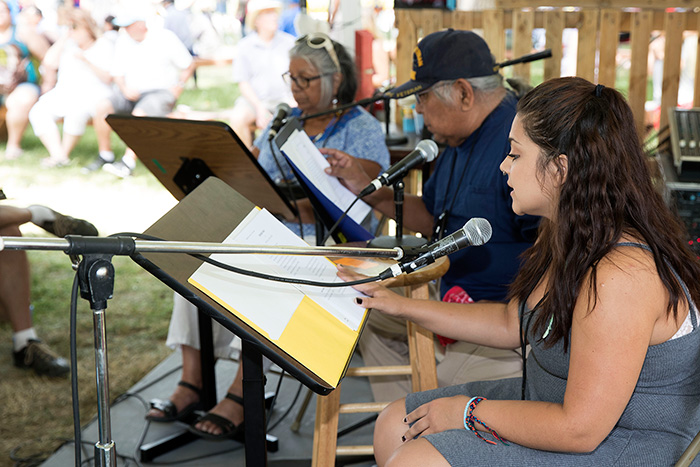 What is it like to share your traditions at the Folklife Festival?
When I was coming down here, I was thinking, I am going to D.C. and I am going to spill my guts about my tribe, my songs, and everything. But why am I doing this? Is it for the money? The attention? For the tribe? But it is not my land. It is those peoples' land.
I am not talking about Washington, D.C., and what it is today. I am talking about the ancient people who once lived here. They had a belief. They had a religion. They had everything. And here I am going to bring mine onto their land? It is wrong.
So I said, since no one is there from their people, I am going to bring my traditions there and do it for them. I am sharing what is mine and trying to help them. I do align myself with them. I am doing this for those people.
***
Before each performance, Preston made a statement, directing focus to the ancestral inhabitants of the D.C. area and paying respect to their land, their traditions, and their history. He respected the local Native history by acknowledging its existence, his activist and environmentalist nature enacted in every moment of his life.
SarahVictoria Rosemann is a media intern for the Center for Folklife and Cultural Heritage. She has a degree in ethnomusicology, with a focus in Tibetology, and grew up in Reno, Nevada.
The 2016 Sounds of California Smithsonian Folklife Festival program was co-produced with the Alliance for California Traditional Arts, Radio Bilingüe, the Smithsonian Asian Pacific American Center, and the Smithsonian Latino Center.