Sounds of Los Angeles: César Castro's Son Jarocho
César Castro is a young master of son jarocho, a music genre that originated over 250 years ago in Veracruz, Mexico, combining Indigenous Mexican, African, Spanish, and Arabic influences. César is also originally from Veracruz, but he has lived in Los Angeles since 2005.
When César was thirteen years old, he became obsessed with learning to play the jarana, a small, eight-stringed, guitar-shaped instrument and the primary sound of son jarocho. His love for this traditional form of music led to rejection by some of his peers who were listening to contemporary artists, but because César showed such passion for son jarocho at such a young age, the older masters of the genre took notice.
César was first taught by maestro Andrés Alfonso Vergara, who contributed to popularizing and commercializing son jarocho in Mexico from the 1930s to 1950s. Vergara taught César the basics—the soul of the music. Later, César attended a workshop organized by members of Mono Blanco, who were the most influential son jarocho artists of the 1990s. Also from Veracruz, they introduced César to the fandango (all-night son jarocho celebrations).
Experiencing the fandango led César to understand the community aspect of son jarocho, which he instantly fell in love with. Fandangos are known for their musical collaboration, improvisation, and spontaneity, where beginners can freely play and dance. César became part of the new generation of youth participating in fandangos in Veracruz during the 1990s.
In 2004, César met members of the Los Angeles-based Chicano rock band Quetzal. They saw César as a multi-talented musician with an authentic voice and asked him to join their group. The next year, César moved to Los Angeles, where he quickly became a part of the Chicano art and music scene. In 2007, he formed his own son jarocho group called Los Cambalache, along with Juan Perez, Manuel "Chuy" Sandoval, and his wife, Xochi Flores.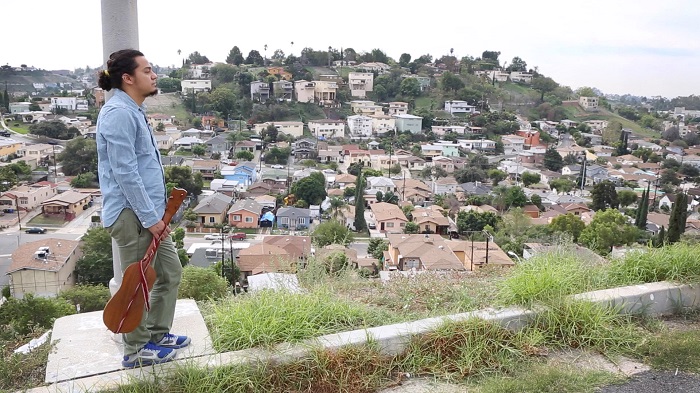 César has taught son jarocho to countless students at cultural centers, high schools, universities, and prisons. His work is evident in the growing popularity of the musical genre throughout California, manifest in the many groups and monthly fandangos. He is also a luthier (string instrument builder) and has made many of the jaranas used by musicians in the L.A. region.
For the Sounds of California project, César was recorded playing four versions of a traditional son, "El Siquisirí": solo instrumental, solo with verses, with a group of students, and with Los Cambalache. The final edited video contains portions of each performance.
"El Siquisirí" is often played to start a fandango. While this version consists of traditional lyrics, César and Chuy Sandoval also wrote new parts.
César has been a key creative collaborator in the FandangObon project, which will be featured in the upcoming Sounds of California Festival program. This project explores the connections between the historical experiences and cultural traditions of Mexican and Japanese Americans in Los Angeles.
César's interview and solo performances were recorded at his house in El Sereno, California, on October 27, 2015. The performance with students was recorded at El Hormiguero in Pacoima, California, on October 28, 2015. Los Cambalache was recorded in El Sereno on November 6, 2015. The fandango took place at the Floricanto Performing Arts Center in City Terrace, California, on November 21, 2015.
Akira Boch is a Sounds of California researcher and independent filmmaker based in Los Angeles.