Giants and Big Heads: A San Fermin Day Craft Activity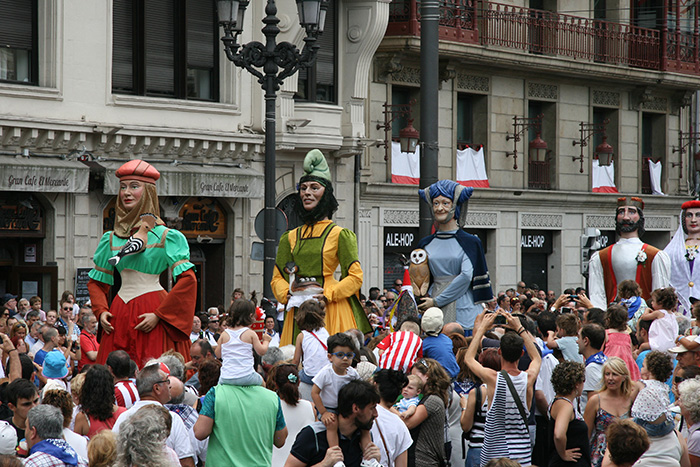 The Fiesta de San Fermin is one of the biggest festivals in Basque country. The weeklong celebration in Pamplona (also called Iruña, Nafarroa) honors the martyr San Fermin, who was beheaded while preaching in France in 303 AD. Centuries after his death, relics of his body were returned to Spain, marking the beginnings of the festival. It is best known for the running of the bulls and bull fighting, which take place daily from July 7 to 14. It also features daily parades that include music, dance, and the gigantes y cabezudos.
Literally "giants and big heads," these characters dating back to the 1600s are a common sight at Basque celebrations, including the Fiesta de San Fermin. They parade through the streets, the giants representing traditional or historical figures and the big heads playing the tricksters, teasing children and even chasing them with sponges. A giant's costume can be up to thirteen feet tall, draped on a frame sitting on a dancer's shoulders, and big heads are worn over a costume, covering the face and torso. All performers wear elaborately designed papier-mâché heads.
As part of the Txiki-Txoko Kids' Corner team at the Folklife Festival, my task was to design our own big head. We tried to keep it simple—maybe using a cardboard box or a big paper shopping bag. The idea sparked my own love of working with papier-mâché, so I gladly took the job. The resulting big head, which we named Charlie, complete with Basque kerchief and beret, made his debut at the Festival as a mildly menacing presence in the midst of a spirited game of "sponge tag," evoking the sponge-wielding big heads of Basque celebrations.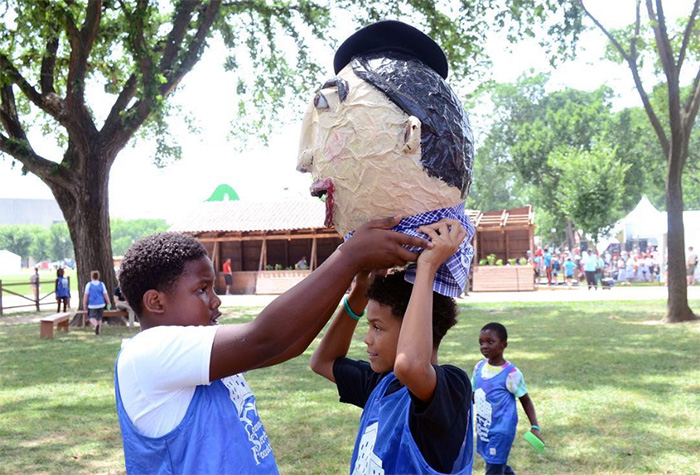 If you want to try your hand at making a big head, here is the method I used. Most of the supplies can be found at a dollar store or discount craft store and around your home. This could be a great idea for a birthday party with a Basque country theme or a school project on international celebrations.
Supplies
Big balloon
Newspaper
Brown paper lunch bags
White liquid glue
Bucket
Styrofoam, aluminum foil, etc. (for shaping facial features)
Hot glue gun and glue
Paint
Clear paint or Mod Podge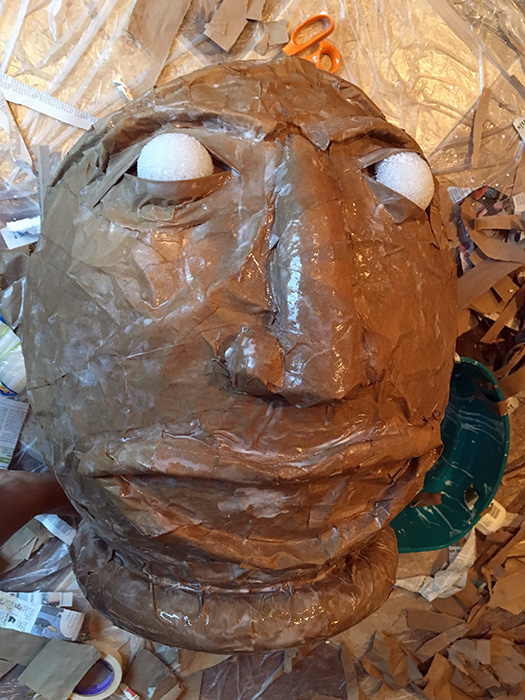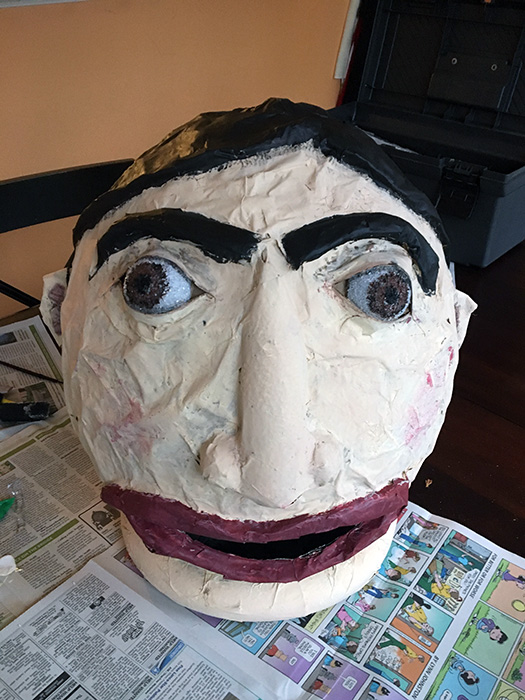 Instructions
Put newspaper or trash bags on the ground. I also recommend wearing old clothing. This can get messy.
Rip newspaper into thin strips.
Mix two parts glue with one part water in the bucket to make papier-mâché paste.
Blow up balloon and add first layer of papier-mâché: take a strip of newspaper and dip it into the paste. Run your fingers around the strip to make sure it is fully coated, but not so much that it drips. Place the strip on the balloon. Repeat until the balloon is completely covered. Let dry.
Add another layer of newspaper papier-mâché and let dry.
While these are drying, create any facial features that you would like to glue on separately. I did eyes and nose with Styrofoam, and the ears, mouth, and eyebrows with tinfoil. The mouth should be open to create an opening for your eyes when you wear it. I also used a Styrofoam floral ring to make a collar so that it could be comfortably worn around the head and rest on a person's shoulders.
Once dry, use hot glue to attach facial features to the head.
Rip the brown paper bags into thin strips. Cover everything, including the newly attached facial features, in another layer of papier-mâché with these strips. Let dry.
Start with a base coat of the color you want the skin to be. Paint the hair and eyebrows. Paint the facial features and add any details (rosy cheeks, nostrils, etc.).
To keep the paint in place, paint on a clear layer of Mod Podge.
Add any accessories to reflect whatever character you are trying to create. Sponges are optional!
How did your big head turn out? Tag us in your Instagram photos (@smithsonianfolklife) so we can see!
Hannah Sharp is a Center for Folklife and Cultural Heritage intern who worked in the Txiki-Txoko Kids' Corner during the 2016 Smithsonian Folklife Festival. She is a junior at Brigham Young University studying anthropology.