Body Language: A Discussion on Gender and Performance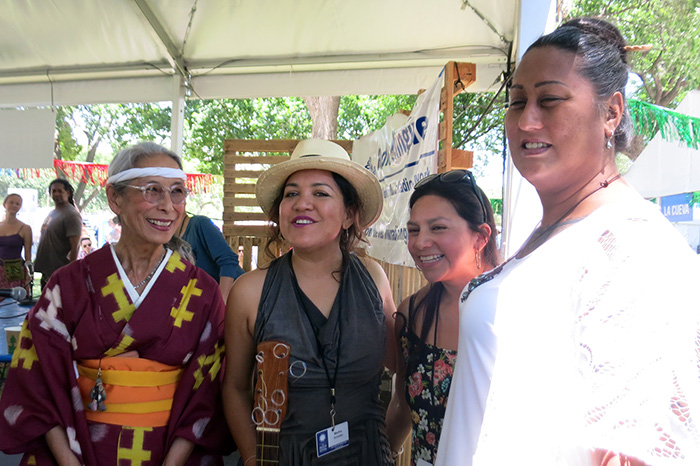 In the face of colonization, migration, and other forces that cause people to leave home, those on the move often have few to no belongings to remind them of home. Instead, they must preserve traditions with the body alone. In this way, song, dance, and storytelling become some of the only ways to hold onto not just a sense of self, but a connection to one's heritage.
In this audio feature, I explore how performance is a two-part act for Hina Wong-Kalu and Sounds of California participants Nobuko Miyamoto and Martha González. First, it is a way to dedicate their bodies to professing love. While reclaiming a voice or recalling a distant home, however, performance can simultaneously become an avenue for resistance and liberation.
Audio
Body Language: A Discussion on Gender and Performance
The introduction and conclusion of this piece includes excerpts of "We Are the Children," recorded by Nobuko Miyamoto, Chris Kando Iijima, and Charlie Chin for the 1973 Folkways album A Grain of Sand: Music for the Struggle by Asians in America.
Olamide Ogunbambo was a Folklife Festival intern for the Sounds of California program. She studies political science and government at the University of Chicago. Additional audio editing by Elisa Hough and Dave Walker.