The Alpaca Blessing Ceremony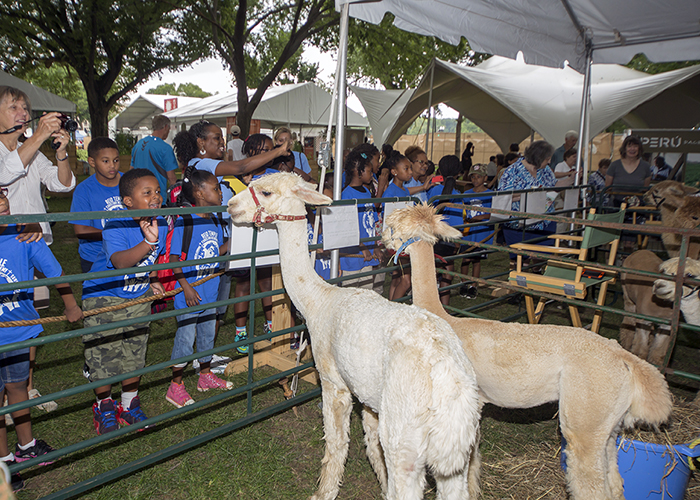 Of the many animals significant to Peruvian traditional culture, one is especially celebrated in the Andes: the alpaca. Smaller than their llama cousins, alpacas are too small to use as pack animals but are bred and domesticated for their meat and their fiber, which is known to be much softer than sheep wool. Alpaca wool is used to create the hand-woven clothing and textiles that have become a visual marker for Peru—and for the Perú: Pachamama program.
In addition to the weavers from Cusco and Ayacucho, we welcomed eleven visiting alpacas from Flame Pool and Sugarloaf Alpaca farms in Maryland over the two Fridays. In their honor, the participants from the Centro de Textiles Tradicionales del Cusco held a traditional fiber blessing ceremony called an alpaca chuyay, which is normally held in January and February when the alpacas give birth. Timoteo Ccarita Sacaca led the ritual, speaking in Quechua, while Centro founder Nilda Callañaupa translated into Spanish and presenter Emily Socolov translated into English.
After an introduction at La Plaza, the weavers processed through the Festival grounds to the alpaca tent, where they formed a circle in the grass, surrounded by curious visitors. The first week, they invited Kathy Graziana, owner of Flame Pool Alpacas, to join in the ceremony, dressing her in a woolen hat and jacket.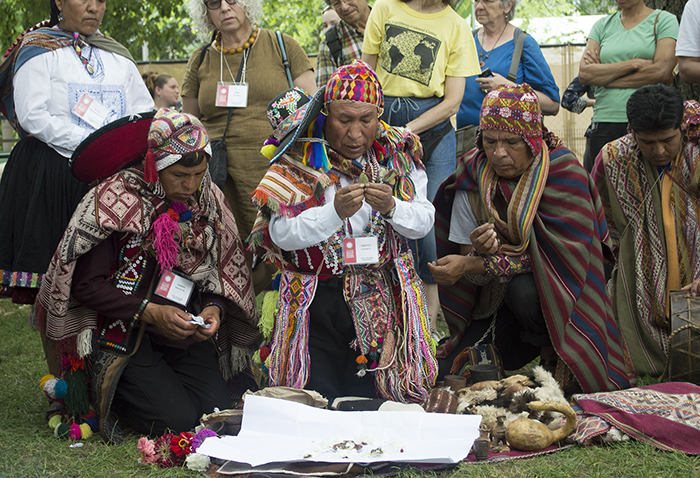 Timoteo began the ceremony by laying out a woven blanket on the ground. The ritual centered on a square "offering cloth" called unkuña, blocked off into quarters of varying natural colors. Nilda explained that the four quarters stand for the four cardinal directions, each addressing a different spirit: one corner for Pachamama (Mother Earth), one for their Apu (mountain spirit), one for their ancestors, and one for natural forces like lightning, asking that they not damage their land.
On top of the cloth, they placed white carnation petals, coca leaves and seeds, peanuts, crackers, and candy. "The earth needs something sweet," Emily explained. The candies are in the shapes of cars, corn, houses, and hearts, as they ask the spirits to protect their belongings and their health. Timoteo also added a medallion and gold and silver paper rolled into tubes, where the gold symbolizes Father Sun and the silver Mother Moon.
Once they finished preparing the offering, Timoteo wrapped it in paper, tied it up with string made from alpaca wool, and placed it in a woven pouch. He instructed Kathy to burn the offering so it may be received. Meanwhile, the women weavers poured chicha (fermented corn alcohol) into pairs of cups, the two representing male and female. Each member of the group took the cups to the alpacas, said their own blessing to them—asking that they stay healthy and provide an abundance of fleece—before scattering the chicha over them.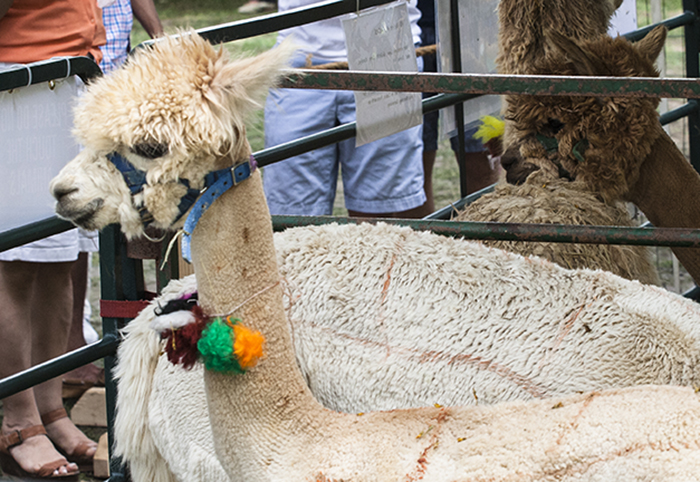 The alpacas were also decorated with red powder drawn in the quartered square of the unkuña across their backs, sprinkled with flower petals, and adorned with necklaces of multicolored wool pompoms. Only one alpaca seemed a little spooked and backed away. Did they understand this ritual is a part of their cultural heritage?
"I mean, they're American—they've been here for so long," Kathy said. "It's hard to tell what they think about it."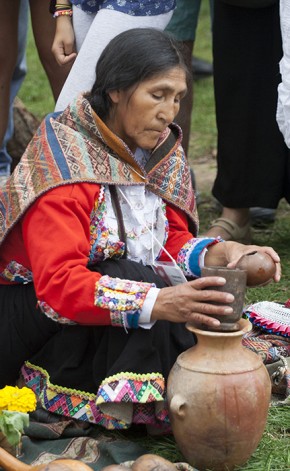 After finishing with the alpacas, the weavers drank some chicha for themselves and passed around a chucha, a special satchel used to carry coca leaves, each holding it to their lips and blowing a kiss to the spirits. They gathered in the circle to eat the food they had prepared earlier in the day at a demonstration in El Fogón Kitchen: piri, a mashed corn gruel. The dish is spiced with varying levels of sugar and cinnamon, coloring it whites, grays, browns, tans—the range of colors they wish for the alpacas' fleece.
The whole ceremony took over two hours, more than twice as long as our normal Festival sessions. But Nilda said that usually it would take three days—with time to prepare the dyes, dance, drink wine, and more. And while the ritual is celebratory, it is not for spectacle, even though on the Mall they were surrounded by visitors, cameras, and recorders.
"We are very serious in doing it," Nilda insisted afterward. "We're not doing it for a show. That's why in my mind, there were no people around me. I was just concentrating."
Elisa Hough is the editor for the Center for Folklife and Cultural Heritage and new owner of a hand-woven alpaca wool bag.