Recipe from China: Wonton Soup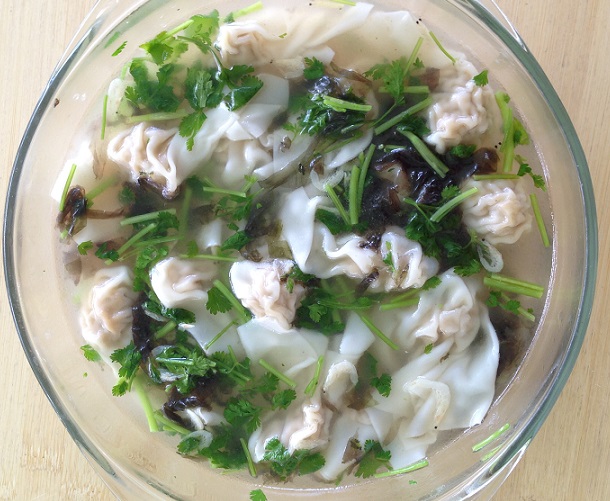 During the first week of the Folklife Festival, Sunday's theme was cultural diaspora, discussing how culture both changes and stays close to its roots away from the motherland. Food, unsurprisingly, also changes as it travels.
In the United States, I often see wontons served as a fried appetizer, or in a small bowl of wonton soup with only few wontons. However, back in China, a bowl of wonton soup, which has around twelve wontons, could be a hearty breakfast, a late-night supper, or a substantial snack between meals. Chef Yuman Zhao's delicious recipe reminds me of drinking wonton soup at a roadside food stand in China, so I would like to share this taste of home with you.
Ingredients
1 lb ground pork belly
3 oz fresh ginger
3 oz fresh scallions
1 egg
Sesame oil to taste
Soy sauce to taste
Salt and pepper to taste
1/8 tsp cornstarch
1-2 packages square wonton wrappers (Available in Asian markets.)
Nori (dried seaweed sheets, also available in Asian markets)
Cold water (about enough to fill a cereal bowl)
1 handful small dried shrimp
Cilantro
Extra sliced scallions
Preparation
1. Chop ginger and scallions into small pieces. Squeeze into juice. In a separate bowl, beat egg.
2. Place ground pork belly in a large mixing bowl. Add ginger juice, scallion juice, and egg. Add salt, pepper, soy sauce, a little sesame oil, and cornstarch to the ground meat.
3. Stir in one direction until thoroughly mixed.
4. To make wontons: place one wonton wrapper on your palm. Put a small amount meat filling in the middle of the bottom third of the wrapper. Fold the bottom part up twice. Moisten the two ends with a little water or meat mixture and stick them together in the middle. Now you should have a rectangular wonton. Here is a diagram to help you out: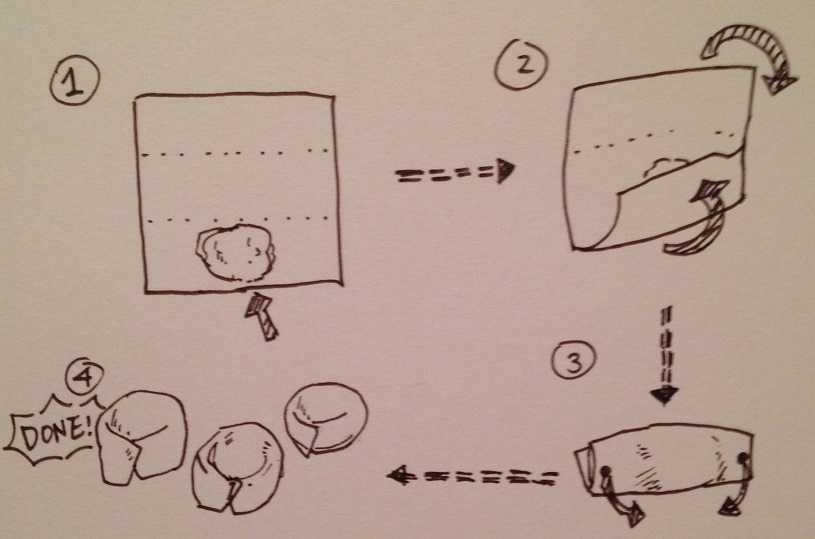 5. To make wonton soup: Bring water to a boil. Add wontons. Bring the water to a boil again, and pour in a bowl of cold water. Add nori.
6. Place a few dried shrimp at the bottom of a clean soup bowl. Once wontons are floating, remove from heat and pour your wonton soup into the bowl. Add a hint of sesame oil, cilantro, and sliced scallions to taste.
Variations
You can replace water with chicken stock to make the wonton soup tastier! If so, boil wontons in a separate pot of water and add to boiling stock and nori when cooked.
For the filling, you can use other kinds of meat: beef, chicken, shrimp, etc. Ground pork belly mixed with ground shrimp is a great combination.
If you prefer to eat the wontons without soup, you can stir sliced scallions, sesame oil and soy sauce together, pour over wontons, and start eating! I sometimes like to add some Asian peanut sauce. If you can't find it, use warm water to melt a partial jar of creamy peanut butter and make your own. If you like spicy food, you can use spicy sesame oil and ground chili pepper in the sauce.
Claire Chen is an intern for the China program. Visit the Five Spice Kitchen any day during the Festival to learn about more authentic Chinese recipes.