Recipe from China: Bitter Squash with Minced Fish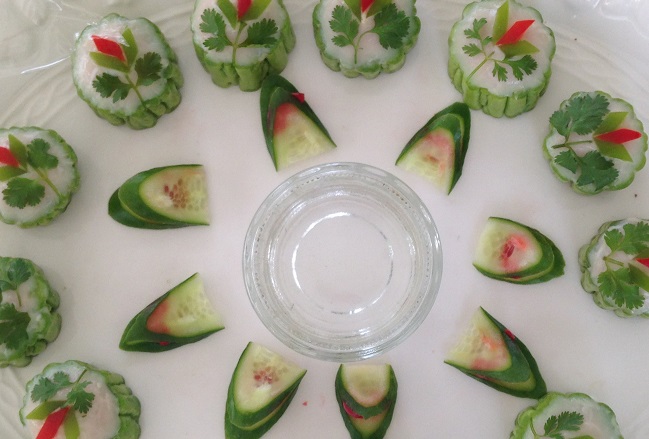 Yesterday was the first day of the 2014 Folklife Festival. After a long period of preparation, the grand celebration of diversity of culture feels more and more like a real festival to me now. In China, my motherland, people spend nearly a month preparing for major festivals like the New Year, awaiting the final moment to let out their passion, to see their hard work pay off, and, most importantly, to enjoy the richness of performances, entertainment, and food.
It is a pleasure to work in China Foodways' Five Spice Kitchen—a new dish is ready every forty-five minutes, and chefs talk about recipes, cooking tips, and the culture and stories behind every flavor. Bitter squash with minced fish is a nice dish to have on a summer dinner table. Chinese medicine teaches that hot weather dries out human body and increases body heat; some people's appetite might even decrease. The refreshing and delicate flavors of squash and fish as well as a hint of bitterness can enhance appetite. More importantly, they can be delicious!
Chef Wang Peng is an expert in Chinese Huai Yang cuisine. This cooking style is mild and healthy, uses a lot of seafood and vegetables, and is cooked at a low temperature.
Color, taste, smell, and appearance are four important elements to an authentic Chinese dish. You can get a glance of the beauty of Huai Yang cuisine through today's photo, but for smell and taste you will have to make it yourself!
Ingredients
1 lb white fish
3 lb bitter squash
2 oz scallion
2 oz fresh ginger (not dried)
Salt to taste
Oil
Preparation
Chop squash into 1-inch slices. Hollow out seeds and pith from each piece.
Grind fish with scallion and ginger into a soft fish puree. Add salt to taste.
Pack fish puree into the hollow center of each squash piece.
Steam the squash pieces for 10 to 15 minutes. If you can put a plate in your steamer, brush a thin layer of oil on the plate, arrange squash pieces, and steam. If not, brush a thin layer of oil on all pieces, and then steam the squash.
To add color, use coriander (cilantro) and bell peppers to decorate the finished pieces.
Claire Chen is an intern for the China program. Visit the Five Spice Kitchen any day during the Festival to learn about more authentic Chinese recipes.