Foodways Friday: Cumin Pork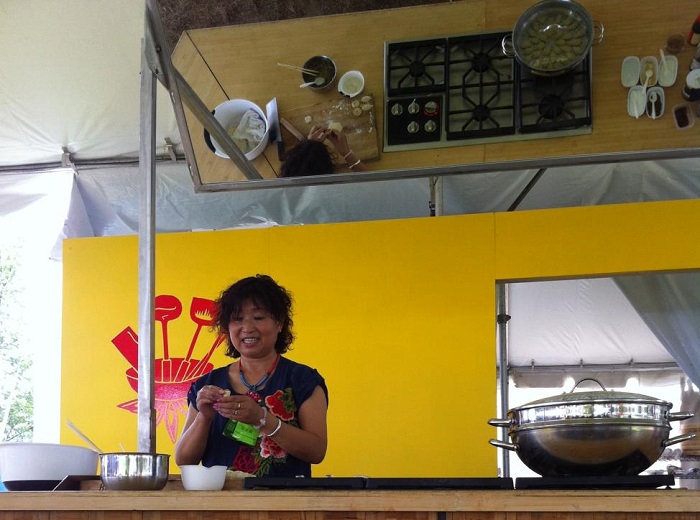 Tian Yali brought this dish to the 2014 Folklife Festival from Tongchuan City in Yijun County, Shaanxi Province. A versatile artist, Tian also demonstrated the art of paper cutting at the Festival and is proficient in other traditional crafts such as embroidery, painting, sachet making, and sculpting edible dough figurines. At the end of the cooking demo for this dish, she also sang one of her favorite folk songs from her home county!
Tian loves to make this dish at home for dinner or as a snack. She explained that in order for the dish to serve as a full meal, it must always be served with what in Chinese cooking is considered a "main food." In China, the "main food" differs regionally but is always some form of bread, grain, or starch. In southern China, rice is a prevalent staple in most meals. In the north, where rice doesn't grow as well, wheat-based foods such as pancakes are consumed during meals. Try this dish with your favorite starchy side.
Ingredients
1 lb pork belly
1 egg
2 tbs oyster sauce
2 tbs vinegar
2 tsp sticky rice powder (available at most Asian markets)
3 tbs cumin
2 tbs paprika
Vegetable oil
Toothpicks
Preparation
Remove skin from pork and cut meat into one-inch cubes.
Stir together oyster sauce, vinegar, egg, and sticky rice powder. Add to pork and mix so that each piece is thoroughly coated.
Skewer three to four pieces of pork onto each toothpick until there is no more pork.
Fill a wok or skillet a little less than a third of the way full with vegetable oil and heat. When the oil is hot, add the toothpicks with pork. Fry pork until cooked through and crispy (about four minutes).
Remove meat to a paper towel to drain the oil. Move pork to a plate, and dust the skewers heavily with cumin, paprika, and salt to taste. Serve warm with rice or pancakes.
Michaela Wright worked as a production intern for the 2014 Folklife Festival. She studies anthropology and art history at the College of William and Mary.