Favorite Festival Moments from Folklife Center Staff
Even with a million things to do to ensure that the Folklife Festival goes off without a hitch, the staff of the Center for Folklife and Cultural Heritage still find opportunities to experience exciting things on the National Mall. After two weeks of early mornings and late nights, we finally got a chance to sit back and reflect upon the amazing interactions and learning opportunities that took place at the Festival. With the passing of time, certain interactions have remained imprinted in our minds as moments we'll cherish forever.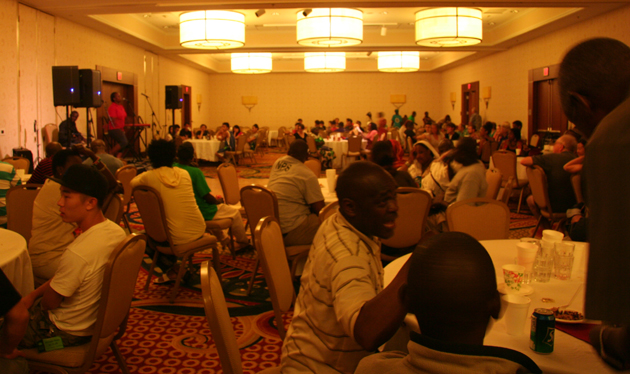 "At the hotel after the Ralph Rinzler Memorial Concert I was sitting at a table with Quetzal Flores, Radmilla Cody, Abigail Washburn, and the Mongolian group Ih Tsetsn. They started this beautiful harmonizing that ended in a loud raucous sing-along, and afterwards they were all hugging and clapping. No words were spoken, but it was this wonderful uniting moment."
—Sabrina Lynn Motley, Festival director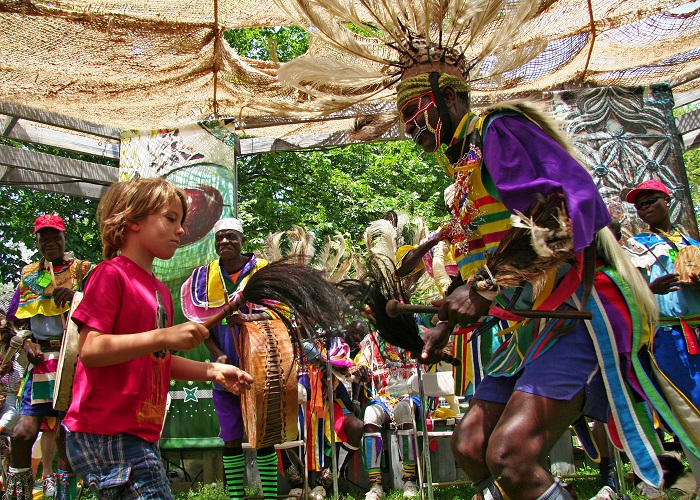 "A six-foot-tall Ramogi dancer with an elaborate headdress was dancing during a story circle in the Kenya program along with the other dancers. He asked for volunteers to come up and join the group, and this one little boy stood up. He looked scared of these large men at first, but once they started to dance and gave him a flywhisk, he became comfortable and excited. It was amazing to see this little boy have the courage to join in and dance with them."
—Josué Castilleja, art director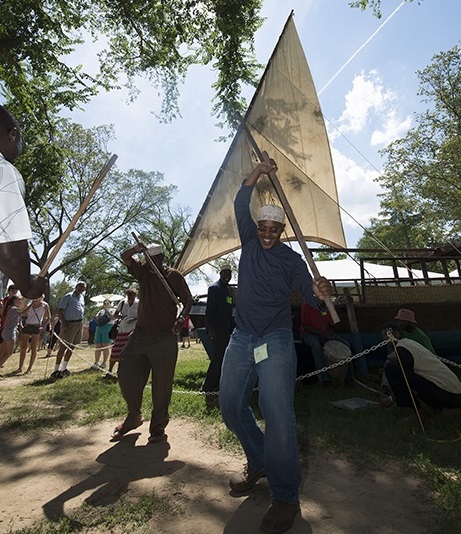 "After completing the Kenyan dhow from Lamu, the ship builders invited visitors to join them in a big spontaneous celebration and were rejoicing with song and dance."
—Masatomo Yonezu, Kenya program intern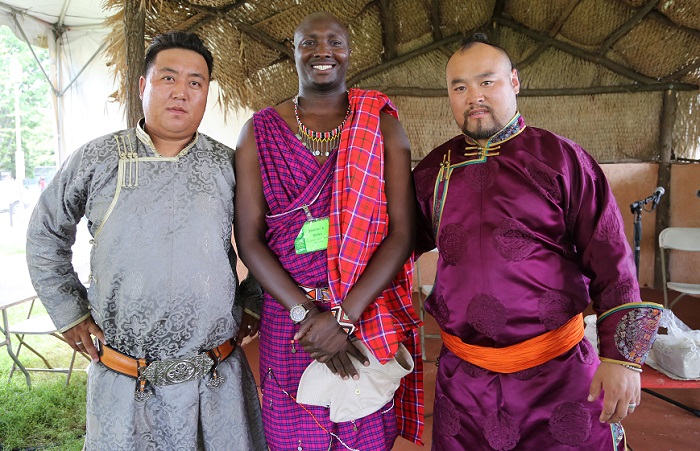 "During a cross-program discussion on herding culture, the two Mongolian participants asked the Kenyan Maasai participant what types of animals he has in Kenya. They asked the question in Chinese, but while they were waiting for it to be translated, one of the Mongolians put his two index fingers on his head like horns, imitating a goat, in an attempt to ask if the Kenyans had goats. Everyone was laughing."
—Emily Fuller, education intern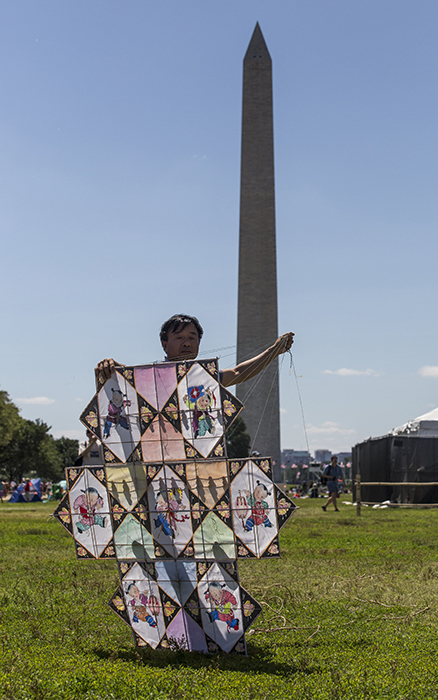 "On a sunny afternoon, kite maker Zhang Wenzhi took up position in the middle of the National Mall. Yang Zhengchao, a lusheng player still dressed in brightly decorated clothing for his performance, stood nearby having just helped Zhang to reel in the kite line. Zhang clutched his kite and turned toward the Hong Kong flower plaque. He gazed upward, focusing on the flags atop the large bamboo structure. At a certain moment, when the wind caught the flags just right, Zhang broke into a fast, deliberate run, kicking up dust from the ground as his banyao whistle kite sailed up behind him into the sky."
—Sojin Kim, China program co-curator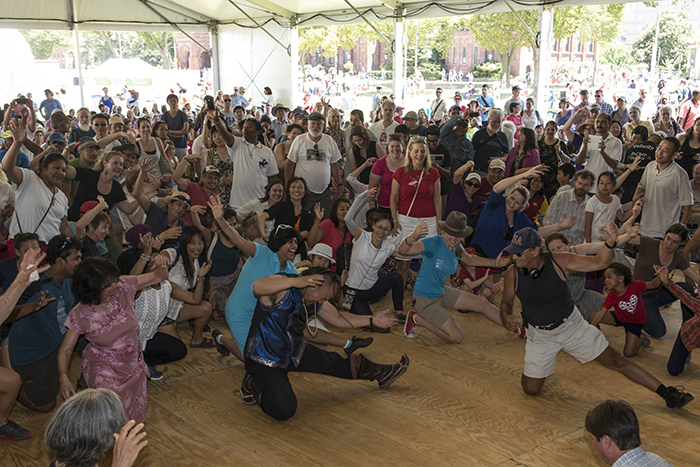 "Near the end of their set, Ih Tsetsn would always play 'The Handsome Horse,' which is an upbeat, lively song. One of the members would always jump down from the stage and dance with all of the visitors, teaching them different dance moves."
—Max Lenik, video production intern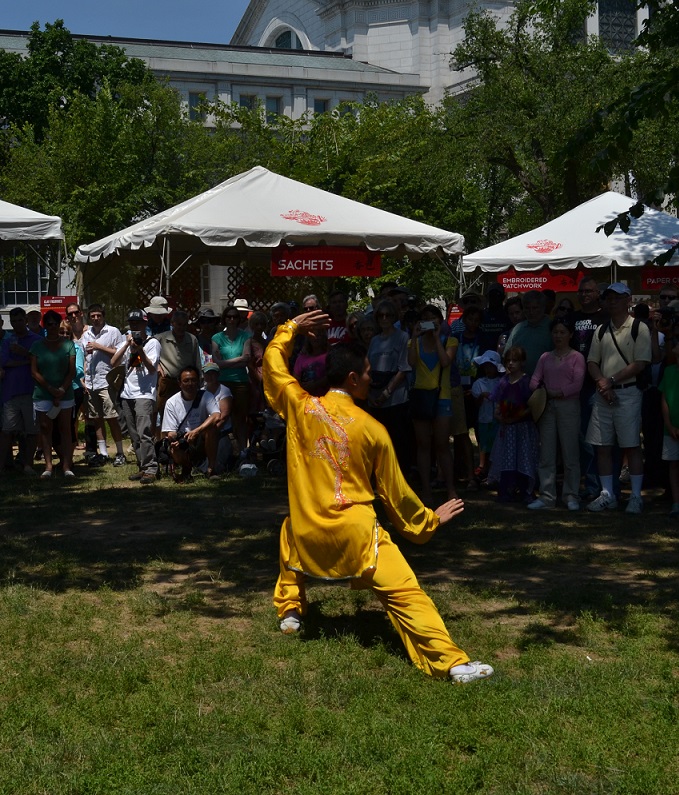 "As a co-curator, I rarely had time to sit and savor any one activity in particular, which means that many of my Festival memories are now blurs of moving hither and yon. But I distinctly remember one minute of quietly standing just inside the China program's east gate and marveling at how much was happening all around me: explosive sounds from the Dragon-Lion Cart, animated learning activities in Family Style, graceful movements of tai chi in People's Park, a lively discussion in Teahouse Commons, and many moments of mutual discovery among visitors and participants in the crafts demonstrations areas. All of those are for me the essence of a Smithsonian Folklife Festival."
—Jim Deutsch, China program co-curator
Collected and edited by Kendra Speak, a special events intern for the Center for Folklife and Cultural Heritage.