Discovering Chinese Heritage, Part 1: Chinatowns
During Thanksgiving of my sophomore year of college, my friends from Hong Kong and I visited Chicago. Our first meal was Chinese food at a restaurant in Chinatown. Similar to other expats and immigrants who have gravitated toward Chinatowns across the United States, we were trying to find a taste of home and a sense of familiarity.
On June 29, 2014, local D.C.-area Chinese American participants were invited to the Smithsonian Folklife Festival to discuss the changes and adaptations of their cultural heritage in their diaspora communities. Their discussions primarily focused on two of the most visible and quintessential examples of Chinese history and culture in the United States: Chinatowns and Chinese food.
According to the 2010 Census, there are over four million people of Chinese ancestry in the United States. For those from diaspora communities such as myself, Chinatowns have functioned as places of security where many immigrants share the same language, values, and culture.
During the mid-1800s, more than 40,000 Chinese immigrants entered the United States for work in agriculture, mines, and railroads.¹ In 1848, the discovery of gold in California—often referred to as gam saan, the gold mountain—brought many Chinese through the port of San Francisco, forming the oldest and largest Chinatown in the United States.²³ While the immigrant population increased rapidly, so did the friction between local communities and Chinese. Chinese were blamed for the lack of jobs and lowered wages during the economic downturn in the 1870s, leading to a rise in hostility and discrimination against immigrants.⁴
In 1882, the Chinese Exclusion Act was passed, banning the immigration of Chinese workers and prohibiting Chinese immigrants from becoming naturalized citizens. During the decades of exclusion that followed, their rights were not protected and the types of jobs they could work were limited. Ted Gong, director of the 1882 Foundation, described how Chinatowns became an enclave of refuge and protection for Chinese against the violence and prejudice.
"In California, during the expulsion period, there were officially two hundred roundups of rural Chinese killed, lynched, or forced out of their rural towns," he said.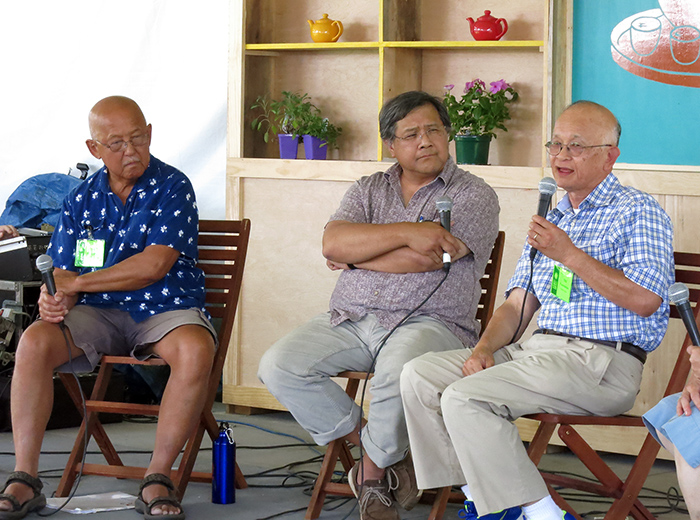 Over the last century, the shape and nature of American Chinatowns slowly changed as the Chinese population in the United States increased and diversified due to the changes in immigration legislation and other global developments. Chinatowns across the nation now take on different meanings for different people, depending on their experiences. In contrast to first-generation immigrants for whom Chinatowns were places for safety, their American-born, second-generation children often did not grow up in Chinese communities and had to search for their identity in a land where they seemed to be in between two worlds.
Both Stan Lou and Walter Woo were born and raised in the American South. At the Festival, they told their stories of how Chinatowns helped them discover their heritage and what it meant being American-born Chinese. Growing up in Greenville, Mississippi, in the forties and fifties, Lou, a member of the 1882 Foundation, said that being Chinese at that time meant being "picked on and abused," leading him to refuse identifying as Chinese.
"I literally rejected my heritage, ran away from it, trying to forget who I was," he said. "I'm on a journey of self-discovery now. I'm proud to be Chinese American now and Chinatowns helped me find my self-identity."
As for Woo, born and raised in Texas where the majority of the population was Latino, he did not have much contact with Chinese people and culture. "When I visited New York City for the first time during Chinese New Year," he said, "I was just so mesmerized by the number of Chinese in New York Chinatown!"
Even as Chinese Americans have moved out of Chinatowns, and while historic Chinatown neighborhoods now also function as tourist sites, these neighborhoods still serve as gateways for a new generation of immigrants. Shirley Woo, who was born and grew up in D.C., is the director of the D.C. Chinatown Service Center, which works with new immigrants. She remembers how Chinatown provided her family with a sense of community.
"It was a way for people to meet people like themselves, that speak their languages, to have a cup of tea, to go over old news about what's happening in China and in America," she said. She emphasized that though D.C.'s Chinatown has changed considerably with redevelopment, it is important to acknowledge its function for the Chinese community who still lives there.
Walter Woo, who volunteers at the Service Center, described the services that they provide to help local immigrants adjust to living in the United States. He expressed how rewarding it is to "see the smile on their faces, we can see the appreciation, and we can see the gratitude that they have."
To this day, Chinatowns are constantly evolving. It was historically a safe haven for the newly arrived Chinese immigrants, then it became a tourist attraction but also a place for Chinese Americans to understand their heritage and identity. In Chinatowns across the country, people are trying to maintain the cultural distinctiveness of the neighborhoods while engaging those from outside the community.
"There's a sense that Chinatown is a place where it's linked with Chinese American identity, linked with our culture, linked with a desire to go back to find those things that make up our culture and identity," Ted appropriately concluded. "Chinatown can be a concept as well as a place."
Discovering Chinese Heritage, Part 2: Food
Karlie Leung was born and raised in Hong Kong and is currently an intern at the Center for Folklife and Cultural Heritage and a graduate student at The George Washington University studying anthropology with a museum training concentration.