Comparing Kitchen Cultures: Backstage at Foodways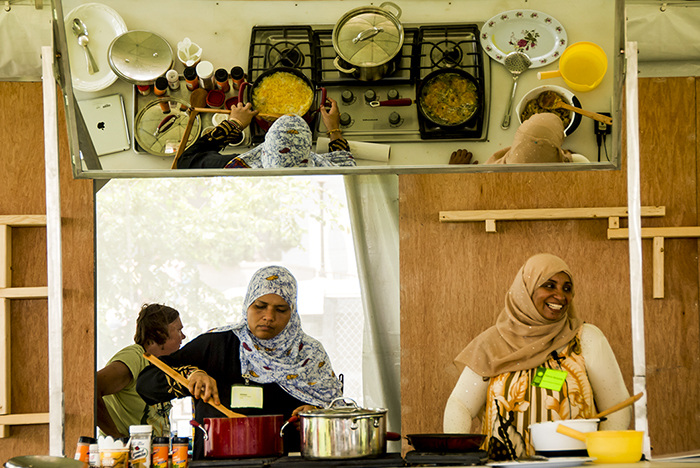 Cooking, by nature, is a deeply personal experience. Each ingredient is a cultural attribute, each method a piece of cultural knowledge, and each meal a social experience. The Chinese and Kenyan chefs at the 2014 Folklife Festival bring with them their own cultural and personal conceptions of what cooking means and how it's done.
Backstage the participants recreate the kitchen environment they're familiar with, complete with cultural understandings and practices often different from our own, and in which guests become entangled. I got to spend two days backstage at the China program's Five Spice Kitchen and the Flavors of Kenya foodways demonstration kitchens learning to cook in and navigate a new cultural setting.
The Kenyan chefs Amina Harith Swaleh and Fatma Ali Busaidy had only domestic cooking experience, so the demonstration tent became a semi-extension of their home and hospitality. As in the Kenyan domestic context, there are rules: any visitor staying longer than a few moments should be offered chai in a timely manner. Indeed, a pot filled with chai bubbled on the stove all day, waiting.
Fatma and Amina were also very generous with their food, offering a taste to anyone in the kitchen. Especially when I came back to visit them, they begged me to try their latest creations. This generosity was especially evident in the food reserved carefully, almost sneakily, for Kenyan compatriots who would visit the kitchen for lunch and receive an entire home-cooked meal.
My Kenyan mentors were patient and willing to contribute to my clearly lacking culinary education, teaching me, occasionally demanding my full attention, how to properly slice ginger, make a mean chicken curry, or not to burn the onions (yes, I still burned them).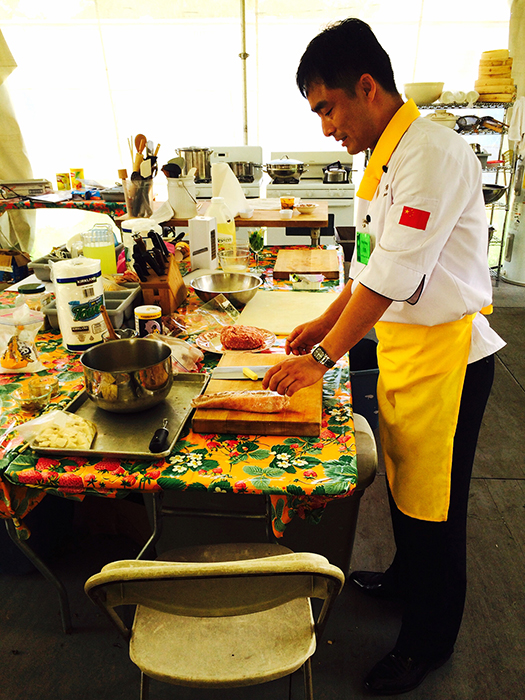 My time in the China kitchen was completely different. The two permanent foodways participants were award-winning professional chefs. The atmosphere backstage was much more formal and efficient, very divorced from the chef's personal, domestic, or social life. I'm sure the language barrier also hampered interactions and limited them to a "need to communicate" basis.
The chefs did all their own food prep and kept the kitchen very clean. Though they answered my questions patiently about how to make a good soup stock, rarely did they eagerly offer me new information like my friends in Kenya.
Food was only offered to me once while in the kitchen, and it was not by one of the professional chefs but an enthusiastic guest cook from the elsewhere in the program. However, even when non-professional guest chefs came in to prepare specific ethnic dishes, the atmosphere didn't change. They kept to themselves because they felt like a guest in someone else's kitchen.
This backstage place of heightened awareness and negotiation of personal cultural values creates a wonderful backdrop for presenters to gather information informally–family background, anecdotes to share with an audience, etc. It's a space that lends itself well to asking questions and making discoveries because both parties are learning as they go.
The best presentations happened when the personal and cultural elements living in the kitchen backstage were brought to light. My favorite moment was with Chinese chef Wang Peng. He briefly mentioned that the women of his province especially enjoy the sweet tofu dish he was preparing because ladies love the taste of sweetness. The presenter of the demonstration knew Peng's family and asked if he made the tofu for his wife and daughter when he went home to see them. Peng smiled and giggled (a rare show of emotion), replying that yes, of course he did.
I think the best moments at foodways occur when demonstrators open channels for resonance and avenues of personal connection, allowing audiences the ability to relate or empathize on personal and emotional levels. At that point the audience is fully engaged and walks away feeling satisfied that they learned just a little bit about what it means to be Chinese or to be Kenyan, but mostly what it means to be human.
Michaela Wright is a production intern for the Folklife Festival. When she is not studying anthropology or art history at the College of William and Mary, she's probably cooking up something new in the kitchen.