Karcag Mutton Stew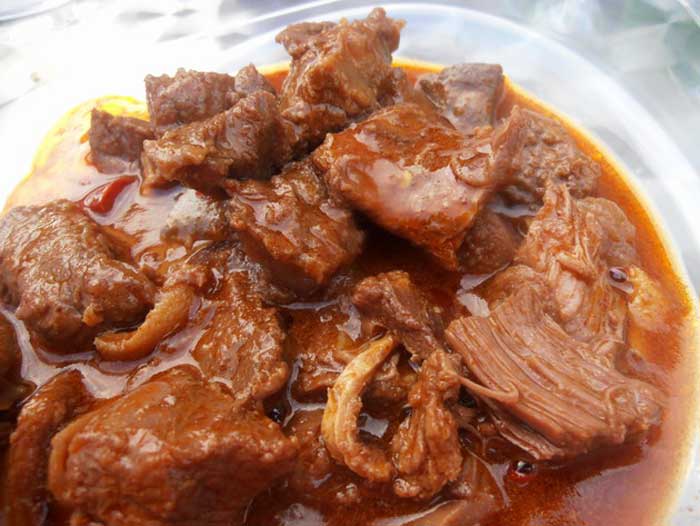 Few dishes are quite as rugged as Karcag Mutton Stew. The dish (Birkapörkölt in Hungarian) is often associated with the Nagykunság (Great Cumania) region of east-central Hungary, where the Cuman people and their descendants have been preparing it for centuries. Karcag is a name of a town in Great Cumania, but it also denotes the traditional method of preparing the stew. Indeed, the Karcag coat of arms bears the image of a sheep.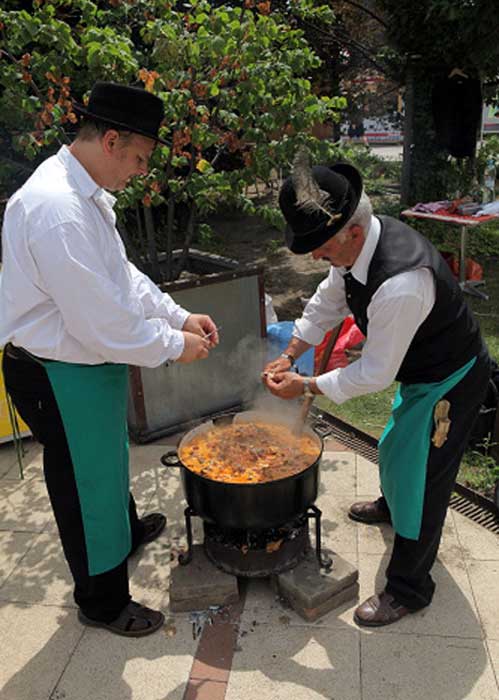 Along with cubes of meat, the stew also contains the liver, lungs, kidney, heart, spleen, tripe, and scorched hooves of the sheep. The head, sawn in half to season the brain inside, is placed in the center of the pot. The whole stew is then seasoned with onion, garlic, hot green pepper, and paprika. Since the meat is quite hearty on its own, it is served with fresh bread and pickled vegetables, but no side dish. As the locals say "egy birka, egy krumpli (one lamb, [or] one potato [is filling enough on its own])." Cooking the entire sheep into one stew once held the benefit of not having to preserve all the different meat parts; it also gives the dish its characteristic flavor, unique to the region.
There is a very specific way of "moving" the stew as it cooks. Stirring can break the delicate pieces of meat, so a long wooden "moving spoon" is stuck in along the side of the pan, pushed towards the center, turned on its side, and lifted back up. This is done around the pan, with the head remaining unmoved in the middle. The stew is tasted by dipping (vs. scooping) the wooden spoon vertically into the pan and lifting it back up, allowing the broth to trickle directly down the spoon; one can thus taste a cross-section sample of the dish without burning the tongue on a ladle full of hot liquid.
The cultural significance of this dish was affirmed in 2009, when "Mutton Stew of the Cumania Region According to Karcag Tradition" was inscribed into Hungary's national inventory of Intangible Cultural Heritage. At this year's Smithsonian Folklife Festival, the Csontos shepherd family will be demonstrating the art of mutton cooking in the "Hungarian Kitchen" of the Hungarian Heritage program.
Lili Kocsis is the Participant Assistant for the 2013 Hungarian Heritage Festival program. She graduated from Harvard University in 2011 with a B.A. in linguistics. She dedicates her spare time to purposeful travel, food photography, and writing about regional cuisine.