"OUT on the Field": Glenn Burke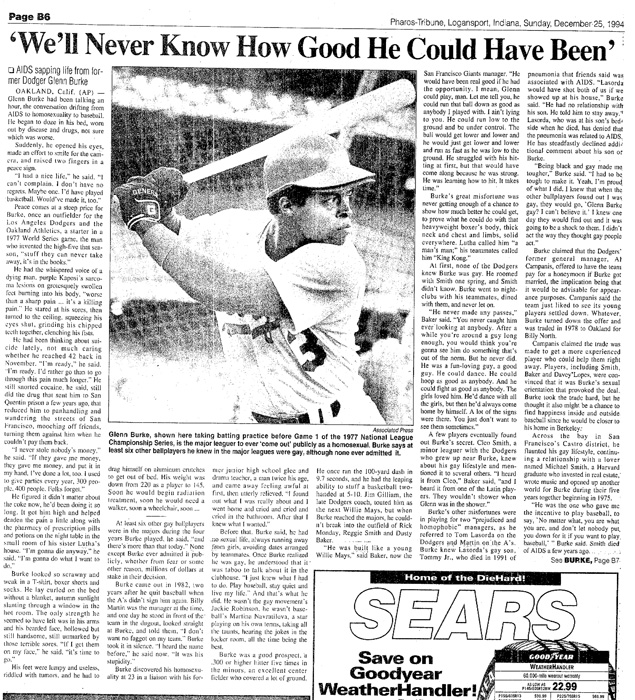 Glenn Burke, a renowned outfielder for the Los Angeles Dodgers, was the first openly "out" player to his team in major league baseball history. Burke was born in November of 1952 in Oakland, California. He grew up in the Bay Area and excelled as an athlete from an early age, especially during his years at Berkeley High School. He was an all-star basketball player, leading his team to the Northern California championships, and he received numerous excellence awards for his athletic accomplishments. Though it seemed he was headed towards a career in professional basketball, Burke's first offer came from Major League Baseball in 1972.
Along with his great athletic success, Burke was co-credited for one of the most widely acknowledged gestures in the world: the high five. After fellow L.A. Dodgers teammate Dusty Baker hit his thirtieth home run in 1977, Burke ran out on the field to congratulate him with his hand raised. Not knowing what to do, Baker responded by raising his own hand, and the two hands collided resulting in a slap. The high five caught on in the sports industry, and Burke continued using this signal after his retirement from baseball, especially with his gay friends in the Castro district of San Francisco, where it became a symbol of gay identification and pride. It was in this same neighborhood that Cleve Jones and Mike Smith would later establish The NAMES Project Foundation in 1987.
What started off as a promising baseball career soon fell into a downward spiral. Burke found it increasingly more difficult for his personal life and career to coexist harmoniously. In his autobiography Out At Home: The Glenn Burke Story, Burke expressed his expectation that his teammates were aware of his sexual orientation: "... by 1978 I think everyone knew." However, he stated that his teammates seemed indifferent towards his sexuality. According to some sources, including a 2010 television documentary (Out: The Glenn Burke Story), the same could not be said for Los Angeles Dodgers management. It was generally known that the Dodgers were highly sensitive about their public image, and the team's management reportedly encouraged Burke to get married, seemingly in an attempt to mask his sexual orientation.  In his autobiography, Burke wrote that General Manager Al Campanis even offered him $75,000 to pay for his honeymoon; Burke refused the offer.
In 1978, Burke was traded to the Oakland A's. Following this trade, Burke suffered a knee injury and was sent to play in the minors in Utah. Burke's contract ended soon after this, in 1979. His sexuality became public knowledge in 1987 when Inside Sports Magazine published the article "The Double Life of a Gay Dodger," and when it was announced by Bryant Gumbel on The Today Show.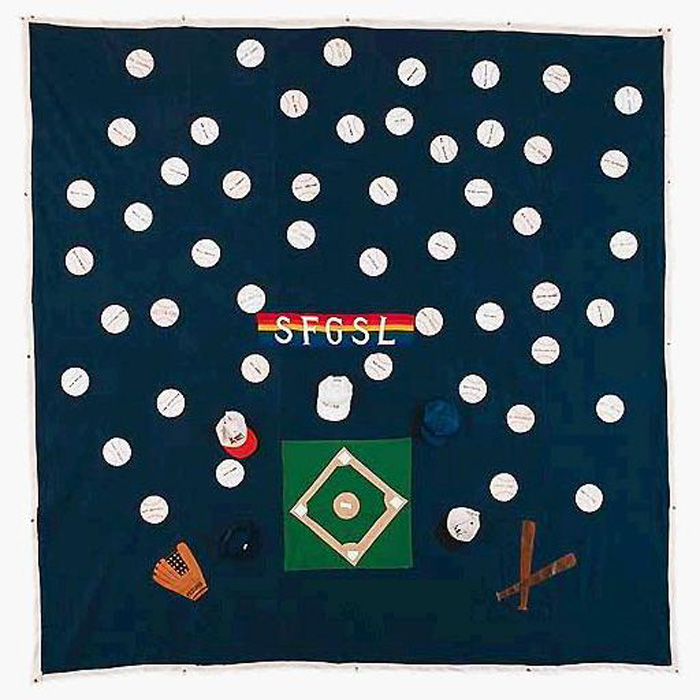 Over the next few years, Burke struggled with drug addiction and homelessness; he also had a few altercations with the law, one of which resulted in his arrest. Along with these struggles came an even greater one in 1993: Burke contracted HIV. Burke's health deteriorated quickly, to the point where, as one obituary noted, the man who invented the high five "could barely lift his own arm" (Mooallem, 2011). He spent his last days with his sister, finally succumbing to the disease on May 30, 1995.
While Burke was influential in the world of Major League Baseball, he was undoubtedly a pioneer for LGBT persons in the professional sports world. "They can't ever say now that a gay man can't play in the majors, because I'm a gay man and I made it," said Burke in an interview with the Philadelphia Inquirer (1995).
The San Francisco Gay Softball League made a block (04840) for The AIDS Memorial Quilt in memory of baseball and softball players who died from AIDS, including Glenn Burke. This block, along with hundreds more, will be on display at the 2012 Smithsonian Folklife Festival.
On July 7, Creativity and Crisis: Unfolding the AIDS Memorial Quilt will honor Glenn Burke with "High Five Day," when Festival visitors are encouraged to find this block and exchange high fives. July 7 is also "Team Up to Fight AIDS" Day at Nationals Park. For each ticket purchased, the Washington Nationals will make a donation of support to The AIDS Memorial Quilt/The NAMES Project Foundation and Whitman-Walker Health.
Sources consulted:
Miranda Swinnen is an intern with the 2012 Folklife Festival program Creativity and Crisis: Unfolding The AIDS Memorial Quilt. She is a high school senior at Park School of Baltimore and will be attending Boston University in the fall as a French and International Relations double-major and Spanish minor.