My Experience as a Colombia Program Presenter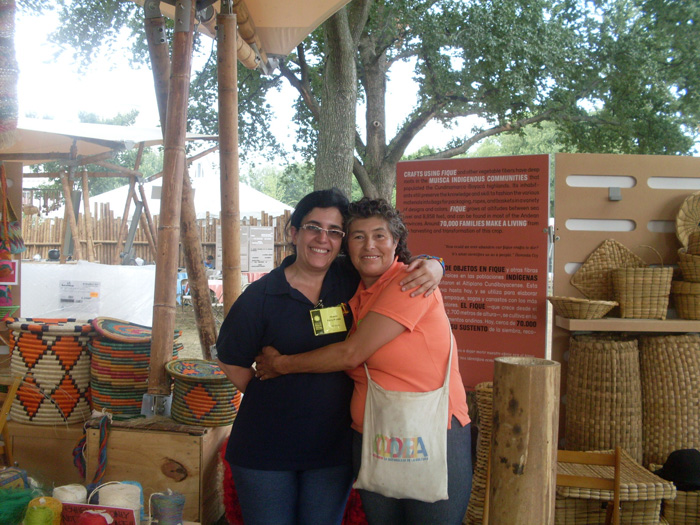 Mi experiencia como presentadora del programa de Colombia
Debo reconocer que el Festival del Smithsonian me dejó profundamente conmovida y asombrada. Cuando se hablaba de exposiciones de humanos a principios del siglo pasado se tenía en mente no tanto mostrar la diversidad cultural sino demostrar como occidente era "mejor" y que era deseable que todas las culturas del mundo llegaran a parecerse a él en algún momento. En la actualidad, dichas muestras o exposiciones de personas haciendo lo que saben en escenarios controlados pero parecidos a lo que puede ser su realidad obedece a la curiosidad que sentimos hacia los demás, al asombro que nos produce sus formas de ser y de pensar y a la necesidad de preservar y dar continuidad a nuestras tradiciones culturales. Colombia: la naturaleza de la cultura fue un excelente derroche de conocimiento y de orgullo por enseñarle a los demás tradiciones culturales propias. En este sentido, ser parte del equipo de presentadores fue un inmenso reto ya que transmitir dicho conocimiento, y en otro idioma, no fue fácil, sin embargo, ese intercambio también fortalece las costumbres y hace de ellas, al igual que de la cultura algo dinámico que siempre está en construcción. ¡Fue una experiencia maravillosa!
I have to admit that the Smithsonian Festival left me deeply touched and amazed. Early in the last century, the producers of human exhibits were not trying to showcase cultural diversity, but rather to demonstrate that the West was best and that it was desirable that all the world's cultures become like the West at some point. Today, these displays or exhibits of humans doing what they know in controlled settings reflect the curiosity we feel towards others and evoke our amazement of their ways of thinking and being. They also alert us to the need of preserving and continuing with our cultural traditions. Colombia: The Nature of Culture was an unbelievable display of knowledge and pride and an excellent means for teaching others about our own cultural traditions. In this sense, for me, being part of the presenters team was a huge challenge because transmitting that knowledge, in another language, was not easy. Nevertheless, that exchange strengthens the customs and makes them, as culture, something dynamic that is always under construction. It was a wonderful experience!
Haga clic en la imagen para agrandarla y ver el pie escrito por autor/Click on the image below to enlarge the gallery and view caption by the author.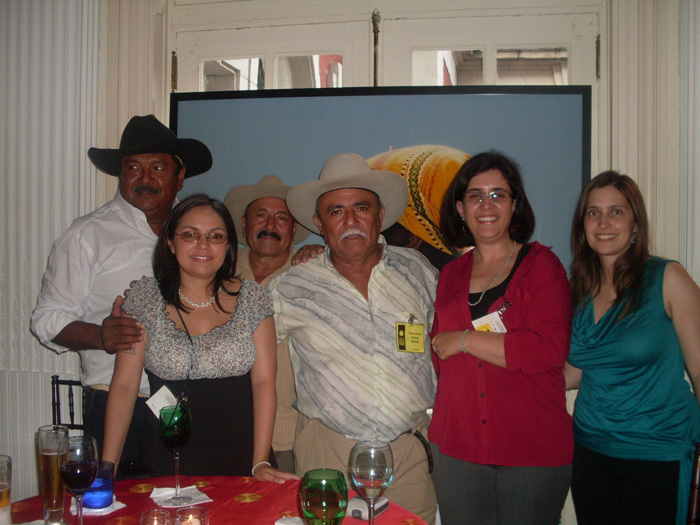 Durante la recepción en la casa del Embajador de Colombia en Washington, Gabriel Silva. De izquierda a derecha: Hermes Romero, tejedor de hamacas en cuero e integrante del grupo Cabrestero; Carolina Santamaría, presentadora e intérprete; Víctor Espinel, intérprete de cantos de vaquería e integrante del grupo Cabrestero; Jimena Perry, presentadora e intérprete y Silvia Margarita Serrano, presentadora e intérprete. Hermes me contó un día que un buen llanero debe saber hacer varios oficios (tejer hamacas, arrear ganado, cocinar, interpretar cantos de vaquería, entre otros) para no depender de una sola actividad y como buen llanero Hermes sabe desempeñar varios, además, su voz y su ingenio al hacer coplas demuestran que todo su conocimiento obedece a toda una vida de una profunda y estrecha relación con su entorno. Durante el Festival la madre de Víctor Espinel murió, evento que le causó una enorme tristeza pero a pesar de lo que se hubiera creído, Víctor siguió adelante con sus presentaciones del grupo Cabrestero y compartiendo sus saberes con el público que visitó la exposición. A pesar de su dolor siguió adelante y se convirtió en un gran ejemplo de vida y tenacidad para quienes tuvimos la fortuna de conocerlo. Un gran ejemplo, un gran hombre y un gran llanero

Durante la recepción en la casa del Embajador de Colombia en Washington, Gabriel Silva. De izquierda a derecha: Silvia Margarita Serrano, presentadora e intérprete; Giovanni Suárez, integrante de El Pueblo Canta; Juan Cesar Bonilla, artesano de la tagua; Álvaro Suesca, creador y voz líder de El Pueblo Canta; Danny Suesca, integrante de El Pueblo Canta; Laura Alba, bailarina, ha acompañado a El Pueblo Canta por 10 años; Eduardo Vega, integrante de El Pueblo Canta. Al frente de izquierda a derecha: Jimena Perry, presentadora e intérprete y Carolina Santamaría, presentadora e intérprete. Aquí están varios participantes del departamento de Boyacá en el Altiplano Andino de Colombia, en esta recepción todos tuvimos la oportunidad de conocernos mejor, de oír grupos musicales que no habíamos podido ver, de bailar y de sentirnos parte de un gran proyecto que era dar a conocer las cosas buenas de Colombia.

Areli Hernández, tejedora de esparto. Vive en Ráquira, Boyacá. Areli es una gran tejedora, puede hacer una pieza sin mirar, es capaz de hablar con alguien y de forma simultánea tejer. Una de las cosas que más me impactó de ella fue que siempre tenía una enorme sonrisa para compartir con todo el mundo y estaba contenta de que la gente apreciara su trabajo. Sus hijos están aprendiendo a tejer con esparto y ella espera que esta tradición no se pierda.

De izquierda a derecha: Ana Dolores Russi, "Lolita", tejedora en lana: telar y agujas y Dora Flor Alba, tejedora en junco y enea. Lolita vive en Sutamarchán, Boyacá, y sus tejidos son ampliamente conocidos en la región, durante el Festival su telar causó gran sensación y cuando hacía demostraciones en él las personas se amontonaban junto a ella en cantidades, quien con paciencia y mucha generosidad explicaba una y otra vez cómo hacía su trabajo y se alegraba mucho cuando los niños mostraban interés. Dora Flor demostró su gran capacidad de trabajo y maestría al hacer unos canastos de junco espectaculares, el público se asombraba cuando ella les contaba cómo recogía su materia prima y cuando veían la destreza de sus manos. Dora vive en la laguna de Fúquene, departamento de Cundinamarca, en donde tiene un pequeño negocio en donde vende sus piezas.

María Florinda Coy, tejedora en fique y cocinera, en el Museo de Historia Natural. Florinda, como todos los participantes de Boyacá, estaba muy contenta y orgullosa de representar a su departamento en Washington. Todos los platos que preparó despertaron un inmenso interés y ella se emocionaba mucho cuando el público la felicitaba. Su generosidad parece no tener fin.

Guillermo nunca tuvo la necesidad de hacer algo espectacular para atraer público, cuando ponía a funcionar su torno su puesto se llenaba tanto que en ocasiones era imposible acercarse a él. Era en realidad sorprendente ver cómo salían figuras perfectas de un pedazo de arcilla amorfo. Sus manos parecían moldear la arcilla sin esfuerzo alguno. Una vez lo intenté y los resultados distaron mucho de las hermosas piezas de Guillermo.

Rosa me contó que el éxito de su trabajo era la buena energía que se desprendía de ellas. Me dijo que una vez una amiga suya le encargó un San Antonio (santo al que las mujeres le rezan para conseguir marido) porque no se había podido casar y este fue tan efectivo que al mes la amiga contrajo matrimonio con un español. Debe ser cierto porque hablar con Rosa y estar cerca a ella fue una experiencia muy placentera.

El Pueblo Canta, en la tienda chiquinquireña. De izquierda a derecha: Edison Suesca, Giovanni Suárez, Álvaro Suesca y Danny Suesca. Los integrantes de El Pueblo Canta demostraron que no solo saben cantar, también hicieron gala de sus habilidades para el trompo, la coca y la rana, juegos tradicionales del departamento de Boyacá y que ellos han practicados desde que eran niños. Fue muy divertido verlos apostar cuál trompo era el más veloz y observar al público que trataba de jugar también.

De izquierda a derecha: Ofelia Marín y Ana de Jesús Marín, tejedoras de cestos de la región cafetera de Colombia. Estas tejedoras usan como una de sus materias primas un bejuco llamado tripaperro para elaborar diferentes tipos de canastos según su uso: semillero o sembrador, para cargar las semillas; cogedor o recolector, que se lleva en la cintura de la persona que hace la recolección del café directamente de la planta; lavador, para el lavado de la almendra del café; remesero o cerecero, utilizado para recoger la cereza y cáscara del café.

De izquierda a derecha: Eduardo Vega, tiplista de El Pueblo Canta y Carlos Rivera, talabartero de la Llanura Suroriental. Esta foto me gusta mucho porque es una pequeña muestra del intercambio cultural y afectivo que se dio entre los participantes. Todos mostraron un gran interés por conocer las costumbres de los demás y por ver qué diferencias y similitudes encontraban con las propias. Varias amistades surgieron de este contacto.

Leonor Palacio, artesana de damagua y cabecinegros del bosque húmedo tropical del Pacífico colombiano. En el departamento del Chocó el árbol de damagua y la palma de cabecinegro son plantas de cuyas cortezas y centros los habitantes sacan fibras similares a retazos de tela para elaborar variadas artesanías. Leonor hace sombreros, flores, bolsos, individuales de mesa, lámparas, billeteras, calzado, cuadros, figuras de animales, entre otros. En los últimos años esta fibra se ha convertido en una opción de vida para muchas mujeres chocoanas, quienes bajo la forma de cooperativa, trabajan y promueven su aprovechamiento como fuente de trabajo e ingreso.

Baudilio Guama, constructor de instrumentos del bosque húmedo tropical del Pacífico colombiano. Baudilio es un conocido constructor de marimbas de chonta, las hace de la palma de chonta que es dura, oscura y tiene una madera muy durable. Baudilio vende sus instrumentos a los grupos musicales de toda la región.

Migdonio Rivas, constructor de instrumentos del bosque húmedo tropical del Pacífico colombiano. Migdonio es uno de los pocos expertos que hace instrumentos de percusión para los grupos de chirimía. Una chirimía es el formato instrumental más tradicional y reconocido en el Pacífico norte colombiano y está conformado por instrumentos de viento como el clarinete y el bombardino, por percusión como una tambora o bombo, un redoblante o requinta y platillos. Migdonio aprendió este oficio de su padre y en compañía de su hermano tiene un taller en donde hace todo lo posible por mantener los materiales tradicionales ya que le preocupa que se estén reemplazando por sintéticos

Hernando Ruíz, Reciclarte en Bogotá. Hernando está muy orgulloso de la labor que lleva a cabo con niños, muchachos y adultos de comunidades marginales y deprimidas en Bogotá. Aunque su trabajo requiere de ciertos requisitos él trabaja gratis convencido de que las necesidades que tienen estas personas merecen cualquier esfuerzo. Es un gran ejemplo para Colombia y el mundo, su compromiso no tiene límite.

De izquierda a derecha: Xóchil Chávez, presentadora e intérprete y Jorge Iván Valencia, caficultor de la región cafetera de Colombia. En el mes de junio de 2011 el territorio cafetero colombiano fue declarado por la UNESCO patrimonio de la humanidad. Cuatro departamentos, Quindío, Caldas, Risaralda y el Norte del Valle del Cauca, con 47 municipios hacen parte de este paisaje cultural. Una de las características por las cuales esta declaración tuvo lugar se debió a la calidad del cultivo del café que se adapta a la geografía de una forma única y ayuda al desarrollo de una cultura excepcional.

De izquierda a derecha: Carlos Andrés Niño y Luis Eduardo Guzmán Cardozo, Circo Ciudad de Bogotá. No pude parar de reírme durante las presentaciones de Circo Ciudad, su ingenio y humor son incomparables, las que alcancé a presenciar tuvieron el buen tino de hacer participar activamente al público y este terminaba formando parte de sus actos. Además, gracias a ellos la imagen tradicional del circo está cambiando.

Grupo musical Aires del Campo. De izquierda a derecha: Jorge Enrique Cadavid, Fernán Rojo, Manuel Cadavid, y Oscar Cadavid. Estos músicos del departamento de Antioquia componen un conjunto de cuerdas que interpreta varias canciones que hacen parte del folclor colombiano. Durante sus presentaciones el público se animó a bailar ya que su repertorio musical era muy movido y siempre hubo alguien que se sabía las letras y los acompañaba cantando

Areli Hernández, tejedora de esparto y Jimena Perry, presentadora e intérprete.

Areli Hernández, tejedora de esparto y Jimena Perry, presentadora e intérpreteAlba Beltrán, tejedora de sombreros de "tapia pisada" y Jimena Perry, presentadora e intérprete. Alba no solo hace sombreros sino individuales, joyeros, portavasos y otras artesanías con una palma llamada palmicho. Ella sabe bien cómo manejarla para que no se seque y cómo manipularla para que no se parta, lleva haciendo este oficio desde que era una niña y hoy en día su hijo de 13 años ya sabe cómo empezar el tejido que posteriormente le dará vida a estas bellas piezas. Alba se demora haciendo un sombrero 10 días, todo el proceso requiere este tiempo, valor agregado que debería tomarse en cuenta a la hora de hacer una venta.

Dora Flor Alba, tejedora en junco y enea y Jimena Perry, presentadora e intérprete.
Jimena Perry es antropóloga, nació en Bogotá, Colombia y ha alternado su vida profesional entre la antropología y la edicion. Tiene una empresa de servicios editoriales llamada Su Libro (www.everyoneweb.es/sulibro). Además, hizo una maestria en Antropología Social en la Universidad de Cambridge, UK. Actualmente, vive en South Bend, Indiana.
Jimena Perry is an anthropologist, who was born in Bogotá, Colombia. She holds a master's degree in Social Anthropology from the University of Cambridge, UK. Today she lives in South Bend, Indiana, where she runs a business, Su Libro, which offers a range of editorial and research services.