An Artist's Roots: Painting and Saving Mangroves with Zahidah Zeytoun Millie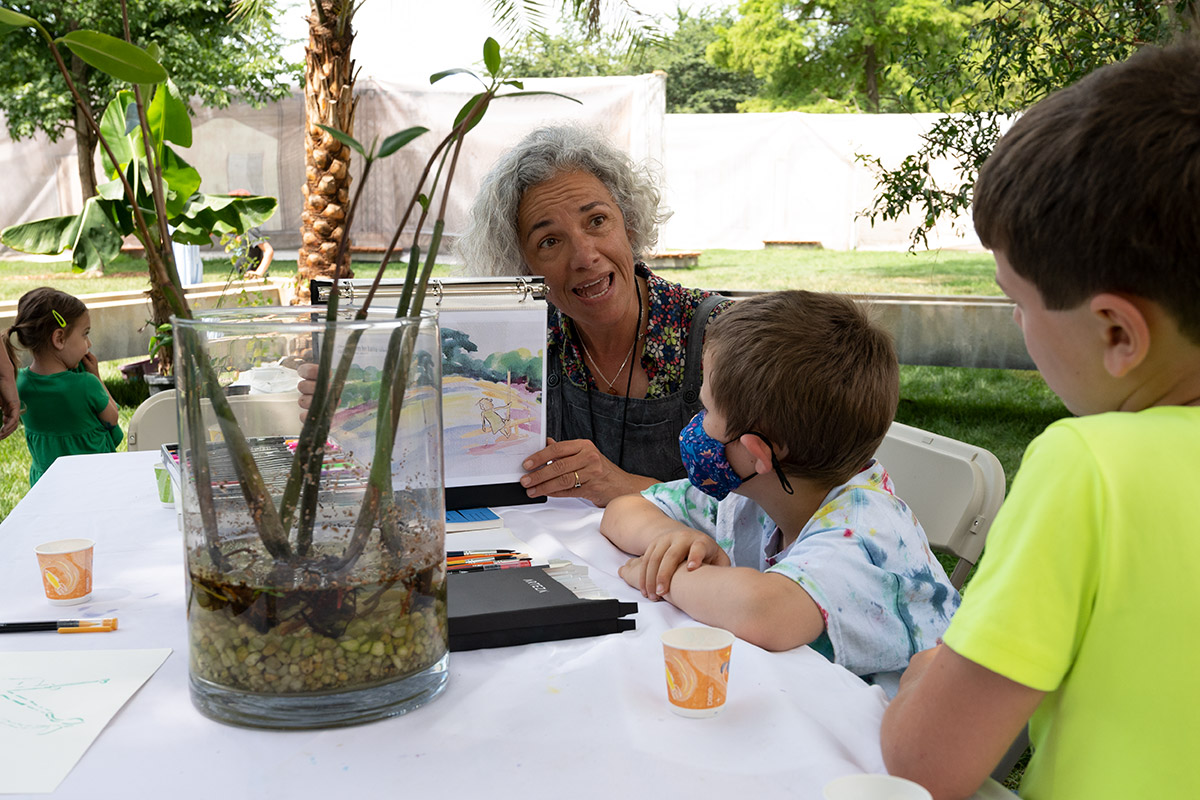 Zahidah Zeytoun Millie is all about roots: her Syrian roots, mangrove roots, and the roots she sets down in each country she moves to. As an artist and curator, she ties them together in her artwork and her activism.
Here at the Smithsonian Folklife Festival, as part of the United Arab Emirates program, Zahidah leads workshops on painting mangrove trees. When I arrived at her tent, ten or so children, drawn by the inviting sight of colorful watercolor palettes, sat in a circle on the ground. In the center was a large glass jar of mangrove saplings. The children drew outlines with a watercolor marker, then softened the lines with a wet brush, and finally added a wash of watercolor from the pans. She walked around, commenting on line quality or color choice. Her own paper was covered in swirls of green and brown that coalesced into the tangled roots of a mangrove.
Zahidah's artist website shows almost 200 mangrove watercolors. They're visually tantalizing pieces, varied but unified. Some are more figurative while others lean abstract: mangroves naturally dance between organic body and graphic design. Sometimes she paints wet-in-wet, letting the pigment flow and blur so that the painting only implies a tree as its subject. Other paintings are crisply detailed, with bold dark strokes for the branches.
Mangroves gave Zahidah hope and purpose in a time of crisis. In 2012, when civil war broke out in Syria, she was living in the UAE.
"I was very scared about my family, my homeland," she said. "But as an artist, you always survive with your art." She began kayaking through the marshes in the UAE to relax, and there she found the mangroves. "I thought, okay, what can I do? There are two things—the mangroves and my country—and I linked them in one. I organized an exhibition about the mangroves. And the funds I sent to Syrian children and refugees in Syria. That was my little contribution."
Zahidah spent many years working as both an artist and environmental activist. When she moved to the UAE in 2000, she became interested in issues of native plant conservation and sustainable architecture. Mangroves are native to the UAE—the country has significant coastal regions, despite popular perception as a purely desert biome. Unlike many trees, mangroves thrive in saline waters. They support aquatic and terrestrial life, purify surrounding waters, and act as carbon sinks. The beautiful trees both inspire us and protect against climate change, but they are in danger. According to the Environment Agency Abu Dhabi, the rate of mangrove forest loss is three to four times higher than that of terrestrial forests.
As the Syrian war raged on, Zahidah refocused. She recalled thinking, "I can't do anything for the manmade war in my home country, but I can try to do what I have in front of me." She involved herself fully in the cause of the mangroves. Gathering a group of fellow artists, she curated another multimedia art exhibition, Mangroves from the Water. She received funding from an environmental agency in Abu Dhabi, and her work eventually culminated in a 2017 mangrove festival.
Now, Zahidah and her family live in Australia. Upon moving, she found that Australia had the same issue of mangrove loss. Making Australian people care, however, has been more difficult. "In the UAE, I tried to work from the roots of the thing. I found a story," she said. "But moving to Australia, I couldn't find a story. Different politics, different history."
She needed to find roots in Australia, something to connect the people to the trees. So she chose to expand her project, Mangroves from the Water, into a PhD at Deakin University.
"I keep trying to see what is right, what is wrong, what is going on. This is the meaning of life for me."
Zahidah Zeytoun Millie teaches us to look closely at the world in front of us: to notice its beauty, to learn to love and protect her. Join her at the Story Majlis to see her art and learn about mangrove conservation.
Sophie Henry is a writing intern at the Center for Folklife and Cultural Heritage and an art history major at Yale University. She also studies Spanish, German, and chemistry.