Women's Work: Homage to Homemaking and Expanding Expectations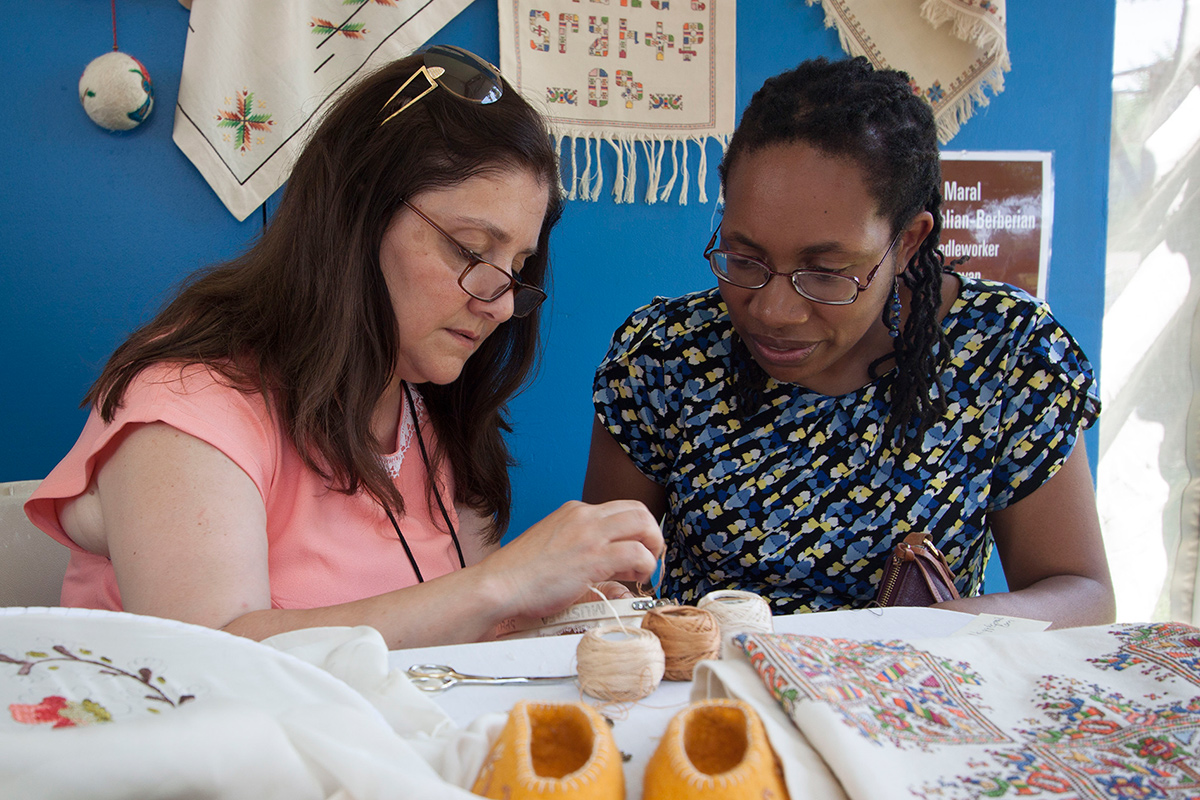 One of the best things about cultures coming together at the Folklife Festival is discovering similarities, not only among the programs, but also among ourselves. We each come to the Festival with a different combination of beliefs, interests, and cultures. Here, we have the unique opportunity to converse with catifaires (flower carpet makers) from Catalonia, embroiderers from Armenia, and designers from Ghana, learning about their art, daily lives, and the issues they deal with.
One of the issues highlighted across all programs is the way gender intersects with their cultures and careers. Armenia hosted a narrative session on "Women, Tradition, and Recognition"; Catalonia held multiple "Gender and Pop Culture" discussions; and Crafts of African Fashion featured multiple panels of male and female designers.
In Catalonia, gender reform has manifested as incorporating women into the heart of society: life in the plaza. Increasingly, women are featured in celebration-based associations that fill these town centers. In the 1980s, human tower teams started admitting women, who were typically lighter. By incorporating women into the team, the towers can literally reach heights that were impossible with all-male teams. Similarly, the bestiari (beasts) and gegantes (giants) have welcomed women. As technologies have progressed, the large figures can be made of lighter materials, allowing women to participate as well.
Despite this marked improvement, women are often not as represented in positions of power. For human towers, less than twenty percent of team coaches are female. In the case of bestiari groups, some will still not even admit women.
The production of catifas, or flower carpets, has always been traditionally female. However, there has been in increase of men working in the design and production of these beautiful pieces. This inclusionary process features more equality throughout the production of catifas than in other Catalan organizations; people are appointed based on skill instead of gender.
"Women themselves have no limits," Vicenta Pallarès i Castelló, president of the Federació Catalana d'Entitats Catifaires, explained. "It is society that is limited."
For Armenian culture, it seems that the struggle against gender discrimination has been heavily supported by honoring women's work. Much of "women's work"—such as cooking and sewing—play an undeniable role in creating the space we identify as home. (Think of "homemakers.")
"We want people to see the role home plays in Armenian culture," program curator Halle Butvin said during this 2018 Folklife Festival's opening ceremony. "We want you to think about what home means to you."
If home is so significant in Armenian culture, women's work then is its very backbone. Through singing, carpet weaving, and or pickling, women continue to preserve and pass on the components of this culture in the face of violence, conflict, and displacement. Needlework, for instance, provided a point of entry for women into nineteenth-century society, which gave them no rights or recognition. This needlework not only provided a voice for women, but also a means of income.
The definition of "women's work" can vary from place to place. In the United States, it typically referred to cooking, cleaning, and raising children, but most domestic arts are also included. In places like Senegal and Mali, the production of cloth is a combination of tasks deemed as women's or men's work. For example, dyeing cloth is traditionally women's work, while weaving is traditionally men's.
These roles are now being challenged, according to Rebecca Fenton, Crafts of African Fashion fellow. As traditions and technologies change, it becomes easier in many ways to produce textiles. Accordingly, there has been a rise of men taking up work that had been traditionally in the realm of women, like dyeing.
Men tend to adopt women's work only when it becomes especially profitable. Although men have shifted into women-dominated areas, there has not been as large of a rise of women in men-dominated work. There are outlier cases, such as a collective of women in Mali that farm organic cotton. However, Fenton assures, there have been more women designers and tailors, both trades originally considered meant for men. She even suggests that women may have been fulfilling these roles all along, simply from their homes or less visible by the public eye.
Each culture is working from a different viewpoint of gender roles and embarking upon a unique journey of shifting them. Although the processes in cultures like Catalonia and Armenia are not complete, these societies are taking major steps to recognize and celebrate women, whether it be by bringing them into the plaza or shining a light on them in the home.
Rachel Barton is a media intern at the Smithsonian Center for Folklife and Cultural Heritage. She is a rising senior at Rowan University, double majoring in English and Writing Arts. Most of her interests are shaded by her concerns for social justice and gender equality.