The Spirit of D.C. Punk in the Words of Women Musicians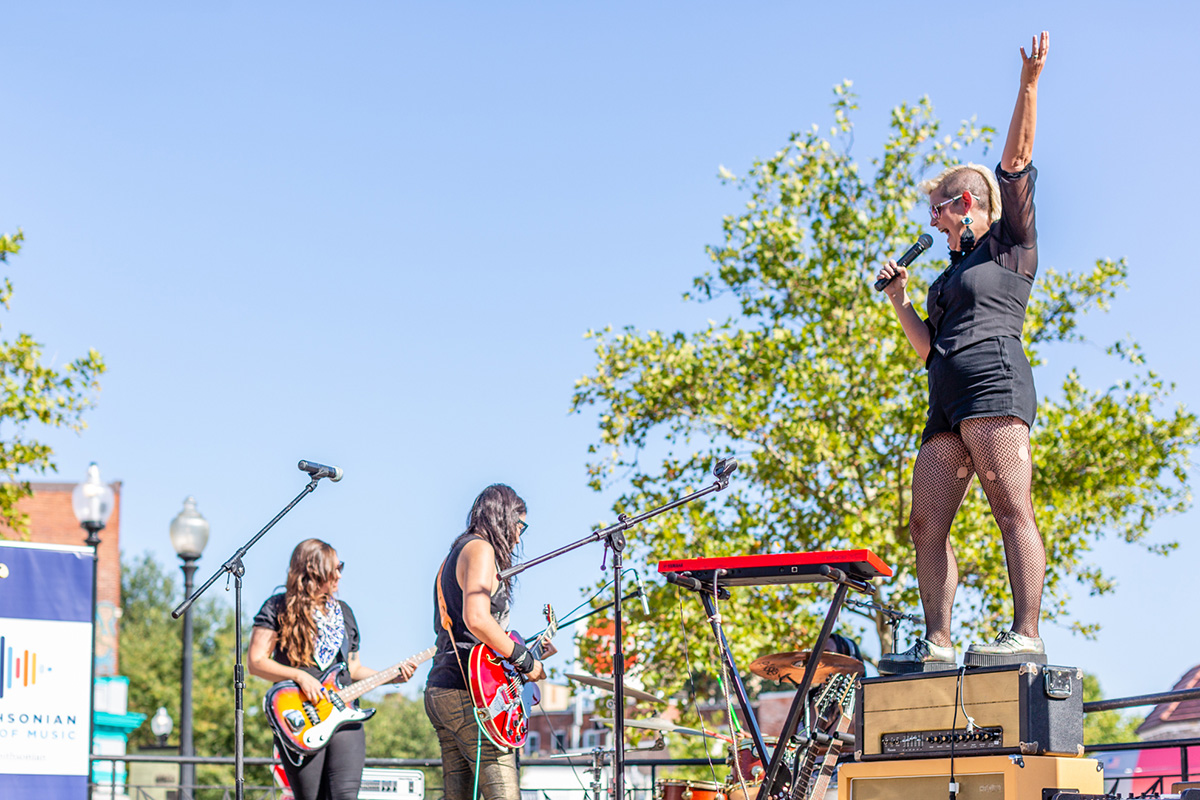 The audience patiently waited in the afternoon heat as Erin Frisby of The OSYX tuned her electric banjo. Her bandmate, guitarist Ara Casey, took the opportunity to remind the Mt. Pleasant crowd: "Have a good day, and be kind to everyone."
"Not necessarily everyone," Frisby amended. "This machine punches Nazis!"
Casey's guitar cut through the sweltering air, launching them into their final song. Frisby placed her hand on a stack of amps, testing its stability, then hoisted herself up. Poised at the top, she howled out the song's final wordless phrases.
The OSYX were joined by fellow D.C. bands Park Snakes and Bacchae at Lamont Park in D.C.'s Mt. Pleasant neighborhood on August 11, 2019, to celebrate women musicians as part of the Smithsonian Folklife Festival's Social Power of Music showcase. Lamont is a true city park, a brick and concrete strip tucked into the narrowest of triangles formed by two converging streets. That day, shade was sparse. The bands issued frequent reminders for everyone to stay hydrated.
Each band's commitment to creating a welcoming and inclusive community could be seen in the care they have for their audience. These female-fronted bands write from a woman's perspective, and it shows. Their lyrics often express the struggles faced by women living in a society they believe does not prioritize their safety or take their anger seriously. In everything they do, these bands loudly advocate for themselves and each other, as well as underrepresented and marginalized groups of all sorts.
Many of the band members have nine-to-fives, or even multiple jobs, making their dedication to the cause all the more impressive. They're not all necessarily trying to make a career out of this—most of them are just people who love playing music together. The D.C. music scene is a small world, and it's often said that anyone who plays and stays in D.C. long enough will inevitably end up playing in every other local band.
Much like the punk scene thriving there, Mt. Pleasant itself is rather homegrown and offbeat. Before 1878, it was considered separate from the rest of D.C., more of a small village surrounded by rural land. It has since become completely integrated into the city, but because of this initial separation it does not follow the rest of D.C.'s street grid. The early developers of the neighborhood decided to ignore the grid in favor of existing farm roads and the natural landscape. As a result, the streets of Mt. Pleasant seem to be laid out randomly, intersecting at odd angles and creating little pockets of space like Lamont Park.
On one end of the park sits a small stage, barely a foot tall. During this afternoon concert, there wasn't much separating the performers from the crowd. In the banter from the microphone, it seemed that almost everyone knew each other, that the audience felt just as important to the scene as the musicians. Bandmates joined the crowd to dance between sets. All sorts stopped to enjoy the show: parents with small children, old folks walking their dogs, groups of kids. People who seemed to totally embody the punk aesthetic, and people you would never dream of seeing at a punk show. An elderly woman with a shopping trolley full of groceries stopped and watched for an entire set.
D.C. has a wealth of DIY and all-ages venues, and free outdoor concerts like this one are common. This stems from the commitment to accessibility and inclusivity that runs deep in the music scene here. D.C. was an important site in the mobilization of riot grrrl, a 1990s feminist punk movement that championed these values. Alison Wolfe, who emceed the Lamont Park performance, was among the leaders of the movement. Her band Bratmobile hugely influenced other women to break into the male-dominated genre. Today, Wolfe describes the D.C. music scene as consisting of "people who created the culture that they wanted to see."
The OSYX embodies the progressive values of the D.C. punk scene in both their music and their community activism. Last year they created a nonprofit record label called This Could Go Boom! which represents female and non-binary artists.
Initially the band's goal was to produce their own record, but through the process they saw the need to extend the benefits of the label beyond themselves. Opening the record label to underrepresented groups allows the band to "amplify the voices of the community we serve," as Casey puts it.
The band also helps organize music workshops and showcases around D.C. The showcases create networking opportunities for bands, as well as a fun, collaborative environment that Frisby describes as "a communal explosion of love."
Frisby has toured with multiple bands and experienced the music scenes of different cities. While she found many of them to be just as welcoming, she decided to return to D.C. for the diversity and collaborative spirit.
"People in D.C. lift each other up in a way that I haven't seen in other communities," she explained. On the creation of This Could Go Boom!, she says, "I don't know if this could have happened anywhere except D.C."
Park Snakes took to the stage following The OSYX. Their guitarist was AWOL for the day, but their bassist played the melody lines through an array of effects pedals. The result was full and deep and heavy. Lead singer Nenet looked like she had gotten all dolled up for school picture day. She wore a bright pink dress adorned with fabric flowers, her hair bedazzled with barrettes. A big Band-Aid covered one of her knees. It fell off mid-set.
"I remember when no one liked me," she repeated during one song. Despite the heaviness of her lyrics, she bounced around the stage as she delivers them, stomping her feet and clearly delighting in the performance. One of their best received songs was titled "Women Are Better Than Men." No one in the audience seemed to take it personally.
"I don't think the band would have happened if I hadn't lived in Mt. Pleasant," Nenet said of Park Snakes' origins. She described the neighborhood as active and vibrant: "There is always something happening. Lift a rock and you will find a punk show, from Monday to Sunday."
Members of Bacchae also credited the unique environment of the D.C. punk scene when explaining how their band came to be. Vocalist and keyboardist Katie McD remarked that there isn't as much of an in-crowd or clique as the music scenes of some other cities. Drummer Eileen O'Grady agreed, saying that these spaces can often feel competitive, "hyper-masculine and aggressive." In comparison, she found the aggression present in D.C. to be more focused and able to effectively "channel those feelings into productive work."
Bacchae (pronounced "BOCK-eye") is a genre-bending four-piece band. McD's keyboard was covered in plastic googly eyes of varying sizes. Her vocals were fast and frantic, as if she couldn't spit the words out fast enough.
Written from a woman's point of view, their song "Sour" deftly captures the creepiness of being told to smile by a stranger, opening with the lines, "Sweet girl, won't you smile for me/ Some sugar for your sour face." She replies, "I'm not the one to put the sugar on your tongue," before launching into the chorus: "I'm done making lemonade!"
O'Grady described how the D.C. music scene is uniquely accessible to beginners, encouraging people to pick up instruments even if you have no experience. Both she and bassist Rena Hagins began playing their instruments shortly before joining Bacchae.
A D.C. native, Hagins has been going to shows for years and has since watched the scene become more inclusive of different types of people and genres. She feels that this representation is part of what sets D.C. punk apart.
"You get to see yourself onstage which is so important," Hagins explained. "I just hope that people can see an event like this that raises awareness for women in music and want to go play in bands and make this happen for themselves."
Gabrielle Puglisi is a graduate of Emerson College and an intern at the Smithsonian Center for Folklife and Cultural Heritage.