"Where's the DJ?" How Women DJs in D.C. Are Shaking Up the Scene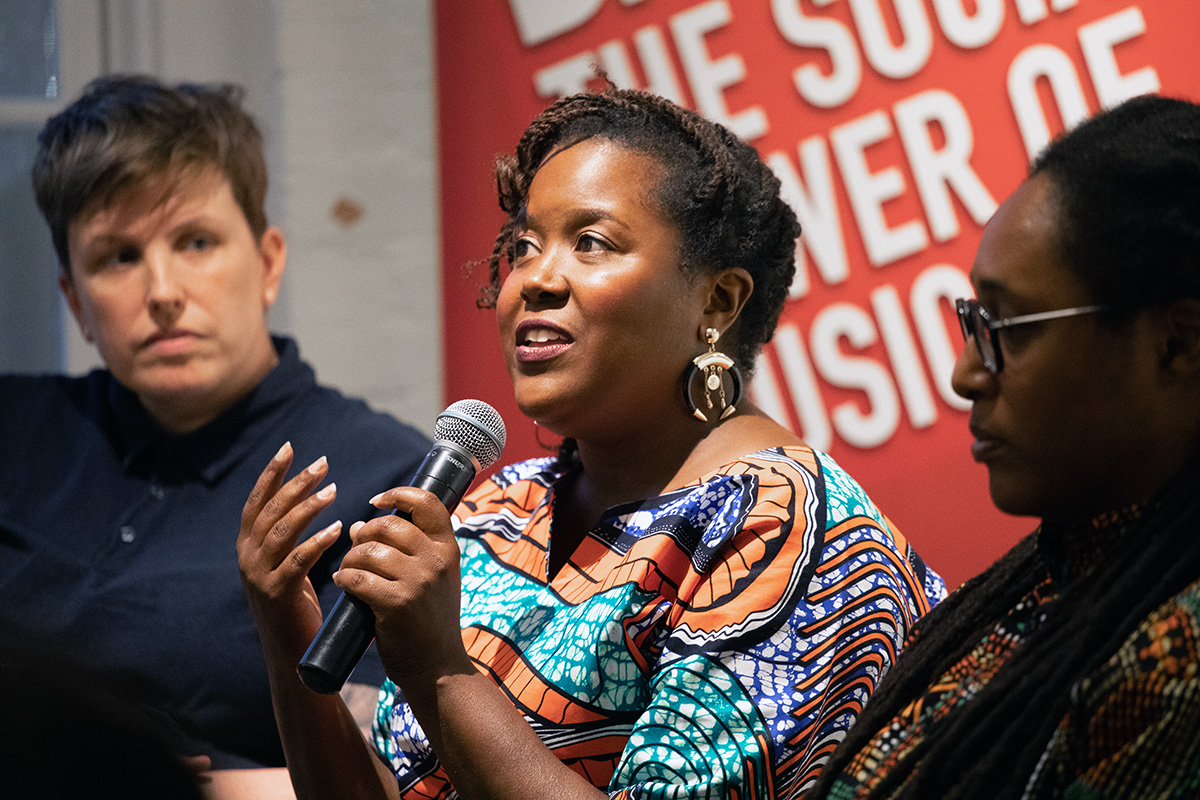 "Where's the DJ?" It's a remark frequently heard by female DJs, as sound engineers or club owners look right past them, often to a male assistant. Once she identifies herself, what follows is usually an expression of surprise.
Les Talusan (Les the DJ) says she has been met with, "Wow! You're actually mixing!" and "Oh, you're actually really good!"
This past August, Talusan and four fellow female DJs gathered for a conversation at Lost Origins Gallery in Mt. Pleasant as part of D.C.: The Social Power of Music, a program presented by the Smithsonian Folklife Festival. The panelists belong to women's DJ collectives around Washington, D.C., including the popular First Ladies and Anthology of Booty.
Arts journalist and musician Allison Wolfe (I'm in the Band podcast, riot grrrl band Bratmobile) convened and moderated the panel. In her introduction, she explained how cultural activism can form from friendship and community, and that these DJs were "examples of people who created the culture that they wanted to see."
Paying It Forward
Mentorship is front and center in the D.C. music scene. Maegan Wood (DJ Junebullet) helped form the First Ladies DJ Collective in 2002, kickstarting the careers of many others along the way. When it was time to upgrade her gear, she sold her old turntables to Kristina Gray (K La Rock), and she taught Ebony Dumas (DJ Natty Boom) as well.
"In our family tree, Maegan has a bunch of branches under her," Gray said.
Dumas has always tried to pay this forward: "If I hear someone is having trouble mixing, I'll be like, 'Hey, why don't you come over to my house and we'll hang out for a little while?'" She finds people are surprised that she takes the time to mentor them. They assume she'll be unreachable or too busy and are afraid to ask. At first, Dumas experienced that fear firsthand.
"I would see your parties," she told the other DJs on the panel. But in the beginning, she was too intimidated to attend. "I was like 'I just moved here, I don't know anybody, it's going to be too cool for me.' And now I know you're just a bunch of nerds!"
The panelists voiced that breaking down that intimidation is key to the survival of the local scene.
Girls Rock! DC is another way the DJs work to build each other up. Each of the panelists has been involved in the D.C. chapter of this music camp from its start in 2007. The campers are girls ages eight to eighteen, many of whom have never picked up an instrument before. In the space of a week they take music classes, form bands, write original songs, and perform a show for their family and friends at the 9:30 Club. With camps in cities all over the world, the organization not only teaches the students music, but it encourages them to be loud, proud, and unapologetically themselves.
While it initially started as a rock camp, the curriculum grew to include DJing classes as well. Gray remembers campers who suggested that DJs don't play any instruments, and she had to explain, "Actually, DJs kind of get to play all of the instruments.'" She and Wood led the first Girls Rock! DJ classes, and there are now former campers who now work as professional DJs.
Creating Space
Talusan moved to Hyattsville from Manila in 1999. "I rely a lot on community because I don't have family to rely on," she explained. "In order to have community, you have to help build." Her participation in Girls Rock! DC is her way of building up her community. "I don't think it should be as hard for everyone as it was for me. I need to be in spaces that are safe. Now, because I am more stable, I create those spaces [for others]," Talusan said.
The idea of "paying your dues" doesn't resonate with the DJs. They all spoke of a strong desire to make it easier on the next generation.
Kristy Chavez-Fernandez (Kristy La rAt) got her start in DJing parties during college. Even more than mixing and beat matching, she stresses the importance of "creating a vibe." She talked about growing up in punk spaces and loving it but also finding them to be a bit "white and bro-y, and we felt kind of invisible." She appreciates the moshing, the innate physicality and intense emotion and connection, and has since sought to recreate it in a way that's more accessible to different types of people.
Gray spoke of a DJ school owned and operated by techno DJ Juliette Siegfried, where she and Wood took classes early on in their careers. She wants to foster curiosity in how the scene's infrastructure came to be.
"This did not exist ten or fifteen years ago," Gray said. "There weren't spaces like that, where there were all women DJs. We were banging down the doors of clubs up and down U Street and Fourteenth Street, and had to say, 'Yes, you do want us. No, we are not going to show up in bikinis, but yes, we are all women!'"
Dumas explained that they encountered a lot of misogyny and homophobia. "There were clubs that said no to us even after we had proven ourselves. Many clubs now have ladies' nights and queer nights, and people assume it's just something that happened," but she said there's a long legacy behind that change. Through the collectives, Gray said she works to "honor the women DJs in D.C. who came before."
These prejudices have persisted, and can be seen in the ways some people continue to speak to and about female DJs, using qualifiers that turn well-meaning sentiments into backhanded compliments.
"People sometimes tell me I'm their favorite lady DJ," Talusan said. She would much prefer to be your favorite DJ period.
Sharing a Song
DJs are like curators, stitching together existing pieces of music to form something new. Talusan feels that DJing allows her more flexibility than songwriting, describing it as "telling a story by way of music." Wood spoke of the "excitement of sharing a song." Gray loves the opportunity to "put music together in new and interesting ways," which she describes as "joyous."
The audience is just as important to the performance as the DJs themselves, meaning an effective DJ cannot ignore the wants of the crowd. Dumas said that requests are generally well meaning and help a DJ learn to play for people unlike themselves. Even still, there are a lot of strange things people ask of DJs:
"Can you play something good?"
"Can you play something in English?"
"It's my boy's birthday. Can you play his demo?"
Gray recalled a set she played where a woman, becoming increasingly irritated, asked her to play Beyoncé three times, before Gray had to tell her, "Ma'am, this is an '80s night."
Every DJ has to strike a balance: refusing to take requests risks alienating your audience, but taking too many essentially renders you a human jukebox. You want to play what people want to hear, but you also want to stretch their limits and ensure they come away with something they've never heard before. Creating cohesive sets for a community you're unfamiliar with proves an even greater challenge. Gray and Talusan recommend DJing weddings to develop this skill, as they usually have a wide range of guests that span generations.
The push and pull between DJ and audience is important, and many speak of the responsibility that comes with the power of being behind the turntables. Gray describes it as almost religious. "You get to be the choir director and whip people up into a frenzy." They decide when to bring the crowd up and when to take them down.
Chavez-Fernandez wants to blur the line between DJ and audience, making it more fluid, through the power of pop songs and sing-alongs.
She recalled her time in Lima, Peru, when an abroad program in college provided an opportunity to explore her family's home country. She described how public transportation in Peru was never quiet. There was always music blasting, often the pop hits of the time. "You could tell the songs everyone knew all the words to." She described moments when the entire bus was singing along together. The well-known songs created community between people who would otherwise not bother interacting with one another.
"Finding the sing-along for any certain crowd has really stretched my set," she said. It sets a tone and creates the unity that will carry through the rest of the show.
Forming Community
As an urban planner, Dumas explained how her work has informed her involvement with the DJ scene. The infrastructure of a city is integral to the formation of community, in everything from where trashcans are placed to where and how late the buses run. She stressed that forming a truly welcoming and accessible community requires representation and diversity—and an infrastructure that fosters those things.
"When there are only people who don't look like you who are making these very intentional decisions, a lot of times your voice isn't heard. Your needs are not met."
Chavez-Fernandez is looking forward to a time when DJing is no longer about "being cool."
"If it has to be like looking a certain way or being regarded as cool or a product, that narrows the options so much. For us it's been about being goofy, expressing our sense of humor, being weird, and being in love with our friends—coming together and using these formats as vehicles for the change that we want to see."
Gabrielle Puglisi is a graduate of Emerson College and an intern at the Smithsonian Center for Folklife and Cultural Heritage.