Wild Foraged Foods: Chanterelle Dumplings with Chanterelle Ragout and Green Plum Sauce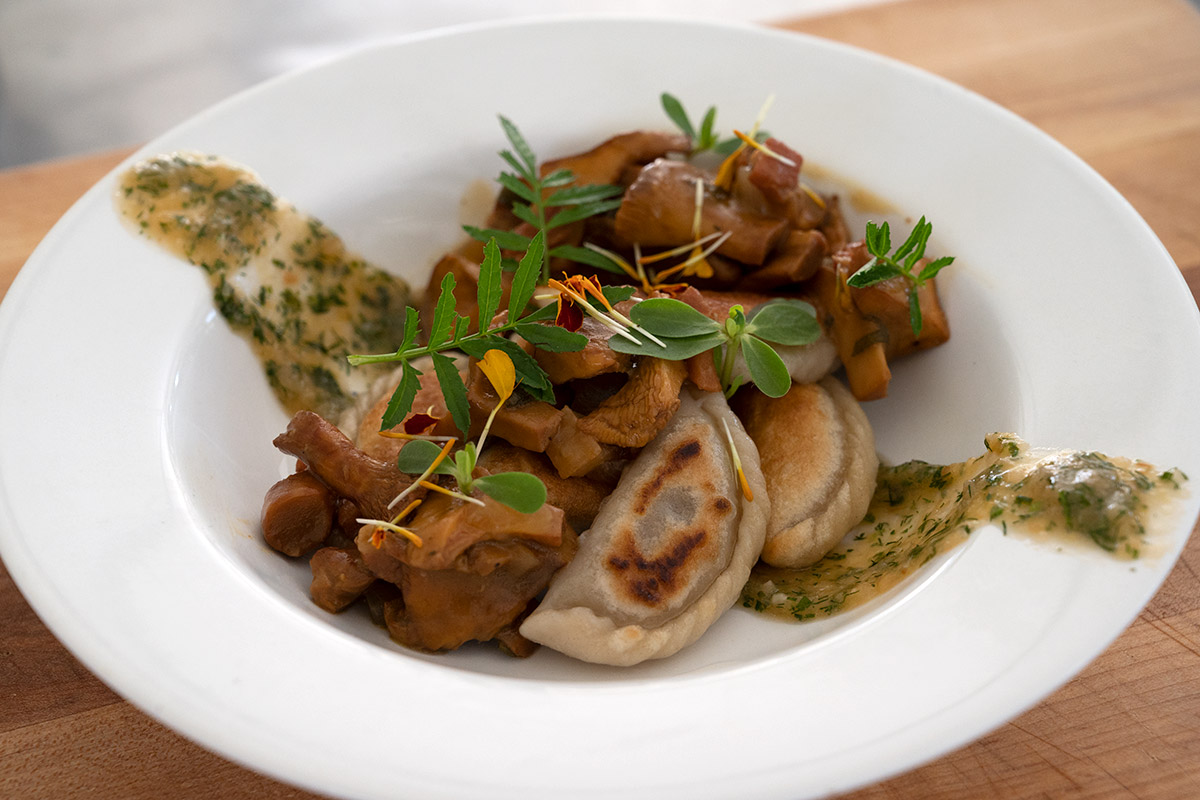 When Iulian Fortu talks about chanterelles, his layered culinary knowledge and passion for food, cooking, and foraging are on full display.
Anytime he creates dishes with wild foraged ingredients, Fortu first tastes the plant or fungi at hand to identify its flavor profile before deciding what other ingredients to pair with it. He strives to create balanced dishes that combine unique sets of flavors, many of which may not be available in commercial ingredients.
For his demonstration at this year's Folklife Festival (June 25 at 3 p.m. in the Festival Foodways tent), Fortu wants to showcase wild foraged foods of the early summer season in the recipes below. He'll combine sweet and earthy chanterelle mushrooms with acidic and herbal green plums. The chanterelles, which he says take well to creamier sauces and fillings, are made into a filling that is wrapped in a pierogi-like dough. The green plums are transformed into a sauce that cuts through the heaviness of the dumplings.
Fortu, a graduate of the Culinary Institute of America in Hyde Park, New York, and owner of the D.C. area foraging business Arcadia Venture, was first exposed to foraging in college during an intensive four-month internship at Denmark's world-renowned restaurant Noma.  
During his first few weeks at Noma, Fortu spent a whole week foraging with one of the restaurant's experts. That week was the beginning of an unforgettable experience that opened Fortu's eyes to "what food is and the possibilities of what it could be."
For the remainder of his internship, Fortu not only continued learning from those around him but also began teaching himself about wild edible plants. On his days off, he traveled to different locations to find and taste new wild foods.
Before working at Noma, Fortu says he did not think at all about where ingredients came from or about their individual characteristics. At Noma, he was trained to consider the origins of ingredients, their freshness and how that impacts their use and preparation, and the product's overall quality. Now, those factors are at the top of his mind, and they play into his work as both a chef and a forager.
As someone who has been foraging in the D.C. area for years, Fortu has witnessed significant changes to the landscape and climate. He notes how different conditions are year to year and how rapidly things can change. Learning patterns and observing variations is an important part of his job as a forager, allowing him to pick up on shifts in the quality and availability of products.
Going forward, Fortu wants to continue growing his business and expand into foraging education. He emphasizes that, with the internet, foraging knowledge is more accessible than ever. However, ultimately, he says it comes down to each person's willingness to learn and to be open-minded about trying new things. Shifting people's mindset about what is and is not food is a critical piece of increasing the acceptance of wild foraged foods.
Chanterelle Dumplings
Yield: 25 dumplings
Ingredients
Dumpling Dough
250 grams (1 ½ cups + 1 tablespoon) all-purpose flour
125 grams (½ cup) hot water
10 grams (1 ¾  teaspoons) salt

Dumpling Filling
300 grams (10 ounces) mushrooms (oysters, chanterelles, or any other flavorful mushroom), cleaned and chopped
50 grams (5 tablespoons) shallot, minced
50 grams (5 tablespoons) ramp bulbs (fresh, frozen, or pickled, or sub onions), thinly sliced
30 grams (2 tablespoons) butter or olive oil
50 grams (4 tablespoons) hard cider
20 grams (4 ½ teaspoons) apple cider vinegar
10 grams (1 ¾ tablespoons) fresh thyme, chopped
20 grams (3 ½ tablespoons) chervil or parsley, chopped
100 grams (2/5 cup) mashed potatoes
Black pepper and salt to taste
Preparation
To make the dumpling dough, in a stand mixer with a dough hook, add flour and salt to the bowl. Start mixing on low and gradually add the water. Watch to see if the dough needs more or less water. Once it is not sticky, stop.
Continue kneading the dough on medium speed until it becomes soft and elastic and all lumps are gone.
Wrap the dough in plastic and let stand at room temperature for at least 30 minutes to rest.
For the filling, in a medium sauté pan, heat the butter or olive oil and add the shallot and ramp bulbs. Cook until translucent and aromatic.
Add the chanterelles and continue cooking until they are soft and cooked through. Deglaze with the cider and vinegar.
Add the herbs and season with salt and pepper to taste. Making sure there is almost no liquid left, remove from the pan, and mix with the mashed potatoes in a large bowl. Let cool before using.
To make dumplings, roll the dough out to 3–4 mm (1/8 inch or less) thickness and use a ring cutter (approximately 8–10 cm or 3–4 inches in diameter) to cut out circles. Reuse the dough scraps to make more dough balls and continue rolling and cutting until all the dough is used.
Place about a tablespoon of filling in each circle and fold over to make a half circle, making sure there are no air holes and the seams are tight. Pinch and roll the outside of the dumpling to braid it.
To cook the dumplings, in a large pot of boiling water, boil the dumplings until they float to the surface and are mostly cooked through. Take them out with a slotted spoon and place into a large bowl filled with ice water. When they are cooled down, transfer to a separate container and cover the dumplings with a small amount of oil so they do not stick together.
In a medium sauté pan on medium-high heat, cook the dumplings on both sides until they are golden brown and cooked all the way through.
Chanterelle Ragout
Ingredients
50 grams (2 ounces) smoked/cured meat trimmings, diced (bacon, pancetta, guanciale, prosciutto, jamon, etc.)
50 grams (5 tablespoons) yellow onion, diced
300 grams (10 ounces) chanterelles, cleaned and halved
10 grams ( 1 ¼ tablespoons) all-purpose flour
30 grams (2 tablespoons) sherry or madeira or marsala wine
10 grams (1 ¾ tablespoons) fresh sage, chopped
10 grams (1 ¾ tablespoons) fresh thyme, chopped
75 grams (1/3 cup)  mushroom or chicken broth
Salt and pepper to taste
Preparation
In a sauté pan, cook the smoked meat trimmings until the fat has melted. Add the onion and cook until translucent. Add the chanterelles and cook until soft. Add the flour and mix until coated and fat is absorbed.
Deglaze with the wine and add the herbs. Add the broth and continue cooking until the sauce is thickened and flavors are well balanced.
Green Plum Sauce
Ingredients
600 grams (1 1/3 pounds) unripe green plums
240 grams (1 cup) water
20 grams (1 ½ tablespoons) olive oil
100 grams (1o tablespoons) yellow onion, chopped
50 grams (5 tablespoons) garlic, minced
15 grams (1 tablespoon) coriander powder
10 grams (¾ tablespoon) fennel seeds, powdered
30 grams (2 tablespoons) dill, minced
30 grams (2 tablespoons) cilantro, minced
Salt to taste
Preparation
In a small pot, cook the whole plums in the water until softened. Drain the pot, and press the plums through a sieve into a bowl to get a rough puree.
In the same pot, add a small amount of oil and cook the onion and garlic until softened. Add the plum puree, coriander, fennel seed, dill, and cilantro. Adjust with salt to taste.
Remove from the heat and cool. Sauce should be thick and green.
To assemble the dish, first put a dollop or two of green plum sauce on the plate (either one larger spoonful in the center spread out or two smaller spoonfuls that are swooshed in opposite directions on the plate). Arrange the cooked dumplings on top (3–4 dumplings per plate).
Spoon some of the chanterelle ragout evenly around the plate. Arrange wild seasonal herbs or edible wildflowers as garnish.
Katie Reuther is the 2022 Festival foodways intern and a food studies graduate student interested in the intersection of food, culture, and identity.