A Tribute to Tito Matos in Music and Film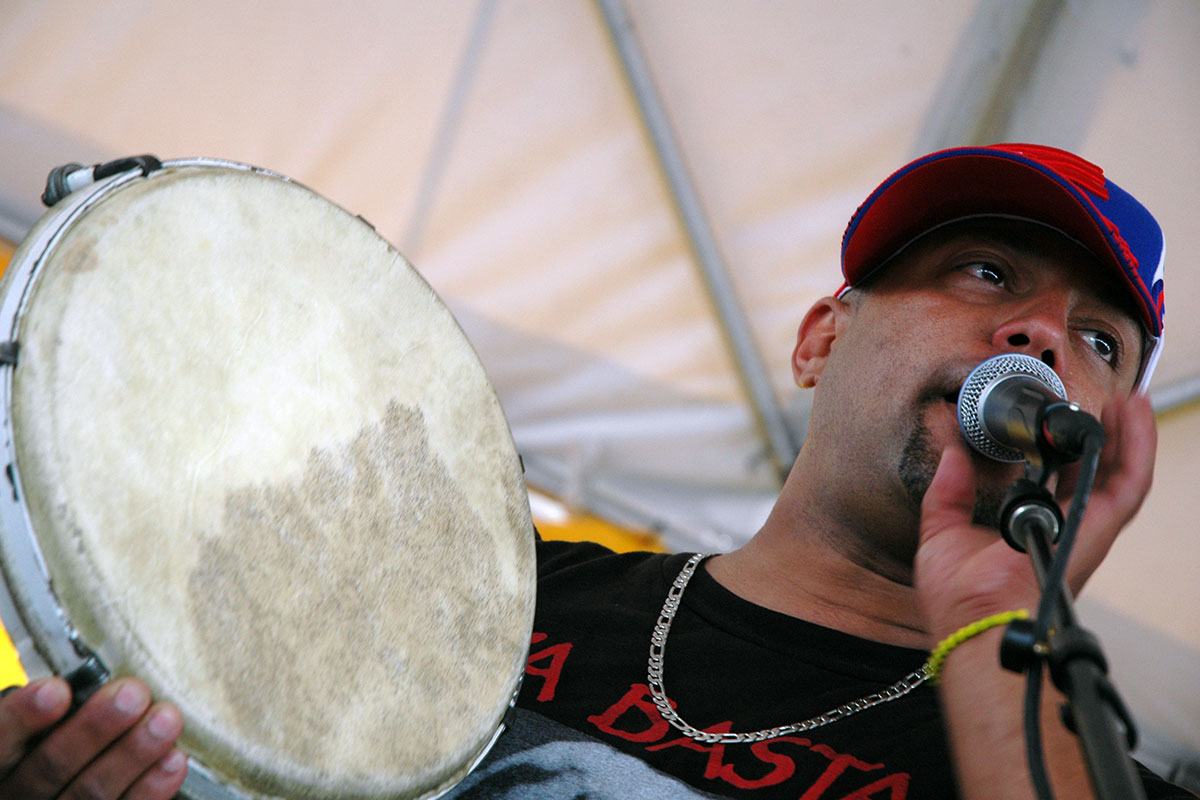 On the evening of June 25, the sounds of Puerto Rican plena, bomba, and Afro-Latin jazz echoed from the Smithsonian Folklife Festival's Ralph Rinzler Stage, as dozens of stellar musicians from Puerto Rico, New York, and California gathered to celebrate the life and the loves of Héctor René "Tito" Matos Otero. The concert traced and interpreted the many aesthetics of plena, an Afro-Puerto Rican folk music practice, that Tito, a consummate plenero, educator, and community leader who passed away suddenly in early 2022, not only mastered but also helped influence. Each song presented throughout the evening was either written by Tito, made popular by Tito, recorded with Tito, or created in his voice and spirit.
But these performances were not simply a commemoration of Tito and his life's work. It was a labor of love and a gathering space for healing, as every musician on stage considered Tito more than a teacher or a bandmate. He was their friend. And true to Tito's energy—one far too large and charismatic to be contained—the musicians continued bellowing their call-and-response refrains in procession, from the stage and onto the grounds of the National Mall, joining hundreds of Festival visitors in a final descarga (musical release), singing plenas well into the hot summer night.
While the music was fantastic, perhaps the biggest highlights of the evening were the spaces in between the songs and sets. On the two forty-foot LED screens flanking the stage, a series of short films offered vignettes and intimate moments of love and memories shared by Mariana Reyes Angleró and Marcelo Matos Otero, Tito's widow and youngest son.
Shot on the grounds of La Casa de la Plena Tito Matos—Tito and Mariana's latest, and last, project—the films provide a unique introspection into Tito's spirit and unwavering commitment to safeguard and showcase the resilience of la plena and his hometown community of San Mateo de Cangrejos, a neighborhood in San Juan, Puerto Rico. Mariana and Marcelo's words, smiles, quiet moments of reflection, and at times watery eyes offered equal moments of solemnity and inspiration.
What was clear to many was that while Tito's void was palpable, his legacy and work continue on, especially through the efforts of La Casa de la Plena de Tito Matos, a people's archive, learning, and performing space of la plena. Libertad Guerra, a lifelong friend to both Tito and Mariana, masterfully connected the films with the musical performances as the evening's emcee. Her passionate oration spoke of moments and milestones of Tito's forty-year career, bringing the audience to laugh, cry, and cheer with pride.
Yes, the evening was a labor of love—one deserving of a man whose voice, work, and legacy emanates from Cangrejos and spans across the globe. And as Marcelo, only eight years old, traversed the concert grounds all evening—hanging out with his father's friends backstage, playing his pandero drum on stage, finally watching himself and images of his parents on the big screen, and running through the grass, laughing along the way—there was no doubt that Tito Matos' spirit and la plena están asegurados—are assured.
Julia L. Gutiérrez-Rivera, a Smithsonian Folklife Festival contractor since 2019, curated the celebration concert and short films. Julia is a second-generation practitioner and teacher of bomba and plena music. As the daughter of Juan Gutiérrez, founder and director of Los Pleneros de la 21, a group Tito was a longtime member of, Julia and Tito were close friends, having shared many stages, songs, and laughter together for over fifteen years.