The Power of Costume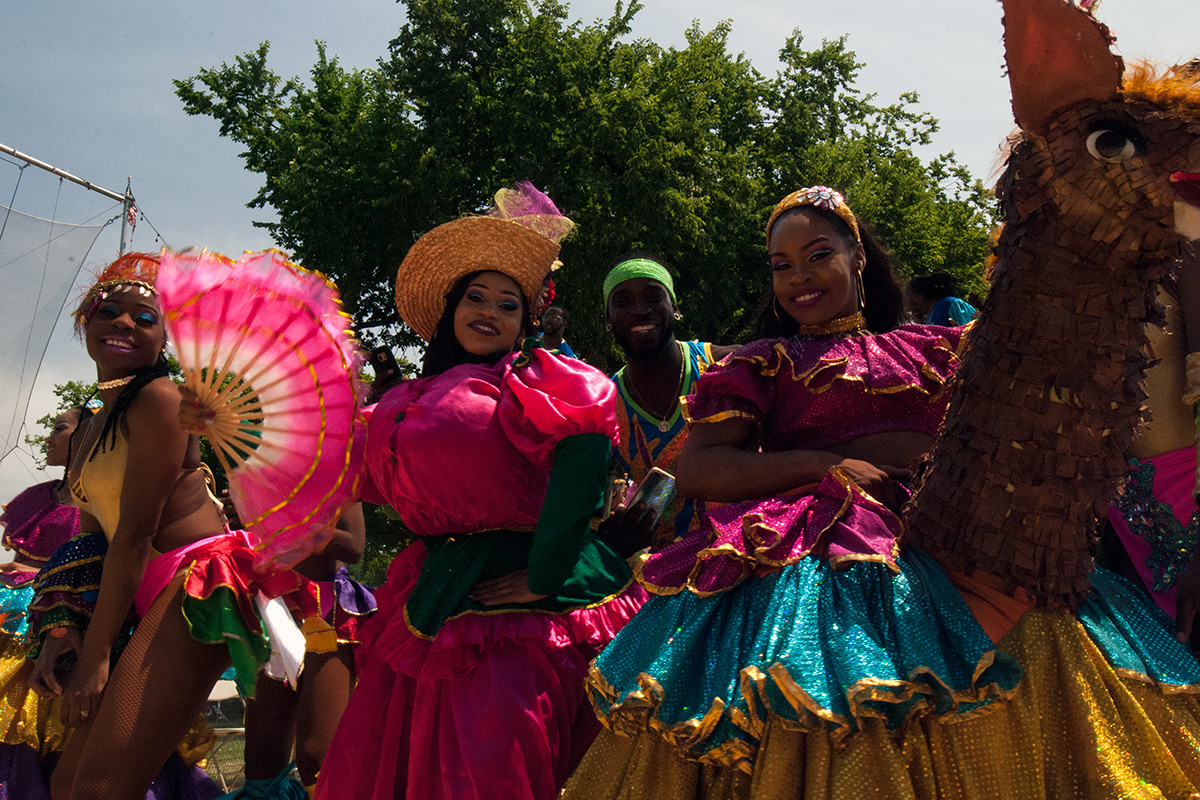 The experience of the circus is intricately intertwined with the dazzling costumes of the performers. At the 2017 Folklife Festival's Circus Arts program, acrobats, jugglers, and ringmasters shone in sequins, glitter, and vibrant colors. They took to the stages in flurries of reds, golds, and metallics, and audiences left each day enchanted by the unique visual experience these performers create. 
It is difficult to imagine a circus without the flash and dazzle of top hats, leotards, and bright makeup. What would the circus arts be without the costumes performers don before their shows? According to Timothy Mack, ringmaster of the Imperial OPA Circus, costumes play an integral role in the performance.
"Costumes, in some part, create the show," he said. "A performance can only reel in an audience up to a certain point. Without the colorful outfits, the audience will not take our performance as seriously, and the magic that circus is so known for cannot occur. Costumes are essential in the process of gaining the respect, admiration, and trust of the audience."
Performances in the Big Top and other at stages did exactly that. Watching Mack strut onto the stage with his cane, top hat, and sequined jacket amid roars of applause suggested the deep power of costuming. Would applause reach this volume without his perfectly styled moustache and top hat reminiscent of the Monopoly man?
LunaStorme, the aerialist duo of Marina Luna and Ella Storme, create a sense of magic through aerial stunts in their beautiful, appliqued dancewear. Their talent is undeniable, but their costumes help to elevate their performances from merely feats of skill and strength to something greater. Costuming transports their worldly performance to an unordinary world of beauty and sheer impossibility. Storme's belief in the potency of her costumes rings strong.
"As a circus artist, I feel the power and magic of costumes more than ever," she said. "It's amazing how much fabric, color, texture, and sparkle can so dramatically change the presence I exude. From sensual to ethereal, sexy to otherworldly, they invite me to become the embodiment of imagination. When I put on a costume, I feel a different part of myself being awakened. It instantly changes my mood, as my focus turns toward the coming moments on stage."
Circus costumes of the twentieth century became increasingly form-fitting due to safety restrictions and a stylistic trend set by Jules Léotard, a gymnast from Toulouse, France, and then inventor of the flying trapeze. Léotard performed his first act on the new device at the Cirque Napoleon in Paris on November 12, 1859, donning the characteristic one-piece suit we know today as the leotard.
Women's circus costuming gradually followed this fashion as well. The Barnum & BaileyCircus began to advocate for brief, tight-fitting clothing for the safety of aerialists and acrobats performing dangerous stunts at the turn of the twentieth century. Freedom of movement was essential, and this allowed for women to wear a garment that was functional and would have otherwise been considered immodest.
In the twenty-first century, it is difficult to conceptualize how unorthodox a tight-fitting leotard proved to be. A staple in circus costuming today, the outfit was considered revolutionary when it first emerged.

With these elements, the delicate dance between performance and costuming creates the aura of otherworldliness we come to the circus in search of. We thrive and delight in the departure from the everyday. Inconceivable spins and twists are complemented by the glitter and shine of eyeshadow and rhinestones. Monumental flexibility is paired with stunning garb to bring us closer to the notion of perfection. In this perfect place of beauty and grace, we find ourselves with a perpetual smile. Our eyes grow large as we revel in the enchanting nature of these acts.
Who but these elaborately dressed, talented performers could transport us there? Timothy Mack states it best:
"You are enamored by our ability to place you in another world. Do the people of this other world wear ordinary clothes? No! We wear feathers and makeup. We wear top hats and sequins. Our talent is the center piece, but our costumes create the effect of magic."
Violet Slepoy is a rising senior at American University in Washington, D.C., studying art history with a minor in philosophy. As an intern in the Ralph Rinzler Folklife Archives, she assisted with audio documentation at the 2017 Folklife Festival.
Source
Janet Davis,
The Circus Age: Culture and Society Under the American Big Top
(2002, The University of North Carolina Press)