The Marvelous, Miraculous Circus Science Machine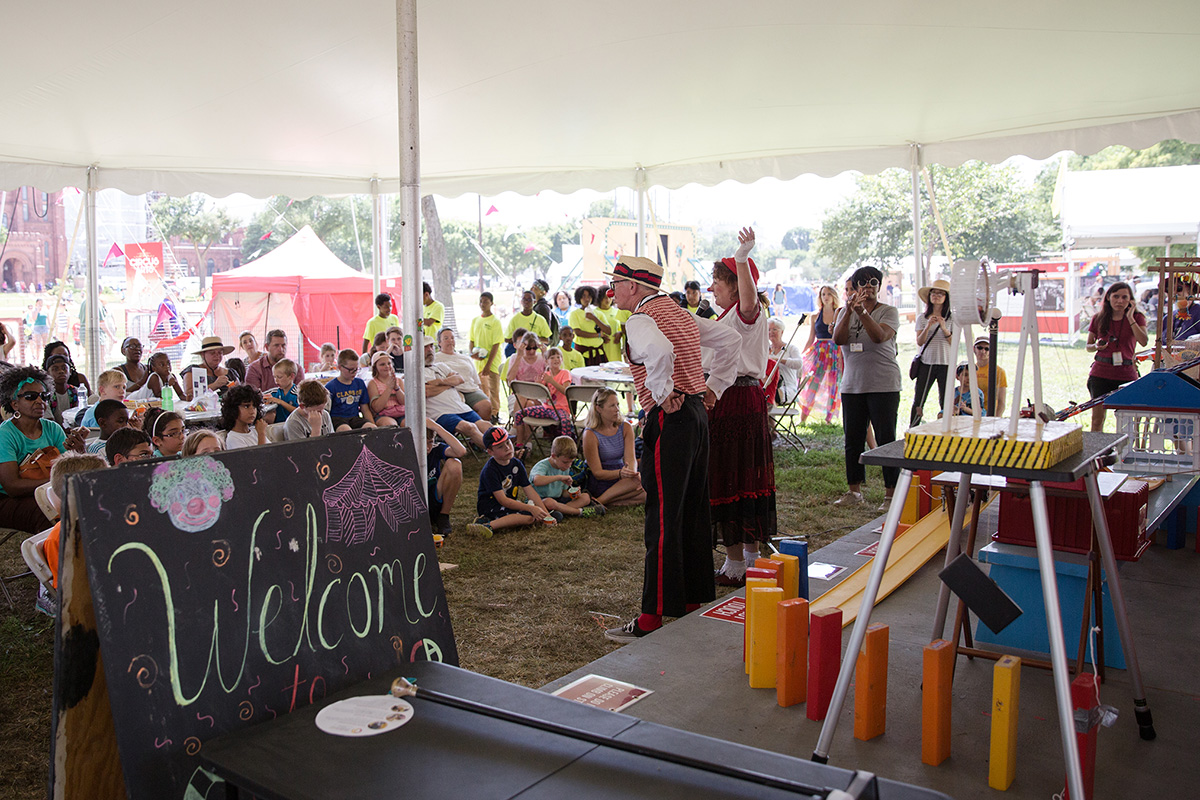 The anticipation is palpable in the Circus Science tent. Young visitors strain forward from their perches on chairs two sizes too big for them, or from front-row seats on the grass. After a windup and a fanfare on the kazoo, the countdown to the Marvelous, Miraculous Circus Machine begins.
"Five, four, three, two, one!" and the machine is set in motion by educator and clown Karen Bell. A tennis ball tethered to a pole sets a row of brightly colored "dominos" made from wooden two-by-fours tumbling against one another, which starts a model circus bandwagon in motion, which hits another set of dominos, which are designed to trip the next part of the machine. But suddenly everything comes to a halt.
As instructed by fellow educator and clown Robin Eurich, the kids all cheer nonetheless while Karen jumps up on stage and trips the next part of the machine by hand. Another set of clever cause-and-effect actions happen—sometimes without a hitch, and sometimes requiring more cheering and manual assistance. Finally, a cascade of Mardi Gras beads hits a drum and a cymbal with a satisfying liquid sound, and two helium balloons pop out of a box. And the crowd goes wild!
The Marvelous, Miraculous Circus Machine is a daily activity in the Circus Science tent. This area of the Circus Arts program is a partnership between the community outreach programs of the Circus Arts Conservatory (CAC), the Partnerships for Arts-Integrated Teaching (PAInT) program at the University of South Florida Sarasota-Manatee (USF), and a team of Folklife Festival staff, interns, and volunteers. We work together to keep the tent running like a slightly better-oiled version of the Marvelous, Miraculous Circus Machine. The activities are fun and educational, teaching basic principles of the physics, engineering, mechanics, and language arts behind the circus arts.
CAC and USF have experimented with many of the same activities in South Florida classrooms, then adapted them for the enjoyment of Festival visitors. Our team spent hours and hours of cutting out paper clowns and finger puppets, and gathering bird seed (for making your own juggling balls), feathers (to decorate paper-bag puppets), and pennies (to help balance the high-wire clown). Like each part of the Marvelous, Miraculous Circus Machine, each of our Circus Science workers has a role  in keeping this incredibly complex kids' area moving each day.
Check the daily schedule and come see the Marvelous Machine in action! 
Betty J. Belanus is a curator and education specialist at the Center for Folklife and Cultural Heritage.  She has curated the kids' areas of the past four Folklife Festivals and celebrates her thirtieth anniversary of working on the Festival this year.